Welcome IGNITE's 2021-2022 Fellows!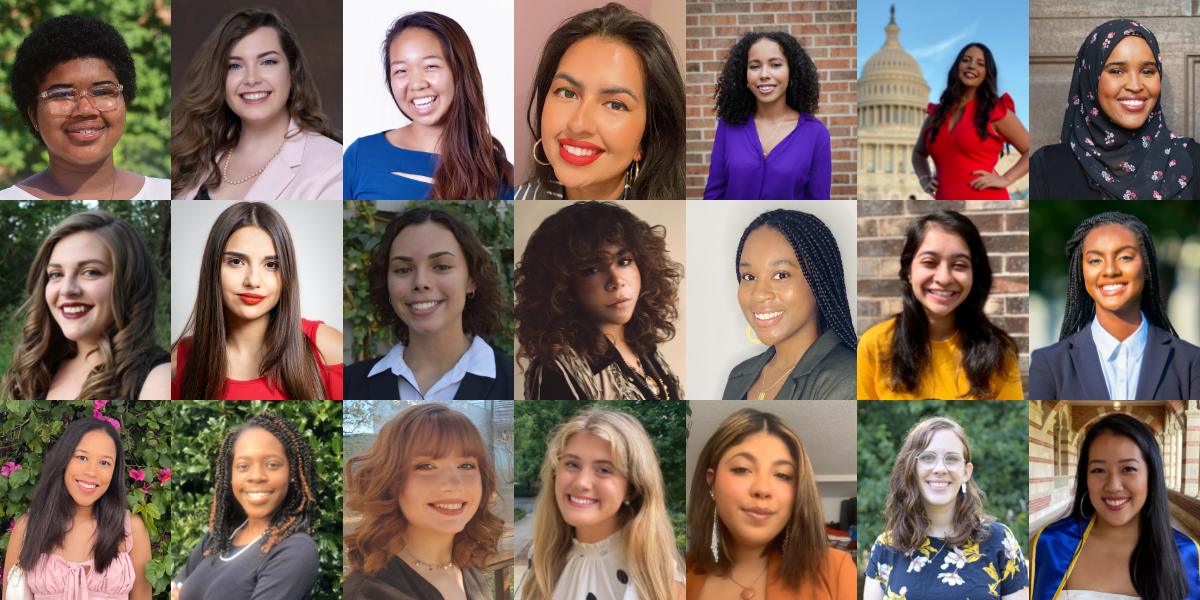 From four fellows in 2016 to 30 fellows and counting, IGNITE is thrilled to introduce you to our sixth cohort of fellows. Every year IGNITE recruits a cohort of diverse and passionate women in communities across America and provides them with resources, training, and networks to flex their political power and mobilize women on their campuses and in their communities to become civically engaged. Fellows serve as ambassadors for IGNITE's mission and vision and play a valuable role in our efforts to spread a national message that it is time for young women to step into political power.
Meet IGNITE's 2021-2022 Fellows
Christina B. Williams, Atlanta Fellow
Christina B. Williams is IGNITE's Atlanta Fellow. She is a rising senior at Clark Atlanta University (CAU), pursuing a Bachelor of Arts in Political Science as a Provost Academic Excellence and Dean's List scholar. Christina is a leader in the student civic engagement space and has extensive experience serving in student government. She has founded and presided over several campus clubs and initiatives, including the CAU IGNITE College Chapter. Christina has completed fellowships and internships with several nationally recognized civic organizations, including The Andrew Goodman Foundation, Campus Vote Project, Public Citizen, the ACLU of Georgia, and Rock the Vote. The National Journal, The Washington Post, NPR, and other outlets have featured her. Christina aspires to attend law school to become an attorney and utilize the law as a tool to defend the civil rights and civil liberties of marginalized communities. She is a Philadelphia, PA native. For Atlanta inquiries, contact christina@ignitenational.org.
---
Jessica Riley, Austin Fellow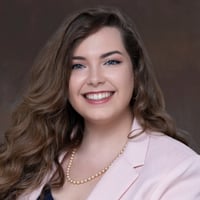 Jessica "Jess" Riley is IGNITE's Austin Fellow. She is a recent graduate from St. Edward'sEdward's University, holding a Bachelor'sBachelor's of Social Work with a minor in Political Science. Through her time at St. Edward'sEdward's, Jess held many leadership positions, including President of her IGNITE college chapter, Senator and External Affairs Director for the Student Government Association, and Executive Secretary for Social Work Student Association. Jess was also a member of the Model UN team for the International Affairs Society. In her two terms as Co-Chair for the College Student Commission, Jess advised the Austin City Council on issues that impacted the 150,000+ college students in the city. Jess also interned with the National Association of Social Workers Texas Chapter (NASW-TX), where she fine-tuned her skills as a community organizer, coalition builder, and legislative advocate/lobbyist at the state level. She aims to one day hold political office at a local or state level. For Austin inquiries, contact jessica_r@ignitenational.org.
---
Catherine Zhang, Boston Fellow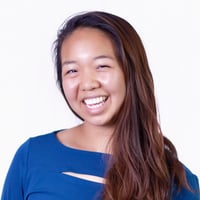 Catherine Zhang the IGNITE Boston Fellow. She holds her M.Ed from the Harvard Graduate School of Education and a B.A. in Psychology and Educational Studies from Harvard College. She served as Student Body President at Harvard College, taught English through the Fulbright Program in Taiwan, and taught 9th grade World History in Boston. Catherine has trained over 70 facilitators to lead discussion groups on antiracism, created curriculum to encourage dialogue, and currently advises first-year Harvard College students. She serves as Head Teaching Fellow for the Harvard College Course: Conflict Resolution in a Divided World alongside Professor Dan Shapiro. Catherine is an educator, mentor, activist, lover of people and is looking forward to serving as Boston's IGNITE Fellow. For Boston inquiries, contact catherine@ignitenational.org.
---
Erin Hernández, Chicago Fellow
Erin Hernández is the IGNITE Chicago Fellow. She graduated from Northern Illinois University (NIU) with a bachelor's in Political Science and Spanish with a minor in Latino and Latin American Studies. At NIU, Erin served as the Director of Governmental Affairs, president of DREAM Action NIU, and a peer mentor for Huskie Service Scholars. She is currently a bilingual analyst for the Cook County Board of Review, where she reviews property tax appeals and conducts bilingual outreaches in Spanish. Erin also serves as Secretary for the Latino Alumni Council, leading projects to increase resources for students and provide networking opportunities for graduates. As an advisory council member for the College of Liberal Arts and Sciences, Erin is a marketing team voting member dedicated to reaching more students. In her spare time, she volunteers for United Working Families. Erin is a proud Chicagoan, first-generation daughter to a Mexican Immigrant mother, and organizer for justice. For Chicago inquiries, contact erin@ignitenational.org.
---
Tiera Moore, Cleveland Fellow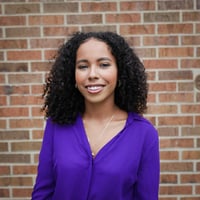 Tiera Moore is IGNITE's Cleveland Fellow. She has a Bachelor of Arts in English and Political Science from Kent State University (KSU) and is currently a graduate student at the same university pursuing a Master of Science in Geography. Moore became the third African-American woman to serve as Student Body President at KSU during undergrad. While in office, she advocated for increased mental health resources and laid the groundwork for a campus-wide voter registration initiative called Kent State Votes. Tiera found her passion for national politics while interning on Capitol Hill with Senator Sherrod Brown. She is passionate about education policy, equality for underrepresented individuals, and immigration reform. She plans to research how local communities can enhance youth civic engagement. Moore hopes to encourage other young women to get involved with politics on the local and national levels. For Cleveland inquiries, contact tiera_m@ignitenational.org.
---
Munira Abdullahi, Columbus Fellow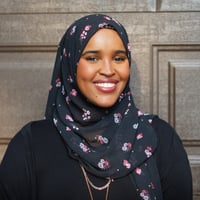 Munira Abdullahi is IGNITE's Columbus Fellow. For Columbus inquiries, contact munira@ignitenational.org. Full bio coming soon.
---
Isabella D'Alacio, D.C. Fellow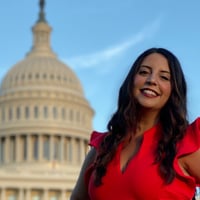 Isabella D'Alacio is the IGNITE Fellow for Washington, D.C.. Isabella is a student at George Mason University studying Government and International Politics and Conflict Analysis and Resolution. Growing up as a young Cuban woman from Pembroke Pines, Florida, she has faced homelessness, witnessed gun violence in her community, and lived the impacts of failed leadership. These experiences, coupled with her identity, have caused her to become a youth voice heavily involved in immigrant protection, women's rights, and gun violence prevention work. Isabella has served as the Florida Relational Organizer for United We Dream Action during the 2020 election. She currently serves as a Policy Associate for March For Our Lives and on the Team ENOUGH Executive Council - all focused on youth activism. Isabella is a Political Honoree for The Conversationalist's 2020 The LIST Awards due to her exemplary political involvement as a Gen-Z individual. For D.C. inquires, contact isabella@ignitenational.org.
---
Jessie Jennett, Denver Fellow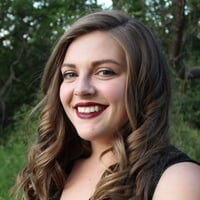 Jessie Jennett is IGNITE's Denver Fellow. She holds a B.A. in Interdisciplinary Studies focusing on Global Development and Public Policy, concentrating on Women in Leadership, from The Metropolitan State University of Denver. She served as the Vice President and Delegate of the Alpha Xi Chapter of the Thera Nu Xi Multicultural Sorority and was an Enumerator with U.S. Census Bureau for Census 2020. Jessie was also a regional organizer for Senator Brittany Pettersen and Representative Kerry Tipper and served as a Legislative Aide for State Representative Monica Duran during the 2019 legislative session. Currently, Jessie is the Denver Development Director for Far Away Friends and a community organizer, advocating for youth representation, education equity, housing, and more. She elevates the voices of young people and others with minoritized backgrounds to decision-making bodies. Jessie dreams of empowering women to run for leadership at a local, state, regional, national, and even global capacity. She has hopes and ambitions to serve her community in office one day. For Denver inquiries, contact jessie@ignitenational.org.
---
Agatha Pinheiro, Detroit Fellow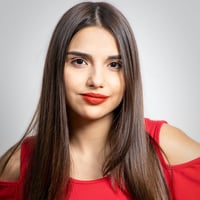 Agatha Pinheiro is the IGNITE Detroit Fellow. She is pursuing a bachelor's degree at the University of Michigan, studying Political Science with a minor in Law, Justice and Social Change. Agatha researched the value of higher education for African-American students at the University of Michigan. She was also part of the Think Tanks and Civil Societies research program at the University of Pennsylvania. She has worked on county, state, and federal campaigns in which she has helped to engage voters and organize communities. Agatha also interned with Reproaction, a reproductive justice organization. In addition to her work at IGNITE, she serves as a fellow at the Economic Justice Alliance of Michigan. As an immigrant from Brazil, she is passionate about increasing the participation of minorities in politics, especially Latinas. For Detroit inquiries, contact agatha@ignitenational.org.
---
Vanessa Aponte, Las Vegas Fellow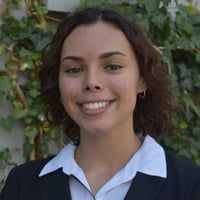 Vanessa Aponte is the IGNITE Las Vegas Fellow. She is on the pre-law track at the University of Nevada-Las Vegas, pursuing a bachelor's degree in Psychology. Vanessa serves as Associate Chief Justice in the student government's judicial branch and advises incoming first-year students as an Honors College mentor. Off-campus, Vanessa worked as an enumerator for the 2020 Census and as a volunteer with NextGen America, an organization dedicated to mobilizing youth voters. In addition, she volunteers with local nonprofits to help with food distribution, homelessness intervention, and community beautification. As an inaugural member and Treasurer of UNLV's IGNITE chapter, Vanessa fell in love with IGNITE's mission of political empowerment. She saw firsthand how the organization was able to support and connect ambitious women across the Vegas valley. Now, Vanessa is committed to furthering that mission in her role as the Las Vegas Fellow. Post-graduation, Vanessa plans to attend law school to become a public interest attorney and run for political office, where she can represent individuals from marginalized communities in both the courtroom and through the legislature. For Las Vegas inquiries, contact vanessa@ignitenational.org.
---
Emelie Jimenez, Miami Fellow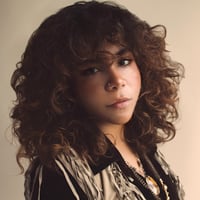 Emelie Jimenez is the IGNITE Miami Fellow. Emelie holds an A.A. in International Relations from Miami Dade College and is currently pursuing a Bachelor's in Political Science at the Florida International University (FIU) Honors College. This includes two certifications in Human Rights and Political Transitions and Middle Eastern Studies. During the COVID-19 pandemic, Emelie created the BC Community Project, an organization dedicated to providing the homeless community housing and resources needed to ensure they have food, hygienic products, and information on other organizations in their area. She also served as the president of the IGNITE college chapter at FIU and interned for Centro Emergenica de Mujer and La Defensoria Municipal del Niño y del Adolescente in Cusco, Peru. In the latter role, Emelie aided young mothers and children in escaping domestic and sexual violence. She applied her learnings on gender-based violence in her research on human trafficking and human smuggling laws for the Department of State through her FUI's Diplomacy lab. These experiences sparked Emile's passion for fighting for good governance and ridding societies of gender-based violence. Born and raised in Miami, Florida, Emelie is a first-generation Cuban American. For Miami inquiries, contact emelie@ignitenational.org.
---
Justice Grau, Milwaukee Fellow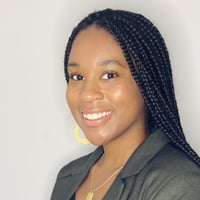 Justice Grau is the IGNITE Milwaukee Fellow. Justice is a proud first-generation student currently pursuing her Master's degree in Cultural Foundations of Community Engagement and Education at UW-Milwaukee. She holds an A.A. degree in Early Childhood Education from Madison College and a Bachelor's of Science in Community Engagement and Education from UW-Milwaukee. Justice continually advocates for vulnerable communities in Milwaukee and is committed to understanding race, class, gender, and other equitable issues as a core of her professional work with an intersectional approach. For Milwaukee inquiries, email justice@ignitenational.org.
---
​​Monali Bhakta, Minneapolis Fellow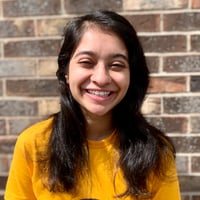 ​​Monali Bhakta is the IGNITE Minneapolis Fellow. She holds a Bachelor of Arts in Political Science and English from Gustavus Adolphus College. During her senior year, Monali served as the Co-President of the Gustavus Student Senate, making diversity, equity, and inclusion an institutional priority. Outside college, Monali interned with high-ranking elected officials like U.S. Senator Amy Klobuchar, where she provided immigration casework assistance for 200+ Minnesotians. In the 2020 General Election, Monali was a Field Organizer for the Dan Feehan for Congress campaign and served as an ambassador for IGNITE the Vote. She was the President of Minnesota's IGNITE College Council, organizing events with powerhouse female candidates and elected officials and educating young women to become civically engaged. In addition to her work as an Advocacy Associate for the Minnesota Private College Council, Monali is involved in many organizations, including South Asians 4 Black Lives, the India Association of Minnesota, the National Asian Pacific American Women's Forum, and Pay Our Interns. Monali looks forward to attending law school to study public interest law. For Minneapolis inquiries, contact monali@ignitenational.org.
---
Aniya Bryant, Nashville Fellow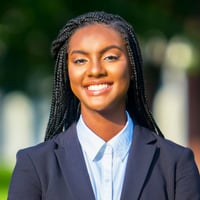 Aniya Bryant is IGNITE's Nashville Fellow. She is a graduate student at The Relay Graduate School of Education, where she is pursuing a Master's in Education. Aniya is already putting those skills into practice as a 10th-grade chemistry teacher in Nashville. Aniya was a former Andrew Goodman Ambassador where she helped register voters, bring down voting barriers, and tackle important social justice issues on her college campus. While volunteering with a local organization called The Equity Alliance, Aniya developed an interest in grassroots organizing and is excited to leverage that passion for empowering young women to be more civically engaged and help them step into their political power. She is very passionate about education and aspires to serve on the Metro Nashville Public School Board one day. For Nashville inquiries, contact aniya@ignitenational.org.
---
Yasmeen Metellus, New York Fellow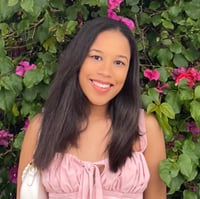 Yasmeen Metellus is the IGNITE New York Fellow. She graduated from Columbia University with a Bachelor's in Political Science. Today, Yasmeen is a student at New York University Law and plans to pursue a career in public interest law. At Columbia, Yasmeen served as the co-founder and president of Columbia University Black Pre-Professional Society, which provides career resources for underrepresented minorities on campus. Yasmeen has held numerous internships, including NY State Senator Alessandra Biaggi, America Needs You, and Venture for America. She also served as the Campaign Program Facilitator for Chad Klitzman for Broward Supervisor of Elections. Yasmeen is passionate about voter education, diversity, and community engagement. Before her New York fellowship, Yasmeen served as IGNITE's Miami Fellow. For New York inquiries, contact yasmeen@ignitenational.org.
---
Aamore Richards, Newark Fellow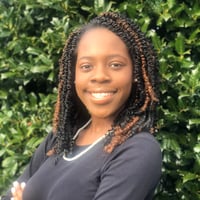 Aamore Richards is IGNITE's Newark Fellow. She is majoring in Political Science on a pre-law track at The College of New Jersey. Aamore serves as the Vice President of Student Services, collaborating with school administration to ensure the student body's needs - like housing, dining, health and wellness and support services - are met. Personal experiences with educational inequities have led Aamore to develop a passion for policy and legislative advocacy. She aspires to become a legislator to use policy to advocate for equal and affordable access to education. For Newark inquiries, contact aamore@ignitenational.org.
---
Carolyn Kedslie, North Texas Fellow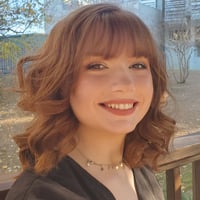 Carolyn Kedslie is IGNITE's North Texas Fellow. She is a current student at the University of Texas at Dallas and serves as IGNITE's UTD College Chapter president. She also served as an #IGNITEtheVote Ambassador throughout the 2020 general election. During this time, she relationally organized communities to create their voting plans. As an IGNITE Fellow, Carolyn hopes to ignite the political fire in other young women to become civically engaged and get involved with the issues they care about. In the future, she wants to run for office one day to make her community a better, more efficient, and inclusive place. For North Texas inquiries, contact Carolyn at carolyn@ignitenational.org.
---
Julia Perrotta, Raleigh-Durham Fellow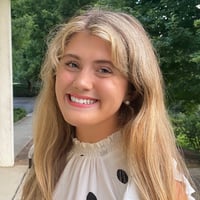 Julia Perrotta is IGNITE's Raleigh-Durham Fellow. She is currently pursuing a bachelor's degree in Political Science with a minor in philosophy, politics, and economics at the University of North Carolina at Chapel Hill. Most recently, Julia served as a policy research fellow for Democracy NC, where she championed access to voting and civic engagement. Julia also conducted research to improve voting processes, which she presented to the North Carolina State Board of Elections. Julia served as a UN Experiential fellow for Blue Ridge Consulting. Previously, she volunteered for Gina Collias, a Congressional candidate who ran in her hometown district. Julia plans to continue involvement both on and off her campus to boost civic engagement and voting opportunities, raise awareness about the prevalence of sexual assault, and create empowering spaces for women and girls. Julia's goal is to attend law school to advocate for the civil, human, educational, and political rights of women and girls worldwide. For Raleigh-Durham inquiries, contact juliap@ignitenational.org.
---
Faith Garcia, San Diego Fellow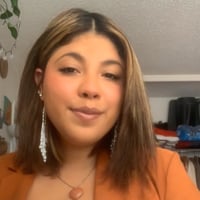 Faith Garcia is IGNITE's San Diego Fellow. She recently graduated from California State University San Marcos with a Bachelor's Degree in Political science and a double minor in Women's Studies and Sociology. Faith centered on civic engagement, inclusive excellence, diversity, equity, social justice, survivors, and immigration throughout her academic career. She was also committed to efforts to defund and abolish the University Police Department across the CSU system. She believes in the power of community and is excited to help create an empowering space for young women to discover their voice and place in areas they aspire to be, including in elected office and leading movements. Faith is a first-generation graduate Latina, Indigenous, Queer, Woman who is system impacted. For San Diego inquiries, contact faith@ignitenational.org.
---
Camille Gix, Seattle Fellow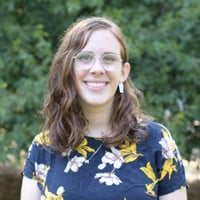 Camille Gix is the IGNITE Seattle Fellow. She is a first-year Master of Public Administration student at the University of Washington Evans School, specializing in Social Policy. Camille serves as Policy Chair position for my legislative district's Democratic party and the Platform Committee Chair position for the Washington Progressive Caucus. She is also working on a ballot initiative opposition campaign in Seattle called House Our Neighbors. Since high school, local politics has been her passion when she interned for the Washington state campaign for marriage equality. In undergrad, she became a precinct delegate for the Sanders presidential bid. Camille recently returned to her hometown of Seattle after four years living in Ecuador and later Chile as a youth program manager. For Seattle inquiries, contact camille_g@ignitenational.org.
---
Camille Serrano, Southern California Fellow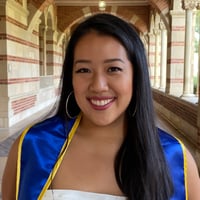 Camille Serrano is IGNITE's Southern California Fellow. She is pursuing a Juris Doctorate at Southwestern Law School and previously graduated Summa Cum Laude with the Highest Departmental Honors from UCLA with a Bachelor's degree in Gender Studies. Camille also attended Fullerton College, where she served as Associated Students Chair of Finance, Delegate for Student Senate for California Community Colleges, and was one of eight community college students chosen to partake in a fully-funded social justice research project at UCLA. Camille used research as a platform for policy change, initiating the Cultural Sensitivity Task Force that passed a resolution to mandate cultural sensitivity training for all North Orange County Community College District staff. Camille facilitated UCLA's first Intersectionality Forum and LGBTQIA Forum. In addition, Camille collaborated with Blue Future, a youth-led political action committee, to improve accessibility to COVID-19 resources between constituents and Senator Alex Padilla. Born to two immigrant parents, Camille is a queer woman of color ready to create more space at the table. For Southern California inquiries, contact camille@ignitenational.org.