Meet Logan Cole, IGNITE's Pittsburgh Fellow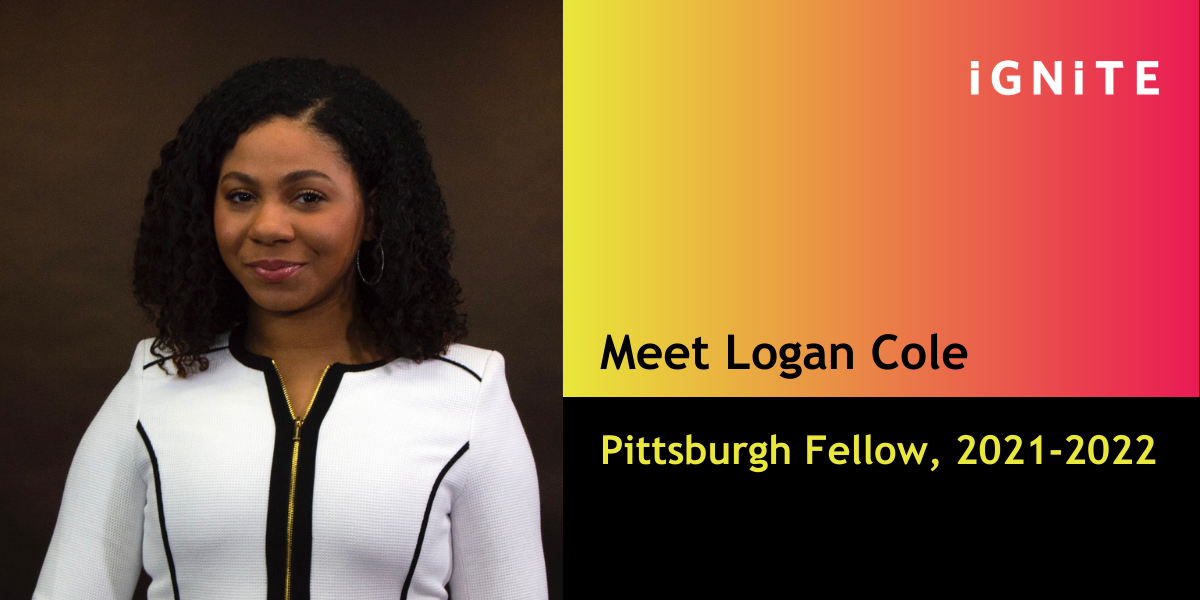 IGNITE is excited to share that Logan Cole will be serving as our first-ever Pittsburgh Fellow! We interviewed Logan and chatted about her journey to IGNITE.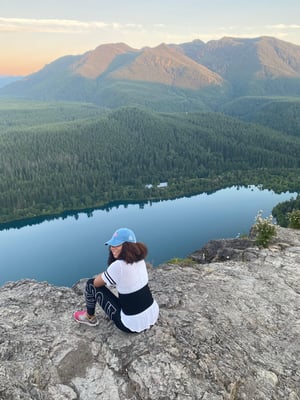 IGNITE: Congratulations on becoming an IGNITE Fellow, Logan! First, we'd love to hear about what motivated you to become an IGNITE Fellow.
LC: I have a passion for being of service to all mankind and a personal mission to increase the representation of women in politics. I believe that I can achieve this goal as an IGNITE Fellow. With aspirations of becoming a first-generation lawyer and eventually a Supreme Court Justice, IGNITE's message that "it is time for young women to own their political power" resonates with me. Also, there isn't an IGNITE presence in Pittsburgh so I want to make a positive change in the community through my leadership skills and pioneering ability.
IGNITE: That's so great to hear! Speaking of community, is there anything you'd like to change in your community?
LC: I want to change the legal system in my community. Although more recent studies have shown that there were fewer women being arrested than in previous years, there are still racial disparities present. In fact, with an alarming school-to-prison pipeline and unemployment rates, Pittsburgh has been classified as one of the worst cities for Black women to live in. I hope that through the support I receive from IGNITE, I'll be able to give back to my community and make a change in the legal system for Women of Color in Pittsburgh.
IGNITE: Thank you for sharing. At IGNITE, we want to encourage young women to become more civically and politically engaged. Why do you feel that civic engagement is important?
LC: Civic engagement addresses issues of public concern by making a difference in communities, and it starts by increasing awareness about those issues. Without shedding light on political and civic issues, we limit the means by which we can create change for ourselves and for others. Civic engagement is also important because it creates opportunities for people of all colors, races and backgrounds to come together in hopes of achieving a common goal. In the climate of today's world, civic engagement matters now more than ever!
IGNITE: Your passion for political empowerment really shines through! Have you always been interested in the world of politics?
LC: I've been interested in politics since a young girl and was determined to be civically engaged throughout my adult years! I've served as a Strong Women Strong Girls Mentor and Diversity and Inclusion Coordinator. In addition, I served as President of the Alpha Sigma Chapter of Alpha Kappa Alpha Sorority, Inc., where I created several community engagement service projects centered around women in politics, voter registration, financial literacy, and more!
I believe in the power of using my voice to stand up for what I believe in. Although I am still very young and have a lot more to experience, I have used my platform to engage in peaceful demonstrations during my freshman year at American University and during the tragedies of George Floyd and Breonna Taylor. It is not always easy to stand up for what you believe in, but that's what I think sets me apart from the people who want change and those of us who want to be the change.
IGNITE: Thank you for sharing. You've mentioned that you want to continue making a difference for your community. How will you mobilize your community as a new Fellow and get them excited about IGNITE?
LC: There are not many opportunities where women with a passion for politics can network. I'd like to use my many networks to create a service project. First, I would like to organize an event for young professionals to be able to meet other women just like them, as well as network with important women in politics in the Greater Pittsburgh area. Also, in the age of social media, I want to launch a social media campaign focused on "Women in Politics in Pittsburgh''. I'd also like to go to different schools in the area and spread awareness about IGNITE to light the civic flame for young women in the area. Together, we can make a huge difference!
IGNITE: Here at IGNITE, we want to change how people view leadership, especially in politics. How would you personally define leadership and how do you exemplify it in your work?
LC: Leadership requires courage and a pioneering spirit. My mother always told me, "if you stand for nothing, you will fall for anything." A leader must be a role model, inspirational, self-motivated, and able to drive growth in a rapidly changing environment. Also, the ability to listen to the concerns of their team and be a team player is what truly makes a well-rounded leader. As a leader, the 5 D's, dream, desire, discipline, dedication and determination, are always exemplified in my work, and I hope to also instill this in my team.
IGNITE: Thank you for your insightful answers. Is there anything else you'd like to add?
LC: I would like to share a piece of advice. In a world where society tries to categorize you into one niche, know that your powers are limitless. Never feel like you have to betray your love for science, humanities, math, etc., for your love of arts. You can do any and everything you set your mind to as a multifaceted woman!
---
More about Logan:
Logan Cole is IGNITE's Pittsburgh Fellow. She earned her bachelor's degree in International Relations with a minor in Political Science from Duquesne University. She was President of the Alpha Sigma Chapter of Alpha Kappa Alpha Sorority, Inc., and Diversity and Inclusion Coordinator of Strong Women Strong Girls. In 2020, Logan started her own business, Casa De LayCee Beauty and Wellness LLC, which promotes the motto of "Loving all of yourself candidly." She also created P-Her-Pose Women's Ministry, a women's empowerment group that encourages women to become a "Full-time purpose walker and part-time entrepreneur". In the near future, Logan has aspirations of becoming a first-generation lawyer. She is excited to change the narrative of Pittsburgh being an unliveable city for women, especially women of color. She hopes to inspire young women around the world to do anything they set their mind to. For Pittsburgh inquiries, please contact logan@ignitenational.org.