Welcome Carlyn Michelbacher, IGNITE's Baltimore Fellow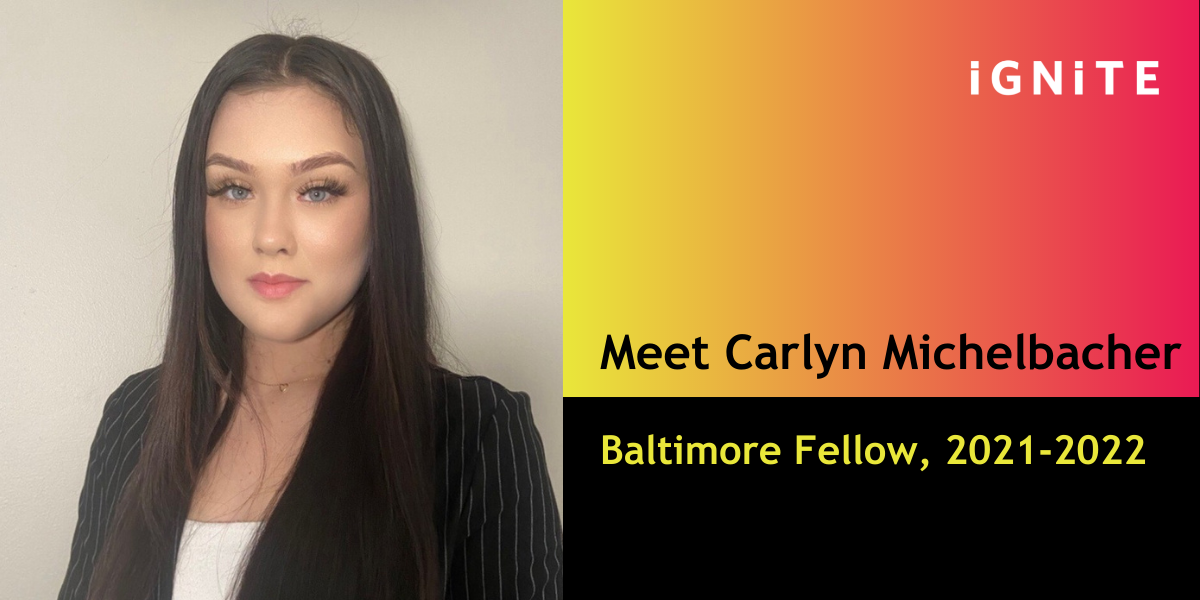 We are so excited to welcome Carlyn 'Kiki' Michelbacher as our Baltimore Fellow for the 21-22 Program year! We caught up with Kiki to chat about the Fellowship.
IGNITE: Hi Kiki, welcome to the IGNITE Fellowship! We're so excited to be chatting with you today. First, can you tell us about what motivated you to apply to the Fellowship?
CM: The way to avoid a stagnant political landscape is to include women. That being said, I believe all women have a propensity for change and progression. IGNITE empowers women to find security in the power they wield, and I hope to do the same. As an aspiring law student and woman in politics, my personal mission statement focuses on the capacity for change. Being an IGNITE Fellow will allow me to mobilize communities of women in a way that will nurture their passion for change and leadership. As a Fellow, I have the opportunity to redefine politics for young women across Baltimore.
IGNITE: Wow, what a powerful answer! Building off of that, you mention wanting to mobilize your community and spark change. What is one thing you want to change in your community?
CM: The thing my community lacks the most is a sense of community. An incredibly divisive and disheartening year has led to socially fragmented people and communities. To reinstate hope into populations of people who have experienced tremendous loss is imperative right now. The issue is the undeniable absence of open discourse and understanding. People need to feel heard but are lacking a willingness to get involved. This largely stems from the rigid and uninviting structure of political conversation today. I'd like to create a more relaxed and welcoming environment to speak on public concerns.
IGNITE: Yes, we love to hear it! Here at IGNITE, we want more people to feel empowered to engage civically and politically. Why do you think being civically engaged is crucial?
CM: Civic engagement is the fiercest combatant to underrepresentation. It's a means of giving people a voice. Civic engagement deteriorates the notion that only elected officials yield political power. I believe civic engagement acts as an agent of power transference. It redistributes the power of politicians and allows for the community to influence the politics that directly affect their lives.
IGNITE: Can you share a little bit about when your political leadership journey started?
CM: My political leadership experience began in high school. In 2016, I organized multiple protests in response to national elections and policies being implemented directly in my hometown. Throughout the years, I've worked closely with organizers and activists to design programs for protests that would intersect with artists. When I started at Towson University, I joined the campus' Student Government Association and Pre-Law Society. I also currently serve as both the president of Towson's Pre-Law Society and as their chief editor for the Pre-Law society journal. In my role I organize events with guest speakers such as deans of law school admissions, current law students, practicing attorneys and state elected officials.
IGNITE: Wow, you're very politically involved and engaged in your community. How will you mobilize your community and help them become just as politically active?
CM: Given that I've been involved in other clubs and organizations that focus on politics and women's empowerment, I know so many women all across campus that are excited to get politically involved. That being said, I would use my current positions to promote and recruit women to get involved in the work that already aligns with their beliefs and aspirations. I would host networking brunches so groups of women can interact with peers that help fuel their political leadership fire. I would also start a book club on campus with materials written by women that focus primarily on politics and civic engagement. Similarly, through my position as the dance captain for Towson's Vibe Dance Team, I would like to organize events that unify women through both politics and dance. This would look like holding community dance classes that use movement and music that promote women's empowerment and liberation.
IGNITE: Combining politics and dance is such a creative way to help women feel even more empowered! Now, let's talk about what leadership means to you. How would you personally define leadership? How do you embody those leadership qualities?
CM: Leadership is the ability to understand who is needed in what areas; leadership is delegation. In a time where underrepresentation is rampant for communities of color in politics, you must know where your involvement is most needed. As a white woman, my role in leadership is very delicate. True leaders have the capacity to understand the needs of their community, especially when that need cannot be satisfied by themself. I bring amazing, unprecedented and unique things to the table, but I'm not always the person that is needed. However, as a leader, it is my job to make sure that I can direct the needs of those who I cannot best satisfy to someone who can. In my experience with organizing protests, I realize that I cannot be the face of the movement, I cannot be the speaker because the people require different representation.
IGNITE: Thank you for your time! We are so excited to see what you accomplish as an IGNITE Fellow.
---
More about Kiki:
Carlyn "Kiki" Michelbacher is IGNITE's Baltimore Fellow. She is pursuing a bachelor's degree in Law and American Civilization with a minor in Human Rights and History at Towson University. She serves as president of Towson University's Pre-Law Society. Carlyn's political engagement began in high school with her involvement in student-led protests that supported gun reform, police demilitarization and challenged restrictive school policies. She has taken this passion for social justice with her throughout her college career and, in 2019, she developed a young women's mentorship program that aims to bridge the gap between high school and college for young women in the Baltimore area. In the future, she hopes to attend law school with a concentration in International law so that she can advocate for the global and intersectional inclusion of women in every facet of politics. For Baltimore inquiries, please contact, carlyn@ignitenational.org.