Welcome Jaymie Bianca, IGNITE's Boston Fellow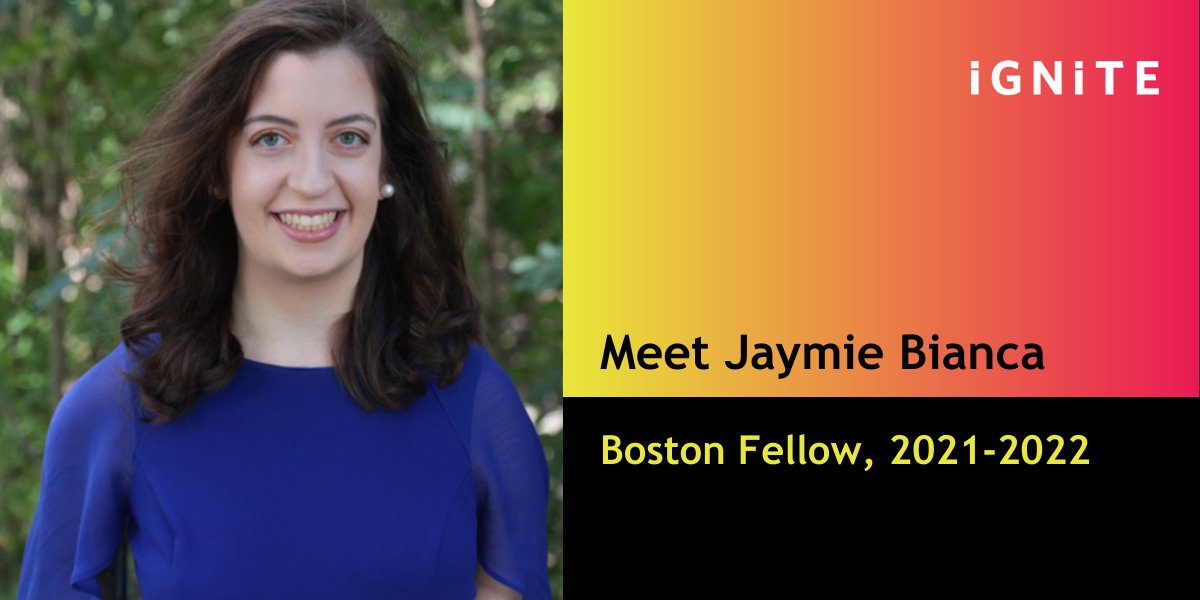 IGNITE is pleased to announce that Jaymie Bianca will be our Boston Fellow. We spoke with Jaymie to learn more about her political leadership journey and future plans.
IGNITE: Welcome, Jaymie! You're no stranger to IGNITE. Let's start by chatting about what brought you to the world of politics and your journey with IGNITE so far.
JB: I met Sara Guillermo and Anne Moses at the New England Women's Policy Conference in Fall 2018. After hearing about IGNITE and meeting these fantastic ladies, I knew it was something I wanted to bring to my college, Trinity College in Hartford, CT. I was the President and Co-Founder of Trinity's IGNITE chapter, and it has been such a rewarding experience engaging the next generation of political leaders at my school and in my community. I'm excited to continue this work, especially with other College Chapters. I know what it's like to build an IGNITE Chapter from the ground up, and I want to help other leaders do so, encouraging them every step of the way.
IGNITE: Can you tell us more about your political leadership experience?
JB: My political leadership experience started in middle school. I was an ambassador for the Connecticut Commission on Human Rights and Opportunities (CHRO). I spoke about the importance of the Americans with Disabilities Act (ADA) at conferences and forums sponsored by CHRO. I then took my advocacy and leadership further by participating in the Junior Statesmen of America (JSA) conference, which helped me lobby for two Special Education bills in the state of New Jersey. When I got to college, I continued lobbying work with the CT Board of Education, attending meetings and testifying on a variety of different education bills. I led IGNITE with several different workshops too, like "Activating Your Activism" and "Why Vote What's At Stake?" I led these events as well as invited councilwomen and state representatives to impart their knowledge to our students. This past fall, I also spearheaded the TrinVotes! initiative, bringing organizations across campus together to Ignite the Vote and increase voting engagement on campus. I was also selected to co-author Trinity's Title IX policy and Non-Discrimination policies. I serve as a Senator for our Student Government Association at Trinity, and I recently ran for a seat on the Bristol Board of Education.
IGNITE: At IGNITE, we want to encourage more young women to become civically engaged. Why is civic engagement important to you?
JB: Civic Engagement is important because it allows, if done effectively, the ability to encourage all genders, races, ethnicities, religions, abilities, sexual identities, etc., to vote and take a lead on issues that are important to them. Civic engagement empowers all individuals to become advocates and leaders, especially through grassroots organizing and local offices. Local offices are incredibly important because that is where the greatest number of individuals can start making an impact that has the potential to grow as time goes on. Civic engagement truly encompasses empowering the most vulnerable to create change in their communities, because as Ayanna Pressley said: "Those closest to the pain should be closest to the power."
IGNITE: From startingIGNITE Chapters to running for office, you are very civically and politically engaged in your community. What is one thing you want to change in your community and why?
JB: Discriminatory laws still plague the lives of people with disabilities. It's legal to pay them a sub-minimum wage, deny them benefits if they get married, or deny them an organ transplant. I want to advocate for and help pass legislation that changes these laws. My brother, Brandon, is on the Autism spectrum, so I made it my mission in life to create a better quality of living for people with disabilities. Ableism has persisted too long in our society, and I want to be an advocate and political leader that fights to end ableism. This relates to IGNITE's mission as well, especially since women with disabilities have one of the lowest voter turnouts in the United States. I want to be able to reverse that fact and empower women with disabilities to vote and run for office.
IGNITE: IGNITE Fellows mobilize young women in their communities to own their political power. How will you mobilize your community and get them excited about IGNITE?
JB: I will do this in several different ways. While COVID still prohibits large-scale in-person events, I will use social media as a way to energize and excite my community. Whether it's through Instagram takeovers or online quizzes with potential prizes, social media has the power to mobilize many people quickly. I'll also individually contact students, legislators, political leaders, and advocates to have conversations online or in person. Engaging with people individually is so important because it allows people to truly get to know one another. Through establishing one-on-one connections, people will feel like they will truly know me and IGNITE, which has a lot of power.
IGNITE: Leadership can be defined in many ways. As someone who is a political leader, how do you personally define leadership and how do you exemplify it in your work?
JB: Leadership is not only taking on the job of being a role model, but it includes empowering the people you are working with to be their very best selves. This is exemplified in my work because not only do I lead, but before I make a suggestion on a policy or run an IGNITE meeting, I ask for the opinions of the people this policy would be affecting, or the people attending my meetings. I cannot lead unless I have input from others, and this style of leadership has allowed me to listen, learn, and grow.
IGNITE: Thank you for your time and welcome to the Fellowship, Jaymie!
---
More about Jaymie:
Jaymie Bianca is IGNITE's Boston Fellow. Jaymie graduated from Trinity College with degrees in Educational Studies, Human Rights and English. She served as the Trinity IGNITE Chapter's President and Co-Founder. While at Trinity, she was a 2021 Class Senator, a member of the TrinVotes initiative which encouraged and registered students to vote and worked on several different policy groups, including the Campus Climate Incident Response Team, Title IX Working Group, and the Non-Discrimination Policy Group. In addition to her policy work, Jaymie has a passion for neurodiverse individuals since her brother, Brandon is on the autism spectrum. Jaymie has advocated for more inclusive laws for people of all abilities, and has continuously raised funds for Special Olympics. Jaymie ran for a seat on the Board of Education and this experience inspired her to continue IGNITE's mission and lead female empowerment and political leadership efforts in the Boston area and beyond. Jaymie's political ambition is to become the Secretary of Education for the United States. For Boston inquiries, reach out to Jaymie at jaymie@ignitenational.org.