Meet Jocelyn Frias, IGNITE's Central Valley Fellow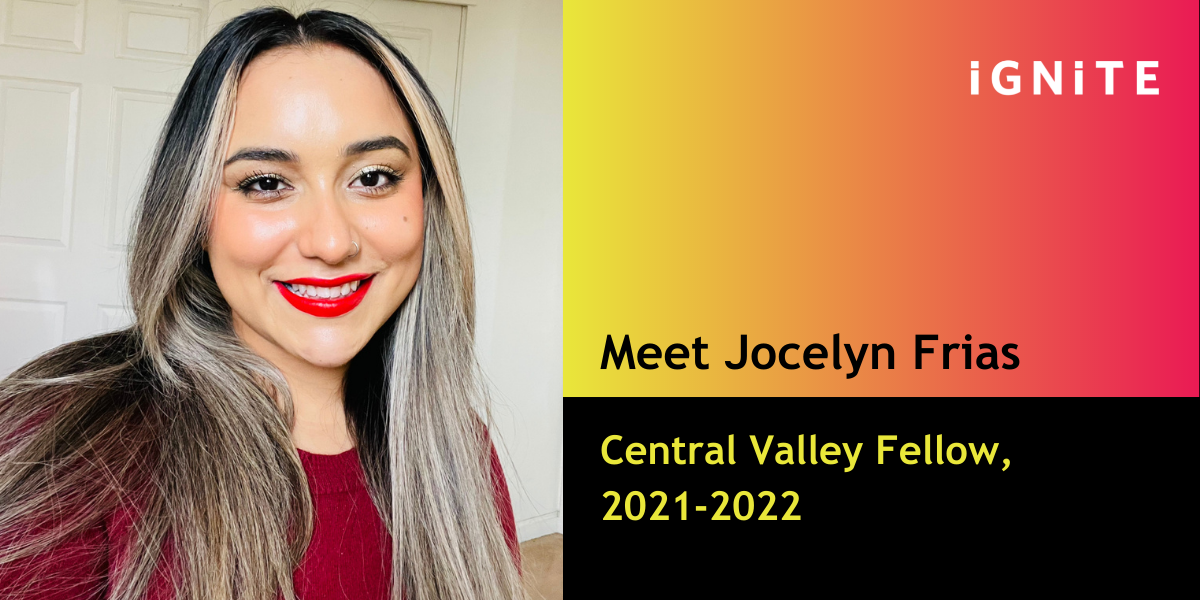 IGNITE is pleased to welcome Jocelyn Frias, who will be serving as our Central Valley Fellow. We spoke with Jocelyn to learn more about her journey to IGNITE.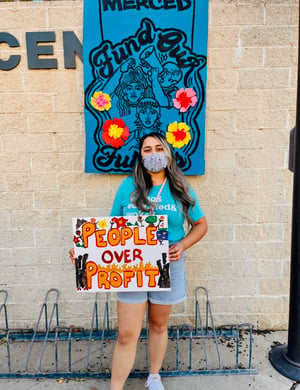 IGNITE: Welcome, Jocelyn! We are so excited to have you joining us. Can you share a bit about why you applied to become an IGNITE fellow?
JF: The Central Valley is my home and I want to invest my knowledge, network, and resources in this community. I know firsthand the lack of resources and issues that face our society today. I know what coming from a rural area means for us in terms of investment and resources. This position is a way to further my advocacy in a region where I've been my whole life. I also want more women to recognize their overall leadership and impact with political involvement. I identify with multiple marginalized identities in this community: women, queer, low income, first-generation, women of color, and daughter of undocumented immigrants. Intersectionality is vital to advocacy, and it's why I want to empower these women who can also identify with my struggles and identities through the Fellowship.
IGNITE: Thank you so much for sharing! It's clear that community is at the heart of what you do. Building off your answer, is there anything you would want to change in your community?
JF: I would target awareness in my community. My community consists of members who do not attend college, immigrants who attained a primary school education, immigrants who hold traditional values that undermine gender equity and equality, and much more. There needs to be a better way to make these community members aware of issues affecting them and those around them; They need to be brought into the conversation to access resources and advocacy work. Townhalls, community organizing, and creating safe spaces for people to learn and unlearn are some ways to target this goal. Organizing and advocacy should not be exclusive, which is why I would love to work on this change in my community.
IGNITE: What a great answer! Here at IGNITE, we want people to be empowered and knowledge is definitely one way to feel empowered. So you just mentioned community organizing and advocacy, can you tell us more about your political leadership experience?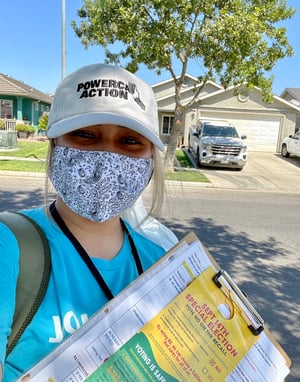 JF: My political leadership experience includes engaging with the IGNITE UC Merced chapter. I have participated in events where we help inform others about candidates, propositions, and measures on ballots. In addition, I have helped organize events with this organization to expand my political leadership and others' leadership. The other side of my political leadership includes my work with 99 Rootz and PowerCA. I have worked as an Integrated Voter Engagement Organizer and a Seeds of Resistance Organizer for three separate campaigns. My work with these campaigns has revolved around my leadership to engage with community members through rallies, canvassing on weekends, and phone banking throughout the weekdays. Finally, my political leadership is also personal. It is personal as I attend city council meetings and protests for those affected by government actions, as it is essential to care for one another mutually. I have grown so unapologetically in my confidence and commitment to organize for marginalized communities. My political leadership revolves around them; I wouldn't be the person I am today without them.
IGNITE: Your passion for your community really shines through. Speaking of community, how will you mobilize your community and get them excited about IGNITE?
JF: I will mobilize my community through the tools I have learned in my advocacy work on college campuses. Tabling, social events, and informational events are some ways I'd mobilize campus communities and get them excited about IGNITE. Tabling is a great way to access students and speak to them about what IGNITE is and what we do; the table set up tends to grab their attention. Social events allow others to join a community without the anxieties or fears that come with professional events for some people; This is why hosting social events is a great way to get others excited about IGNITE while also mobilizing them. Alongside the vice president in my past terms, I have created social events touching on menstruation topics and policy. Finally, informational events can include simple info sessions; It can also include an idea I have been brainstorming since my time with the UC Merced chapter. I'm excited to build on finding creative ways to excite and mobilize community members.
IGNITE: It's clear that you're very civically and politically engaged. Can you talk about why civic engagement is important?
JF: Civic engagement is crucial because it allows people to be involved with a process that affects our everyday lives and those around us. Now more than ever, I believe in the power of the people. Advocating for equity and equality with reproductive rights, educational resources, working conditions, and wages, to name a few, is vital to our engagement. History has shown us that no one has more interest in our well-being than ourselves, so we have to be in the decision-making process and organize our community to demand what we need.
IGNITE: IGNITE Fellows are leaders in their communities. How would you define leadership and how do you exemplify it in your work?
JF: Demonstrating leadership is taking the initiative in tasks and knowing how to delegate and uplift others in the space everyone has created for X task. This definition accounts for people in official positions and those who are helping those in said positions. A post doesn't define leadership. There's a saying I learned here at IGNITE UC Merced, 'take space, make space." It is vital to leadership to know when to be present, when it is time for others to take up space, and how to encourage others to engage. I exemplify this by creating a space where all those involved build connections and understand who is on the team. Understanding my team allows me to know what makes up who they are, how others like to be approached and helps me navigate how to incorporate others more into the space and play to their strengths.
IGNITE: Thank you for your time, Jocelyn! We are excited to see what you accomplish as an IGNITE Fellow. Is there anything else you'd like to share?
JF: 2022 is a new chapter for me as I'm navigating post-grad life and two amazing new jobs that I am so privileged to have. I'm furthering my advocacy experience in this Fellowship and my youth organizer position with Loud For Tomorrow and I'm just really excited to have the honor of holding two community organizer jobs here in the Central Valley. I'm looking forward to connecting and learning from community members so please do not hesitate to reach out with anything that I can be of service to.
---
More about Jocelyn:
Jocelyn serves as IGNITE's Central Valley Fellow. She is a first-generation Chicana graduate from the University of California Merced, where she received her bachelor's degree in Philosophy and a bachelor's degree in Political Science. Born and raised in the Central Valley, she is a proud daughter of undocumented immigrants who are essential workers in the agriculture industry. Jocelyn has been a mental health advocate for marginalized communities throughout her college career. She founded the IGNITE College Chapter at UC Merced while holding multiple leadership positions in various organizations. Jocelyn is a passionate organizer who has worked with 99 Rootz and PowerCA on several campaigns where she advocated for housing for all, universal basic income, youth jobs and much more. The people of the Central Valley, her community, mean the world to her, and she hopes to give back to her roots by being of service to the most marginalized. For Central Valley inquiries, please contact jocelyn_f@ignitenational.org.