Meet Teresa Ornelas, IGNITE's Denver Fellow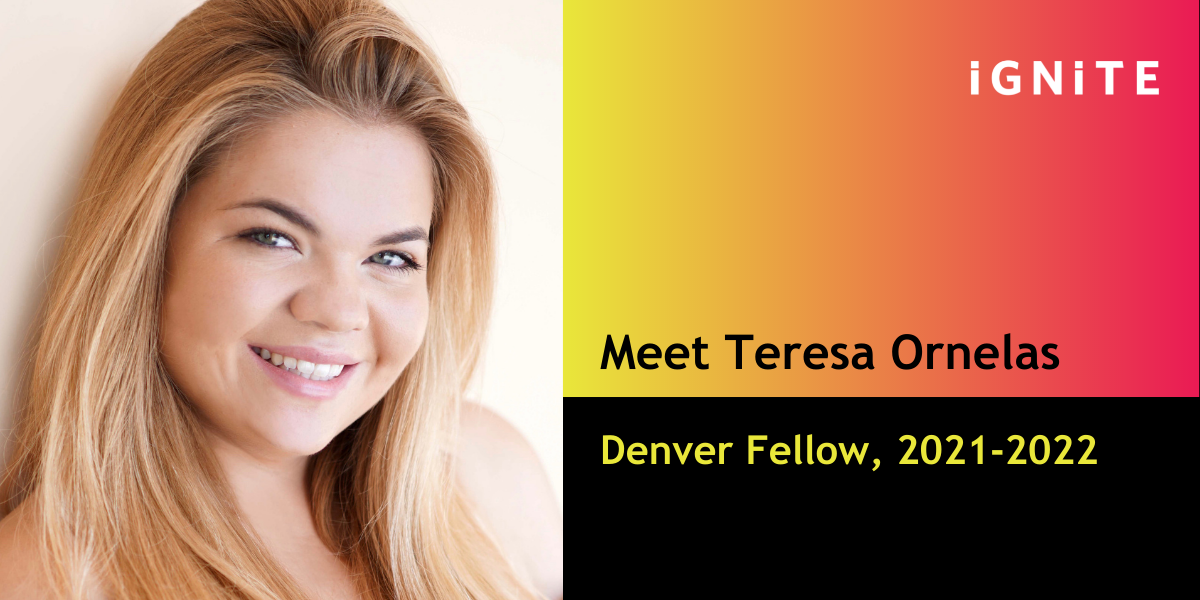 IGNITE is pleased to welcome our new Denver Fellow, Teresa Ornelas! We caught up with Teresa to hear more about what brought her to IGNITE.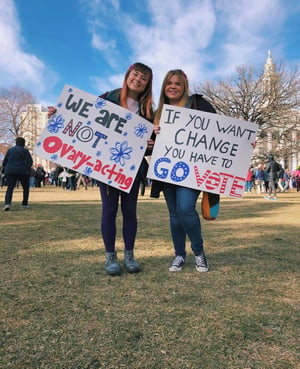 IGNITE: Welcome, Teresa! We're so happy to have you joining us as a new Fellow. To start off, we would love to learn about what motivated you to become an IGNITE Fellow.
TO: I've been involved with my IGNITE College Chapter for almost three years now, and I've fallen in love with the organization. I've also worked with the other College Chapters in Denver and I would love to continue working with them as well. I enjoy providing a space for those who do not have one, and I would like to continue providing resources to women who are interested in owning their political power.
IGNITE: It's so great to hear that you've already been part of the IGNITE community for so long. Can you tell us more about your political leadership experience?
TO: I've served as President and founder of my high school's Young Democrats Club. I was previously the treasurer for my college's IGNITE chapter and currently serve as the president. I also currently serve as the Communications Director for Colorado Young Democrats. I've been a part of planning many protests including a school walkout I led against gun violence. Additionally, I've worked on congressional campaigns, and done a lot of canvassing and phone banking. Currently, I also volunteer with New Era, where I mobilize people to register to vote. I also volunteer for the ACLU.
IGNITE: You're very involved in local politics and are quite civically engaged. Can you share a little bit about why civic engagement is important to you?
TO: There are so many social issues impacting this country and the younger generations are the ones who will be left with these systems. It's the duty of my generation to ensure we change the current systems to reflect our values for the sake of ourselves, and those younger than us. Minorities have suffered for too long, and I believe everyone should do everything they can to improve the way minorities are treated in the U.S.
IGNITE: Building off of that, is there anything you want to change in your community and why?
TO: I would like to increase awareness of indigenous populations in my community. Especially at my university, indigenous rights are not adequately respected, and I wish people were more knowledgeable and sensitive of the issues. I am also very passionate about the Black Lives Matter movement. It has been very pertinent in my local area and it's something that I want to increase awareness about.
IGNITE: IGNITE Fellows mobilize and empower communities. How will you mobilize your community and get them excited about IGNITE?
TO: I plan to mobilize my community by increasing awareness of the IGNITE College Chapter on my campus and also helping other chapters increase awareness of their chapters on their respective campuses. I'll work to host events where all of the Denver chapters can come together and share their experiences. I'll also focus on building relationships with established organizations outside of the universities in order to provide volunteer and job opportunities to the members of IGNITE clubs around Denver. By mixing professional events with more relaxed ones, all the chapters can show that though political work can be challenging at times, it's also fun and rewarding.
IGNITE: Fellows are also political leaders in their communities. How would you define leadership and how do you exemplify it in your work?
TO: Leadership is the ability to help someone else, or groups of people, attain their goals in whatever manner they require. When filling a leadership role, I try to first identify what leadership style will be most helpful and effective to achieve a shared goal. Then, I make sure to measure my own success by the success of my group. I know I am doing a good job when the people I am working with are happy and feeling fulfilled in their goals.
IGNITE: Thank you for your time, Teresa, and welcome to the Fellowship!
---
More about Teresa:
Teresa is IGNITE's Denver Fellow. She is currently pursuing a bachelor's degree in International Studies, Political Science and Philosophy with a minor in Spanish at the University of Denver. She serves as the Communications Director for Colorado Young Democrats. She worked on Tattiana Matta's Congressional campaign in 2016, and volunteered for the Joe Biden campaign in 2020. She currently volunteers for the ACLU of Colorado and New Era Colorado. As a child, Teresa experienced the loss of family members, and she wanted to give back to those who have experienced similar situations so she started working for Camp Erin Denver which hosts a children's grief camp every summer. As the granddaughter of an immigrant, Teresa is dedicated to increasing diversity in politics as well as advocating for underrepresented voices. She is also passionate about social justice issues such as indigenous rights, women's rights, racial equality, and criminal justice reform. For Denver inquiries, please contact teresa@ignitenational.org.