Meet Kaila Pouncy, IGNITE's Birmingham Fellow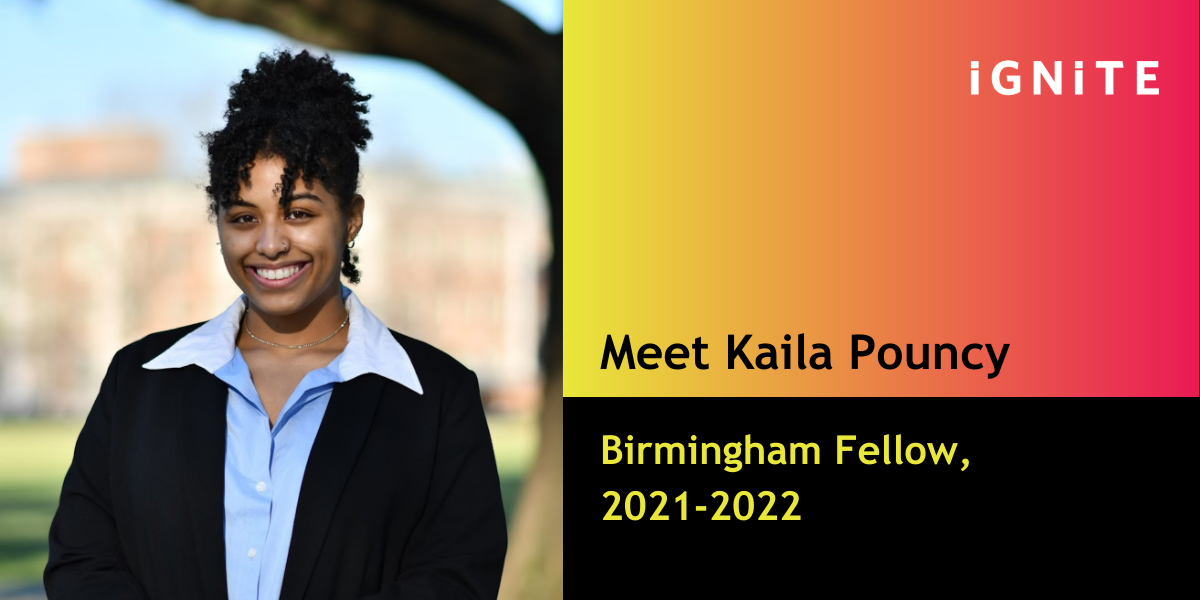 IGNITE is excited to introduce Kaila Pouncy as our new Birmingham Fellow. We caught up with Kaila to learn more about why she is passionate about igniting political power in young women.
IGNITE: Hi Kaila, welcome to the Fellowship! Can you tell us a little bit about why you wanted to become an IGNITE Fellow?
KP: I dream of a society where women and girls are confident about taking up space instead of being shamed for it. I'm passionate about the encouragement, advancement and equal opportunity for women in positions of power. From the time I was young, I was well aware of the issue. I lived as if I were walking on landmines, carefully ducking around situations when I should have been bold because I didn't want to be seen as "bossy" by individuals who fancied themselves far more capable than myself, especially because of my gender. When I was finally old enough to understand the unfairness of this dynamic, I promised myself I would never let myself go unheard again, dedicating myself to a pre-law career path. With that, I am drawn to positions of political leadership. I can not be quiet because that is not who I am. I am boisterous, demanding attention, and questioning the ambiguous.
IGNITE: What a powerful answer! Knowing that you're so involved in your community, is there one thing you want to change in your community and, if so, why?
KP: When I began attending The University of Alabama, one thing that I immediately recognized was the reluctance some students had to participate in conversations that have the potential to get heated. If I could change one thing about my community, I would do my best to chip away at political polarization by getting people on the same page about what it means to have productive political conversations. I'd like to increase the willingness of people, specifically college-aged students, to engage in efficient political discourse. Growing up in the South as a young Black queer woman, I have come to the realization that nothing brings people together more than discussing how different we are, however, this doesn't always have to be the case. I sincerely believe that, regardless of differences people may have, we all want the same thing for ourselves, which is the freedom to live safely and happily.
IGNITE: IGNITE Fellows are political leaders in their communities. Can you tell us more about your political leadership experience?
KP: At The University of Alabama, I have the privilege of wearing many hats that offer me many amazing opportunities where I get to showcase political leadership. Firstly, as a freshman student at the university, I had the opportunity to serve on the Student Government Association's First Year Council as one of 65 freshmen chosen to represent the freshman class. In this role, I was also able to address common challenges on campus and within our local community through the creation of policy and programs by collaborating with my fellow peers and representatives. Last Fall, I was chosen as one of two Student Fellows for Alabama Possible in collaboration with the National College Attainment Network. As a Student Fellow, I was able to engage in national policy discussions about making college more accessible for all students, particularly first-generation and low-income college-going students.
IGNITE: Wow, you're quite involved in politics! Are there any other political experiences you'd like to talk about?
KP: During the 2020 Senate runoff in the state of Georgia, I worked as a Get Out The Vote (GOTV) Mobilizer on Jon Ossoff's campaign for Senate. In this position, my main responsibility was to mobilize the 18-24 age demographic through phone-banking, canvassing, and securing transportation to polls. In less than a week, I was able to canvas 400+ doors to inform the Metro Atlanta area of the Senate runoff and encourage voting plans. Currently, I serve as the Organizational Committee Head for the University of Alabama chapter of the League of Women Voters where I coordinate events on campus to help further educate the student body on current events and politics through a non-partisan civic engagement organization.
IGNITE: It seems that you're especially passionate about voter mobilization. Why do you feel that civic engagement is so important?
KP: What excites me about civic engagement is the possibility to create change in the life of another. When it comes to civic engagement, I believe that it's critical to be aware and involved because politics are something that affects each and every person, regardless of how significantly. Through engaging with our community, we are able to see where representation is missing in our government and learn how critical representation is. When we engage in our communities, we become aware of the struggles our neighbors face and how to help them solve those issues. Through this, the legislative process has the power to be more representative of our population to prevent struggle in our communities and ensure our elected officials have our best interest at the forefront of their agendas.
IGNITE: Speaking of engaging your community, how do you plan to mobilize your community and get them excited about IGNITE?
KP: I believe that when it comes to mobilizing, meeting the community you're trying to reach where they are at is the key. I believe that coming to know your community is the first step before one even begins to think about mobilizing so that organizers are able to present information in a tone and medium that truly touches the community. Considering the demographic I hope to reach, I think the most effective way to mobilize is to provide young people with reliable information on social media. Breaking the information down and drawing connections to the things we see in real life through social media is the most effective way for college students today. I also am involved with a sorority on-campus, our Women and Gender Resource Center and I currently serve as a contributing writer for a student magazine where the target audience is young women. Through these outlets, I have the ability to focus my energy towards IGNITE's ideal target audience of young college women in our community to inform them about political participation and civic engagement.
IGNITE: We've talked about leadership a few times throughout this interview, but how do you personally define leadership and how do you exemplify it in your work?
KP: Throughout my college experience, I have come to understand that the definition of leadership is to never stop learning and know when to fall back on the community that you are leading as the lifeline. I understand that true leaders are not defined by their accolades on paper, but what they do with those successes. Leadership is defined by the recognition of a mission, a picture greater than oneself, and acting daily on that mission with integrity. I feel as though I exemplify these qualities by being true to myself and those around me with each and every one of my endeavors. I am restless in my desire to serve and doing so makes me feel purposeful and adventurous because of all that I gain from it. To be a leader is to choose to be one, not to be chosen. The new world among us is one that is welcoming, diverse, and eclectic. I want to be in the room where it happens; to have a seat next to and be one of the people striving to better our futures. Dedication to this cause, along with the conscious choice to lead by example every day, is what I feel makes me a leader.
IGNITE: It's been lovely speaking with you, Kaila. Thank you for your time.
---
More about Kaila:
Kaila Pouncy is IGNITE's Birmingham Fellow. She is a student at The University of Alabama majoring in Criminology/Criminal Justice and Political Science with a minor in Psychology. Kaila has held many leadership positions on her campus, including Associate Justice on the Judicial Board of UA's Student Government Association, President of UA's Women and Gender Resource Center Student Leadership Council, a captain position for UA's Mock Trial Association, and is a contributing writer for two student publications. She is the Organizational Committee Head for UA's League of Women Voters and serves as the Political Awareness and Involvement Committee Chair for the Lambda Zeta Chapter of Delta Sigma Theta, Sorority Inc. She plans to attend law school and work to advocate against mass incarceration. Kaila aspires to one day hold political office at a local or state level. For Birmingham inquiries, please contact kaila@ignitenational.org.