Recommended reads by Black women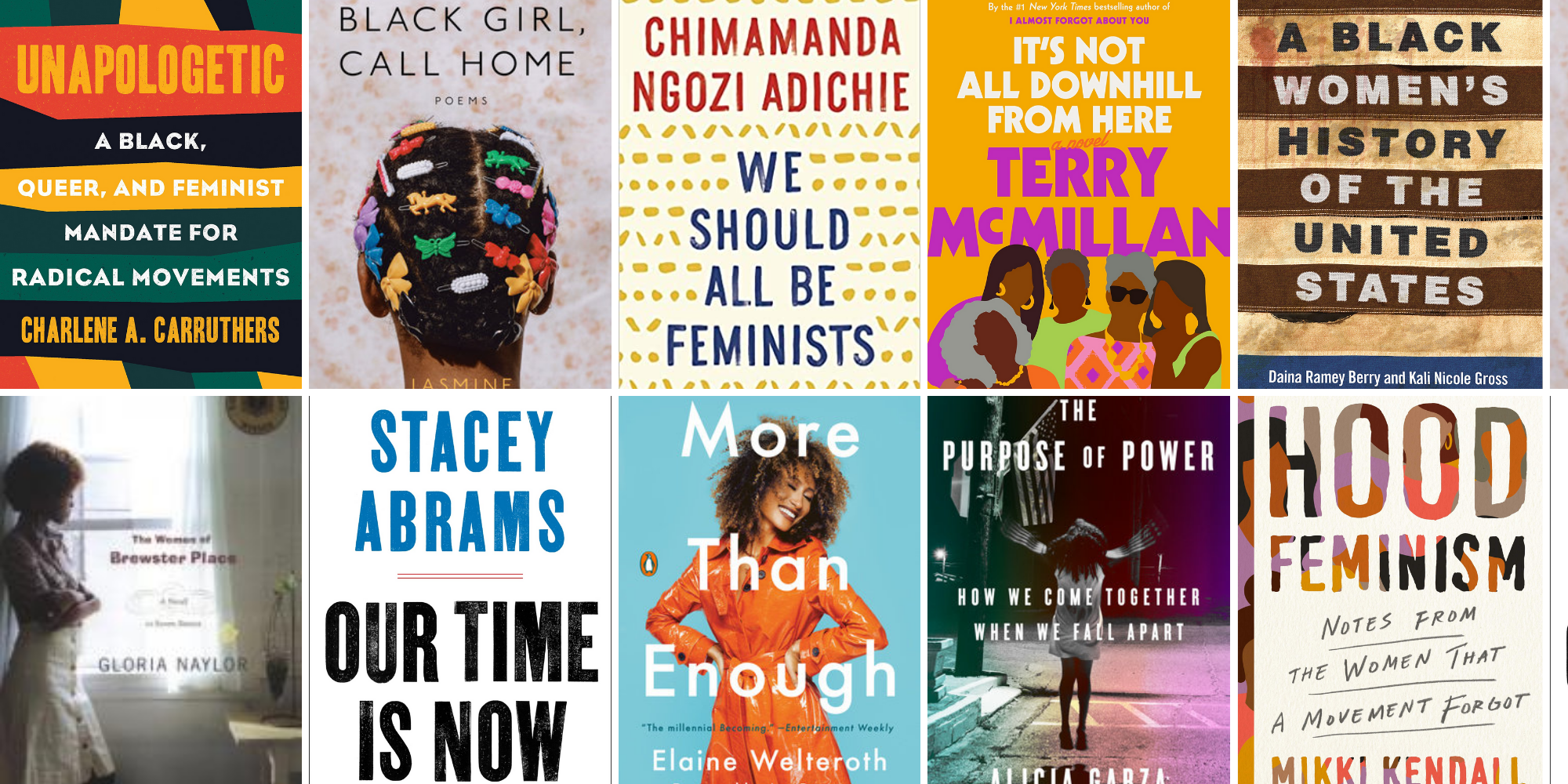 History has shown us time and time again that Black women are the unsung heroes. During Black History Month, we challenge you to only read books written by Black women. Check out some of the reads recommended by Black women and written by Black women. You can purchase these books from Black-owned bookstores which we've linked at the end.
Unapologetic: A Black, Queer, and Feminist Mandate for Radical Movements by

Charlene Carruthers
Charlene Carruthers shares how social justice movements can benefit from healing justice and leadership development. Carruthers urges readers to make the social justice movement towards Black liberation more radical and more feminist. For anyone interested in making a difference through activism, Unapologetic creates a blueprint for young leaders to step into power. Charlene Carruthers is a Black, queer feminist community organizer and writer with over 15 years of experience in racial justice, feminist and youth leadership development movement work.
Black Girl, Call Home by

Jasmine Mans
In this collection of contemporary poems, Mans explores the topics of race, feminism and queer identity. She shares what it means to be a Black woman in America and talks about the path to adulthood as well as the path home. Mans explores what it truly means to belong. Jasmine Mans is a poet and artist from New Jersey.
This essay by Nigerian author Adichie provides readers with a modern definition of feminism that is intersectional. Adichie explores what it means to be a woman and shares why we should all be feminists. We Should all be Feminists was originally a TED talk that was turned into a book. Chimamanda Ngozi Adichie is also the author of Purple Hibiscus and Half of a Yellow Sun.
It's Not All Downhill From Here by

Terry McMillan
In this novel, Loretha Curry and her group of friends try to figure out what she's going to do with the rest of her life after an incident. McMillan explores the idea of reinventing yourself and embracing who you truly are at any age. Terry McMillan is a New York Times bestselling author who also wrote How Stella Got Her Groove Back, which was adapted into a film.
Our Time Is Now: Power, Purpose, and the Fight for a Fair America, by

Stacey Abrams
In this book, Abrams covers the years of voter suppression that people have faced in America. Abrams calls for stronger voter protection and empowering voters, while offering solutions on how to reduce voter suppression. Stacey Abrams is an American politician, lawyer, voting rights activist, and author. Abrams ran for governor in 2018 and founded Fair Fight after the election's results. Learn more about her here.

The Women of Brewster Place by Gloria Naylor
Naylor's debut book is a collection of interconnected short stories that chronicle the lives of seven Black women and their lives before arriving at Brewster Place in New York City. Naylor's work was adapted into a miniseries and a TV show by Oprah Winfrey. Gloria Naylor received the National Book Award in the category First Novel for The Women of Brewster Place.
Welteroth is a successful career woman who has often been the only Black woman in the room. In this memoir, she talks about race and her own journey. She wants to remind all women that you are more than enough and teaches us all how we can claim our space. Elain Welteroth is an American journalist, editor and New York Times best-selling author.
Alicia Garza, co-founder of the Black Lives Matter movement, shares what she has learned over the years about bringing people together to create change. In the Purpose of Power, Garza emphasizes how it's not the hashtags that make a movement, it's the people that make a movement. She takes readers on a journey through time to uncover where the Black Lives Matter movement originated and how we can move forward together. "Our movements must reflect the best of who we are and who we can be," she writes.
A Black Women's History of the United States chronicles the complex journey of Black women through time. From slavery to activism, as artists and leaders, the stories of Black women are varied. Authors Berry and Gross examine the tragic parts of Black womanhood while also celebrating the beautiful and empowering part of what it means to be a Black woman in today's America. Daina Ramey Berry is a historian who studies gender and slavery, as well as Black women's history. Kali Nicole Gross is also a historian and a Professor of African American Studies at Emory University.
The Office of Historical Corrections by

Danielle Evans
Evans takes us through the stories of Black and multiracial characters as they live their lives in current times while exploring how history can have a lasting impact. This novella examines the impact of history on individuals and as a collective. Danielle Evans is an award-winning author and The Office of Historical Corrections has been nominated for the annual Story Prize award.
Hood Feminism dissects contemporary feminism and arrives at a conclusion that won't sit easy with well-intentioned, self-proclaimed white feminists. Kendall's essays beautifully center the experience of women who face an actual battle on the front lines while white counterparts clamor to hold power and define the rules of the movement. Mikki Kendall is a New York Times bestselling writer, speaker, and blogger whose work covers race, feminism, violence in Chicago, tech, pop culture, and social media. She is also the author of Amazons, Abolitionists, and Activists: A Graphic History of Women's Fight for Their Rights.
I'm Still Here: Black Dignity in a World Made for Whiteness by Austin Channing Brown
In I'm Still Here, Brown shares her experience growing up in America as a Black woman who learned how to love herself over time. Brown talks about the complexity of America and how we can move towards racial justice. Austin Channing Brown is a best-selling author, public speaker, ]and media producer.
Beloved by Toni Morrison
Beloved is a novel by the renowned author Morrison, who is a Pulitzer and Nobel-prize winner. Set after the Civil War, this book tells the story of a Black family who were formerly enslaved and is based on a true story. The book was later adapted into a film by Oprah Winfrey. Toni Morrison was an author and professor who became the first Black woman to edit fiction at Random House, a book publisher in New York City.
Well-Read Black Girl by

Glory Edim
There's a reason we all turn to literature and media. This collection of essays highlights the importance of representation especially in literature. Edim lifts up the work of other Black women who are sharing their knowledge, experiences and heart with the world. Glory Edim is the founder of the Well-Read Black Girl book club which turned into a New York literary festival that celebrates Black women in literature.
Post Traumatic Slave Syndrome by

Dr. Joy DeGruy
In Post Traumatic Slave Syndrome, Dr. Joy DeGruy addresses the impact of slavery on Black people over time. DeGruy shares how emancipation did not end the suffering and abuse. Institutionalized and systemic racism through Black Codes and Jim Crow Laws continued a traumatic generational cycle of oppression. DeGruy has over three decades of experience in the mental health field and hosts seminars on culture, race relations and contemporary social issues.
Freedom Is a Constant Struggle: Ferguson, Palestine, and the Foundations of a Movement by Angela Davis
This collection of essays, interviews and speeches uncovers the oppression faced around the world. From the Black Freedom Movement to the South African anti-Apartheid movement, renowned activist Davis shares her thoughts on how we can move towards liberation while reminding us all that freedom is a constant struggle. Angela Davis is a political activist, scholar, author, and speaker.
Want to purchase these books while supporting your local, Black-owned bookstores? Find a bookstore by clicking here and here.
Learn more about the Black women who have made history and pushed our democracy forward by registering here for our virtual Black History Month event on 2/28.
More suggestions:
The Free Black Women's Library
Anna Julia Cooper: the mother of Black feminism