Demystifying Public Policy & Political Leadership: Tiffaney's Story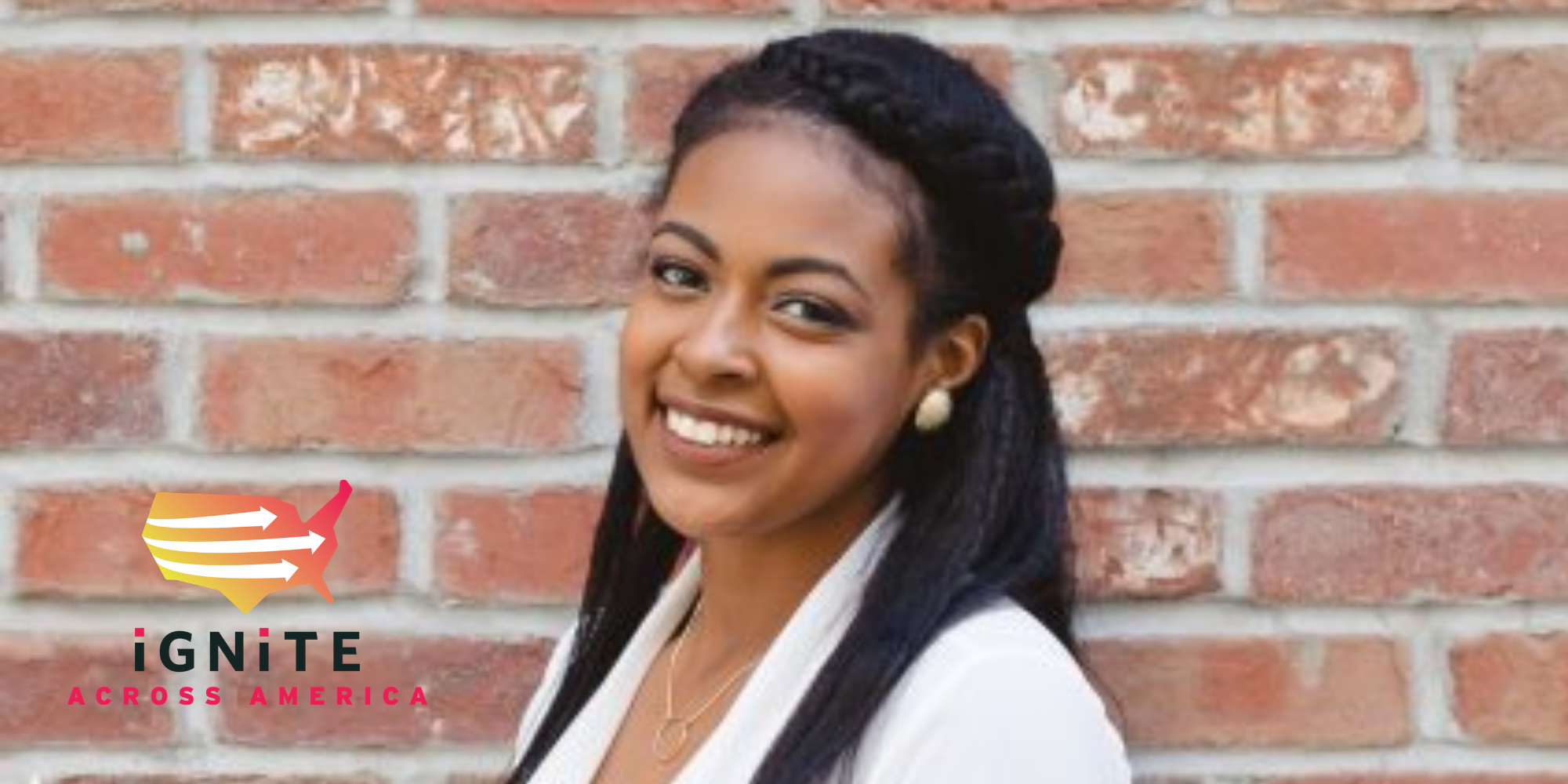 When Tiffaney was an undergrad at California State University San Marcos, she wasn't thinking about political leadership. Instead, she was focused on obtaining a bachelor's degree in Social Science and Communications. That changed when the CSUSM Women's Center ran a campus campaign to inspire women to run for office.
The campaign opened Tiffaney's eyes to disparities in campus leadership: "Most students at CSUSM are women yet the leadership was mostly men. I was bothered by this and began seeing the lack of women in leadership everywhere." She set to work to change that, running for Student Representative. Tiffaney won and kept running, later serving as Vice President and President of Associated Students, Inc. of CSUSM: "I changed the face of student government along with my two vice presidents when we served as the first all-women-of-color executive board."
"As a Black woman, elected office was never on my radar when I thought about my future and the impact I wanted to make, but being able to see people in leadership roles who look like me and are addressing the issues I care about changed my perspective."
During her time in student government, Tiffaney learned how to organize and form coalitions, make a difference on campus, and build up confidence in others to step into leadership roles. She's particularly proud of her leadership in founding the Black Student Center and a robust on-campus food party.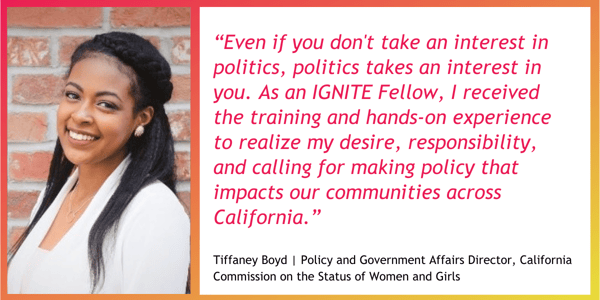 Tiffaney began to explore her interest in political leadership and policy off-campus as a Student Worker in the San Diego County District Attorney's Office and as a mentee with Pathways to Policy. It was in her role as a mentee where Tiffaney learned of IGNITE and, shortly after, became the inaugural Fellow for California.
As an IGNITE Fellow, Tiffaney inspired college women across California to own their political power: "My goal is to continue contributing to changing and diversifying the face of leadership in my community and ultimately, across the United States. I want to empower myself and others to become more civically engaged, to think critically about laws and policies and to use our voices to shape tomorrow's world."
Post-fellowship, Tiffaney threw herself into the world of public policy. Simultaneously, she earned a certificate in Applied Public Policy and Government at California State University Sacramento and served as a Jesse M. Unruh Assembly Fellow in the California State Assembly. This landed her the role of Legislative Assistant and Deputy Press Secretary to Assemblywoman Shirley Weber.
"With Assemblywoman Weber, I got to work on policies pertaining education, housing, health, voting, and more. I got to be a megaphone for the needs of others."
Today, Tiffaney is living her dream as the Policy and Government Affairs Director on the California Commission on the Status of Women and Girls, setting the policy agenda. She works with commissions and legislators statewide to advance bills that increase economic security, women and girls' wellness, and equity and justice. Currently, she's most excited about ending discriminatory taxes by ending the Pink Tax: "Compounded by the gender pay gap, arbitrary price differences are unjust and harmful. Women should be able to exercise their buying power without the fear of gender-based discrimination."
"IGNITE demystifies the depth and breadth of public policy and political leadership, giving young women many paths forward to pursue what they're passionate about."
Connect with Tiffaney
Keep reading
Inspired? Support IGNITE's work
By supporting IGNITE you are investing in the future generation of women political leaders. Donate today.