All roads lead back to IGNITE: Mana's Story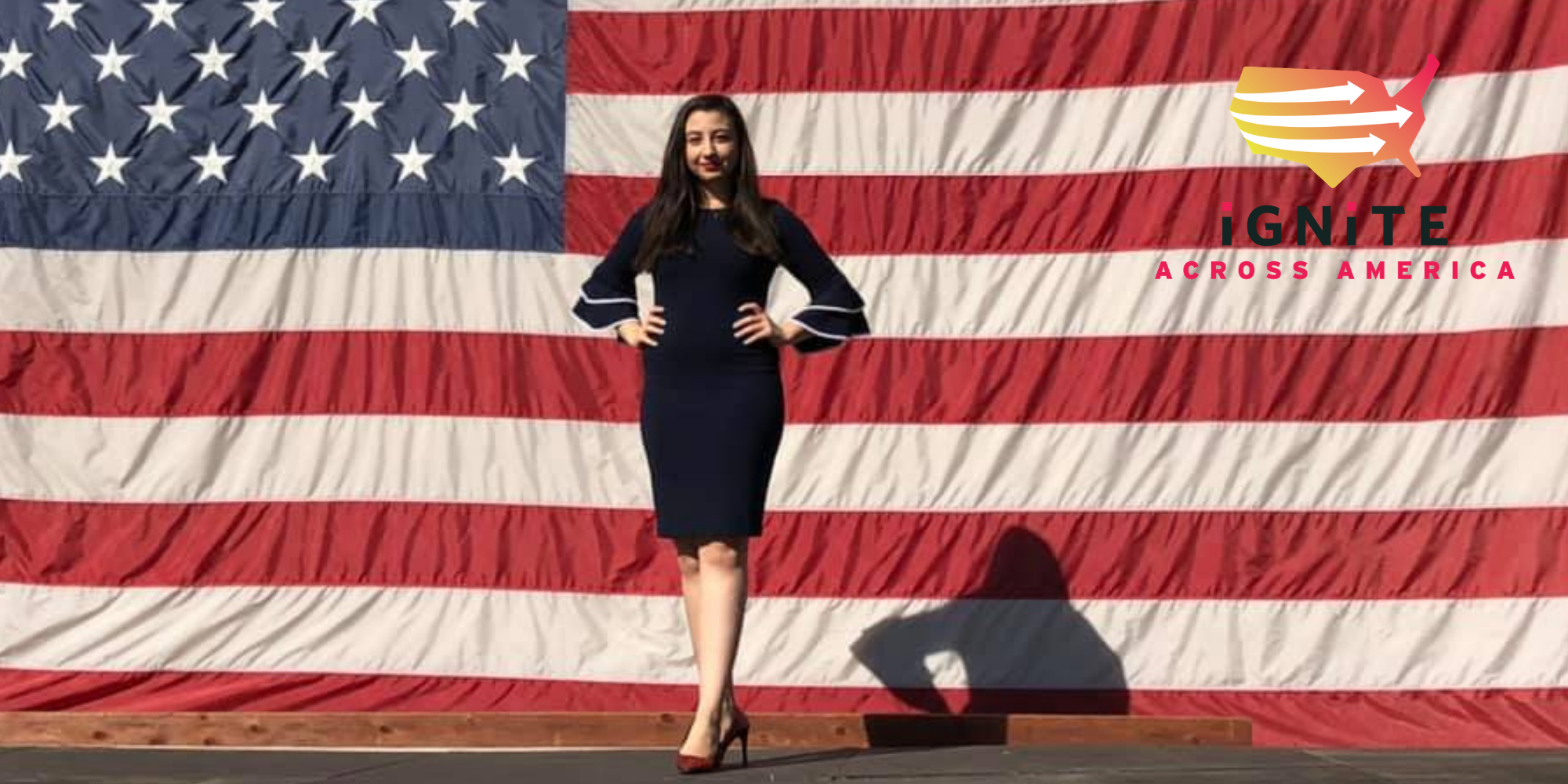 Mana Shooshtari, at 20 years old, already knows the title of her autobiography: "Crowns and Congress". "Before I even thought politics was an option, I wanted to be a music teacher or Broadway star. I had absolutely no intention of entering the political realm." With the promise of a scholarship for college, Mana competed for San Joaquin County's Outstanding Teen and won. As a titleholder, Mana began to see a new side of her hometown of Stockton, CA. "I learned how to engage with my community, and more than that, I learned how to love my community."
Everything changed for Mana her junior year in high school. In January 2017, Trump signed Executive Order 13769, titled Protecting the Nation from Foreign Terrorist Entry into the United States, but popularly known as the Muslim travel ban. Mana's political ambition was put into hyper-drive.
"As an Iranian American, whose grandparents were flying to the U.S. from Iran that very week, this felt personal." It had taken Mana's grandparents ten years to get their green cards. This was a turning point. If one leader could roll out a policy like this, surely one person could push back.
Mana threw herself into advocacy and politics. That's how she learned about IGNITE in her freshman year in college at San Jose State University, where she joined local College Council meetings and saw a new side to politics:
"IGNITE created a safe space to connect and learn. These moments made me realize that being a good leader is being able to be vulnerable and honest with one another."
From Council meetings to advocacy training in Sacramento to months later sitting with legislators in Washington, D.C., Mana found her calling: "Young Women Run D.C. officially sealed the deal, this is what I'm going to do for a living." Her newly ignited confidence in the political realm still surprises her: "If you told me before I joined IGNITE that one day I'd march into my Congressman's office and have a conversation on foreign policy and voting, I would have said you were insane."
2020 opened new doors for Mana. She decided to take time off from school and threw herself into the election, landing the role of Field and Communications Coordinator for Grassroots Democrats HQ.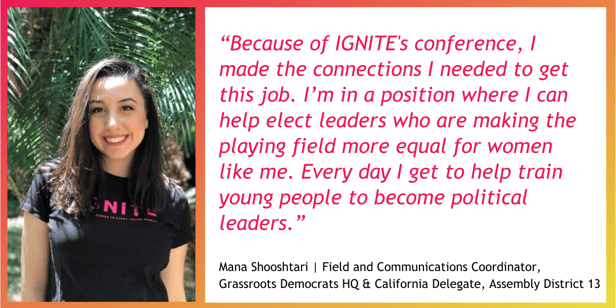 What was supposed to be a part-time job, ramped up to 60 to 80 hour work weeks during the 2020 election. For Mana, it all looped back to January 2017 and the Muslim ban. "It was just that high stakes of an election for me. If I don't work every hour of my day and we lose I will never forgive myself." While she put in the hours for Grassroots Democrats HQ, Mana also served as an IGNITE the Vote Ambassador, helping IGNITE reach 6.5 million people with voting resources.
After the election it was her turn to run: in 2021 she was elected as a Delegate for California Assembly District 13.
Connect with Mana
Keep reading
Inspired? Support IGNITE's work
By supporting IGNITE you are investing in the future generation of women political leaders. Donate today.