We belong here: Christina's Story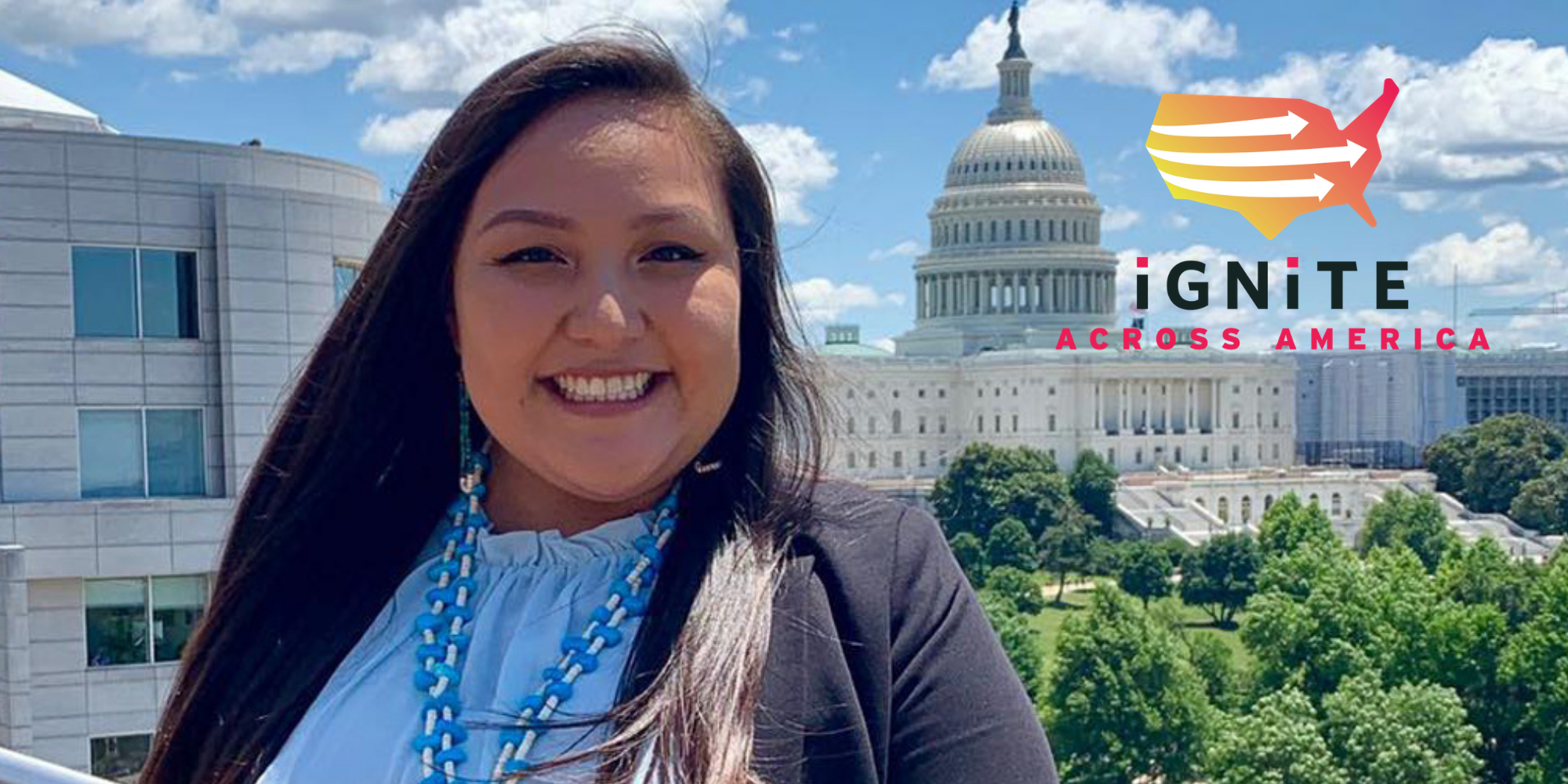 When Christina Haswood swore into the Kansas Legislature as the youngest member and the second Native American to serve in its history, she proudly wore the traditional clothing and jewelry of the Diné. "I wanted to honor my ancestors and my family for all the sacrifices they made for me to be here."
Christina didn't always proudly display her ties to her ancestors. She was born on the Navajo reservation in Arizona. However, unlike her parents and grandparents, she didn't grow up there. "As a teen, I just wanted to fit in. I would not wear any Navajo jewelry or attire. My mom would make fry bread in our apartment, and it would smell like oil in the whole apartment complex. I would get embarrassed."
Things began to shift in high school when Christina won Miss Indian Youth of Lawrence. "Winning the pageant grew my confidence. Being a proud young Navajo woman was cool. As I headed off to college, I promised myself I would not be shy or hesitant but outspoken and ambitious."
Christina now holds two public health degrees. Post-graduation, she worked as a research assistant with the National Council of Urban Indian Health and the Center for American Indian Community Health, studying tribal youth nicotine addiction and the impact of COVID-19 on Native populations.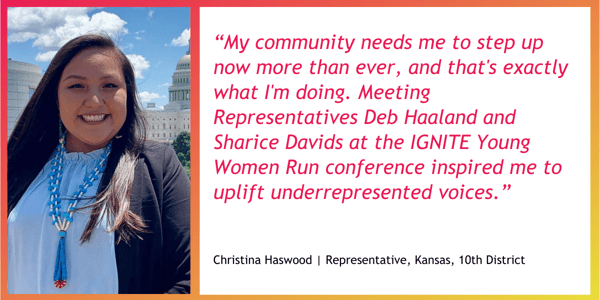 The move from public health to public service was a logical step for Christina. She credits a summer in D.C. where she served as an intern with the Native American Political Leadership Program in D.C. and attended IGNITE's Young Women Run Conference for jumpstarting her political career. For too long, Christina witnessed the resource inequities and health disparities in Native communities. While the micro-level change of public health work was meaningful, she realized she could have a significant impact through policy and community-centered leadership.
Christina became more invested in local politics, attending community gatherings and found herself asking questions no one else was.
"I would be the only person of color, and most of the time, the youngest person in the room. I would ask, 'What about us? What are you doing for the Native Indigenous communities?' And they wouldn't have an answer."
Christina launched her campaign during the first wave of the COVID pandemic in May 2020. Thanks to social media savvy and genuine messaging, Christina's campaign went viral. On August 4, 2020, she won the Democratic primary with over 71% of the vote. No Republican candidate filed to contest the general election, and Christina was elected to the Kansas House unopposed on November 3, 2020.
On January 21, 2021, as she took her oath, Christina's traditional Diné regalia - moccasins, a velveteen skirt, a red blouse with silver embellishments, and heirloom accessories passed down to her from family members - was intentionally selected to change the narrative:
"I want to show all the other Indigenous folks that we belong here, and you too can become a lawmaker for your state. Because when I was growing up, I never saw Natives in political positions outside of tribal politics."
Connect with Christina
Keep reading
Inspired? Support IGNITE's work
By supporting IGNITE you are investing in the future generation of women political leaders.Donate today.