Welcome IGNITE's 2022-2023 Fellows!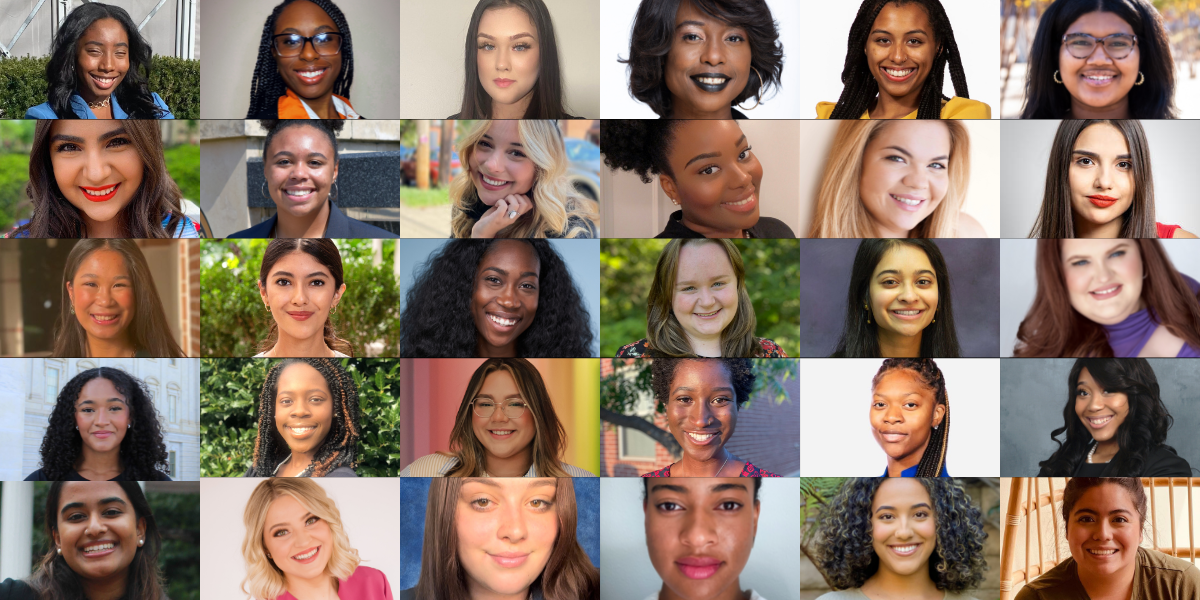 IGNITE is thrilled to introduce you to our seventh cohort of Fellows. Every year IGNITE recruits a cohort of diverse and passionate women in communities across America and provides them with resources, training, and networks to flex their political power and mobilize women on their campuses and in their communities to become civically engaged. Fellows serve as ambassadors for IGNITE's mission and vision and play a valuable role in our efforts to spread a national message that it is time for young women to step into political power. Learn more about the Dr. Anne Moses IGNITE Fellows below.
Meet the 2022-2023 Dr. Anne Moses IGNITE Fellows
Madysen Forney, Atlanta Fellow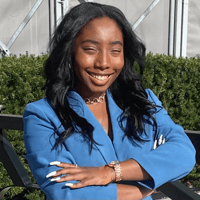 Madysen Forney is IGNITE's Atlanta Fellow. She is a Junior Political Science major from Roseville, Michigan, residing in McDonough, Georgia and is currently attending Clark Atlanta University. Madysen humbly serves as Student Government Association Chief of Staff and previously served as Freshman Class Representative and Sophomore Class Vice President. Madysen is an aspiring first-generation law student planning to serve in the legal field of Human and Civil Rights to promote equitable change across the nation. She is a PLUS Program Scholar through the Law School Admissions Council "LSAC" and a recipient of the community advocacy and support award by Grace Baptist Church. Outside of her campus involvement, she sits on the board of an educational nonprofit, Project Y.E.S., Incorporated, where she serves as Youth Advisor. She has remained committed to service through mentorship, state and local government, research on education and health equity and public policy in the state of Georgia. Madysen's dedication stems from her mother introducing service to her at age ten, setting a foundation that inspires her to implore others to remain engaged in service and civic engagement. As a well-rounded college student, she has undeniably remained focused on her academics, maintaining an above-average gpa of 3.7. Madysen has aspirations of running for a political office one day and in seeking that position hopes to continue to serve communities of all backgrounds. In her future endeavors, she would like to produce greater philanthropic efforts through her own nonprofit in all capacities in hopes of inspiring the next generation of phenomenal community leaders. For Atlanta inquiries, please contact Madysen at madysen@ignitenational.org.

---
Teniece Evans, Austin Fellow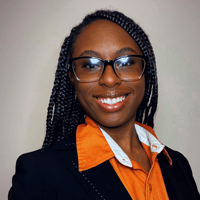 Teniece Evans is IGNITE's Austin Fellow. Teniece is currently majoring in Government and African and African Diaspora studies at the University of Texas. She is passionate about civic engagement as it relates to Black and Brown communities. Previously, Teniece has worked in positions that have allowed her to create open forums, host voter registration drives and work on public policy in Texas. For Austin inquiries, please contact teniece@ignitenational.org.

---
Carlyn Michelbacher, Baltimore Fellow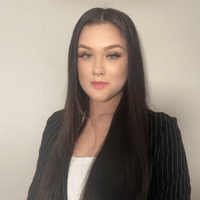 Carlyn 'Kiki' Michelbacher is a second-year Baltimore Fellow. This past May, Kiki graduated magna cum laude from Towson University with a degree in Law and American Civilization and a minor in Human Rights and History. During her college career Kiki has organized numerous student-led protests and campus initiatives that advocated for gun reform, increased menstrual product access, reproductive justice, increasing civic engagement and more. During her first year as an IGNITE Fellow, Kiki was able to curate numerous successful events where she was able to collaborate with the Center for Reproductive Rights and numerous influential community leaders in Baltimore. Her leadership experience also includes presiding over several campus organizations including Towson's Prelaw Society as well as serving in several elected student-government positions. Kiki's passion for protecting human rights has led her to work on numerous prison reform projects and is currently working on a local initiative to reduce the recidivism rate in Baltimore. Kiki is currently applying to law school and intends to pursue a career in public interest law where she hopes her J.D may serve as a tool for continuing her advocacy work. For Baltimore inquiries, contact Kiki at carlyn@ignitenatnational.org.
---
Leesa Hogan, Bay Area Fellow
Leesa Hogan is IGNITE's Bay Area Fellow. She is a graduate and returned student of Merritt Community College in Oakland, CA, with two associate degrees in African American Studies and Social and Behavioral Sciences. She is currently serving on the board of trustees for the Peralta College District and also serves as the student council president at Merritt College in Oakland, California. Additionally, Leesa is the student representative on multiple committees at Merritt College. She is currently an Attendance Specialist in the Oakland Unified School District. She has been an advocate for unbiased educational reform, hoping to close the educational gap between low-income Black and Brown students. She has been featured in the Peralta College District Newsletter. She would like to continue serving as a representative of the community within a career in politics. Leesa feels that politics is a tool that can help change the nation and make it a great place for everyone. For Bay Area inquiries, please email leesa@ignitenational.org.
---
Kaila Pouncy, Birmingham Fellow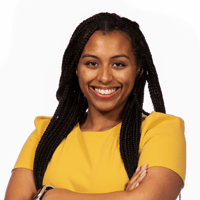 Kaila Pouncy is IGNITE's Birmingham Fellow. She is a senior at The University of Alabama majoring in Criminology/Criminal Justice and Political Science with a minor in Psychology. Kaila is a trailblazer and community leader. She is a Criminal Justice and Political Science major with a major in Psychology. She serves as President and Founder of Tide Against Time, First Vice-President of Lambda Zeta Chapter of Delta Sigma Theta, Sorority Inc, Associate Justice on her SGA's Student Judiciary, attorney captain of UA Mock Trial Association Team D, Organizational Committee Head of UA's League of Women Voters, ambassador for UA's Women and Gender Resource Center, and Campus Impact Manager for Bumble, Inc. As a writer and poet, her work has been featured in three award-winning student publications. She recently served as a Fellow for Alabama Possible where her student story about financial aid contributed to the increase of the 2022-23 Pell Grant Fund and as a Congressional Intern for Congresswoman Terri Sewell. She is also currently interning with Alabama Appleseed. She plans to attend law school and advocate for criminal justice reform post-graduation. Kaila aspires to one day hold political office at a local or state level. For Birmingham inquiries, please contact Kaila at kaila@ignitenational.org.
---
Christina Williams, Boston Fellow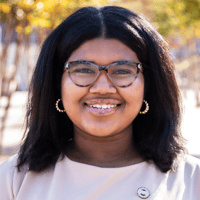 Christina B. Williams is IGNITE's current Boston Fellow and a former Atlanta Fellow. She is a Philadelphia, PA native and a recent Magna Cum Laude graduate of Clark Atlanta University, where she obtained a Bachelor of Arts in Political Science. She is currently pursuing her J.D. at Harvard Law School with aspirations to utilize the law as a tool to defend the civil rights & civil liberties of marginalized communities. Christina is a leader in the student civic engagement and social action space. She has extensive experience serving in various elected undergraduate student government positions, as well as founding and presiding over several campus clubs and initiatives, including CAU Votes. Christina has gained experience through fellowships and internships with several nationally recognized civic organizations including the ACLU of Georgia, the Andrew Goodman Foundation, Campus Vote Project, Common Cause, Fair Fight Action, IGNITE, Public Citizen, and Rock the Vote. She has been referenced by a number of media outlets including The National Journal, NPR, and The Washington Post. Christina is also a proud member of Delta Sigma Theta Sorority, Inc. For Atlanta inquiries, please contact christina@ignitenational.org.
---
Ana Velazquez, Chicago Fellow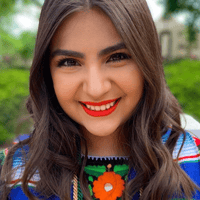 Ana Velazquez is IGNITE's Chicago Fellow. She graduated from Bradley University in 2019 with her Bachelor of Science in Community Wellness and a minor in Health. At Bradley University, she served as President of the Association of Latin American Students, Student Activities Budget Review Committee, and the Latinx Caucus. After graduating, she became involved with the Bradley Alumni International Latino Association and serves as the Alumni Engagement Coordinator. In May 2022, Ana graduated with her Master of Science in Higher Education and Student Affairs from Northern Illinois University (NIU). While at NIU, she was a Graduate Research Assistant for the Office of Undergraduate Admissions and the Office of Academic Diversity, Equity and Inclusion (ADEI). Ana served on various planning committees for campus conferences including the One-Day Conference, Student Affairs 101 Conference, and the annual People's Organizing Weekend Empowerment Retreat (POWER). She interned at the Office for Undocumented Student Support and for a DEI organization where she researched various historical DEI events and produced social media content for the organization. This semester, she is teaching an Intro to Latino Studies course at NIU. Most recently, she was hired as the Assistant Director of Social Justice Education under the same ADEI Office. Ana is a proud first-generation, Latina, from a mixed-status household, and tía of three nephews and one niece. For Chicago inquiries, please contact ana@ignitenational.org.

---
Alysha Stone, Cleveland Fellow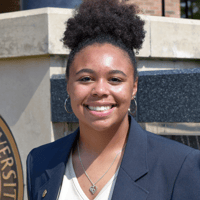 Alysha Stone is IGNITE's Cleveland Fellow. She is a Public Health major at Kent State University concentrating on Community Health Outreach and Development, minoring in Political Science and Pre-Law. Alysha is passionate about creating an equitable system in which anyone regardless of demographic can have the opportunity to be great. She is interested in education reform and policy work. She was part of the executive team for a national student organization known as CHAARG, where she worked with women from various backgrounds, planned events, and stayed engaged with her community. Alysha also has connections to state representatives and local campus organizations where she feels encouraged to voice the needs of the community she serves. She is a passionate leader and always open to new opportunities to challenge her thinking. For Cleveland inquiries, please contact alysha@ignitenational.org.

---
Julia Dennen, Columbus Fellow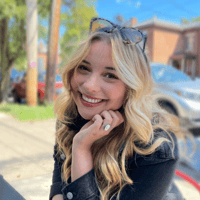 Julia Dennen is IGNITE's Columbus Fellow. She is a born and raised midwesterner, and currently lives in Columbus, Ohio. During college, Julia served as Student Body Vice President of the Ohio State University, representing and advocating on behalf of over 50,000 students. She has layered and extensive political advocacy experience particularly in higher education accessibility, voter rights and menstrual equity. She currently works within the Columbus community, running a civic engagement initiative through City Council President Shannon Hardin's campaign that approaches the issue as a form of self-expression: registering and rejuvenating voters, building a community volunteer network, and creating partnerships with other campaigns and progressive organizations. Julia believes that human connection and storytelling are the heart and soul of politics, and aims to empower and uplift voters to use their voices for change. For Columbus inquiries, please contact julia@ignitenational.org.
---
Amini Bonane, D.C. Fellow

Amini Bonane is IGNITE's D.C. Fellow. She is a Congolese American social entrepreneur, community organizer and advocate. As a nonprofit fellow at George Mason University, Amini studied Finance, Philosophy and Law; and is now pursuing a master's degree in Government from Harvard University. She is also a proud graduate of the Sorensen Institute for Political Leadership and The Campaign School at Yale. Amini has served and been awarded for her work in multiple leadership positions, motivated by the fight for equity for marginalized communities. When off the clock from her job in the Civic technology industry, she loves to spend her free time volunteering, watching documentaries and mentoring students through her role as founder and Chief Empowerment Officer of Brains Then Beauty. Amini is set to become her hometown's 1st Black councilwoman, in hopes to inspire the next generation of young women to persevere and prevail no matter what. For D.C. inquiries, please contact Amini at amini@ignitenational.org.
---
Teresa Ornelas, Denver Fellow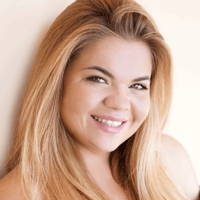 Teresa Ornelas is IGNITE's Denver Fellow. She is currently pursuing a bachelor's degree in International Studies, Political Science and Philosophy with a minor in Spanish at the University of Denver. She is also getting a Master of the Arts in International Human Rights from the Joseph Korbel School of International Studies. Teresa served as the Communications Director for Colorado Young Democrats. She worked on Tattiana Matta's Congressional campaign in 2016 and volunteered for the Joe Biden campaign in 2020. She currently volunteers for the ACLU of Colorado and New Era Colorado. As a child, Teresa experienced the loss of family members, and she wanted to give back to those who have experienced similar situations so she started working for Camp Erin Denver which hosts a children's grief camp every summer. As the granddaughter of an immigrant, Teresa is dedicated to increasing diversity in politics as well as advocating for underrepresented voices. She is also passionate about social justice issues such as indigenous rights, women's rights, racial equality and criminal justice reform. For Denver inquiries, please contact Teresa at teresa@ignitenational.org.

---
Agatha Pinheiro, Detroit Fellow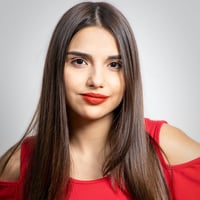 Agatha Pinheiro is the IGNITE Detroit Fellow. She is pursuing a bachelor's degree at the University of Michigan, studying Political Science with a minor in Law, Justice and Social Change. As a Dr. Anne Moses Fellow, Agatha has hosted community councils about Latinas in Politics, shadowed elected officials, organized events at the Michigan State Capitol, voter registration drives and started new college chapters in the Detroit area. She has experience working on county, state, and federal campaigns, in which she helped to engage voters and organize communities. Agatha also interned with Reproaction, a reproductive justice organization and served as a fellow at the Economic Justice Alliance of Michigan. As an immigrant from Brazil, she is passionate about increasing the participation of minorities in politics, especially Latinas. For Detroit inquiries, contact agatha@ignitenational.org.

---
Christi Nguyen, Houston Fellow

Christi Nguyen is IGNITE's Houston Fellow. She is pursuing a bachelor's degree in Sociology and Social Policy Analysis with a minor in Anthropology as well as a certificate in Civic Leadership at Rice University. Christi has long been a part of Houston's Vietnamese community through the Vietnamese Culture and Science Association, Hope Clinic, BPSOS, and the Vietnamese Eucharistic Youth Movement. She previously coordinated Rice's Houston Policy Challenge on healthcare, was president of Rice's Asian Pacific American Student Alliance, part of Jone's residential college's student government, and continues to be a large Diversity, Equity, and Inclusion advocate across campus. Christi is currently starting a nonprofit to bridge the cultural, linguistic, and generational gap on mental health discourse in the Vietnamese American community, The Understanding Initiative. Christi aspires to travel to Southeast Asia to do research, continue her work in nonprofit and policy advocacy, and one day become a tenured professor running a sociological Asian American issues lab at a university. For Houston inquiries, contact christi@ignitenational.org.

---
Britany Hernandez, Las Vegas Fellow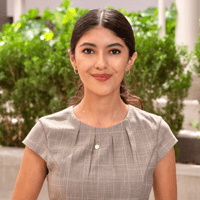 Britany is IGNITE's Las Vegas Fellow. She currently attends the University of Nevada, Las Vegas and is pursuing a bachelor's degree in Political Science. She has served for the last three years as a Peer Facilitator for LYLC, an organization that focuses on helping high school students take control of their future and teaches them the value of being involved in their community. Britany is very passionate about helping students navigate the higher education system and find the leader within themselves. She strives to be a friend and mentor to all students. She also has experience in canvassing and organizing community events. In her previous position at UNLV, she created passive and active programs for Latinx and minority students on campus. These programs helped connect students with other departments and resources on campus, allowing students to feel supported on their academic and personal journeys. Following this position, Britany worked for a community organization that helps Latinx and working-class families in Nevada. Though all of these positions have been different, they all have one thing in common and that is to help build a better future for Nevadans. She plans to continue serving the great state of Nevada, whether that is through a political position, community organizing or conducting research. For Las Vegas inquiries, please contact Britany at britany@ignitenational.org.

---
Eliahna McFarlane, Miami Fellow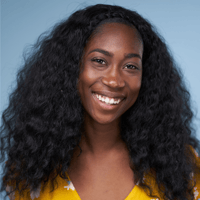 Eliahna McFarlane is IGNITE's Miami Fellow. She is a rising International Affairs Senior at Florida State University and plans on attending Law School in fall of 2023. She plans to work in International Law with a focus in Human Rights. At Florida State University, she served as the finance chair on executive board of Global Peace Exchange. She enjoys creating spaces for people to bond, enhance their college experience and better their community. Eliahna is also involved in the Public Administration program and through those programs she is pursuing her Global Citizens Certificate and Intelligence Certificate. Eliahna is eager to immerse herself in creating a safe space for women to grow in confidence of their political power and abilities and further the mission of IGNITE. For Miami inquiries, please contact Eliahna at eliahna@ignitenational.org.

---
​​Emily Kern, Milwaukee Fellow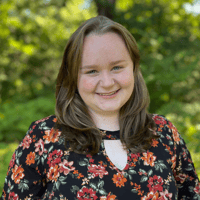 Emily Kern is IGNITE's Milwaukee Fellow. She is currently a senior at the University of Wisconsin, Milwaukee (UWM) majoring in Political Science with a minor in Journalism, Advertising, and Media Studies. Emily is passionate about furthering human rights to create a more equitable society for those our current system has marginalized. Upon graduation, she plans to pursue a position behind the scenes to advance human rights in our community such as through writing and education or lobbying. She has served as an Equity Team Ally within the UWM Honors College, which is a dedicated group of students and faculty who are striving to make the Honors College and academia as a whole more equitable for first-generation and marginalized students. Within this role, Emily is working on bringing the movement to a larger scale by improving the Honors admissions process as well as hosting discussions on the importance of anti-racist actions. She has studied abroad in Sevilla, Spain to practice open-mindedness by learning about the culture directly from the people. She also participated in a full-immersion Spanish education program to help gain speaking and comprehension skills to connect with more people in her community. As a Fellow, Emily is looking forward to the opportunities she will receive through IGNITE as well as the community she will get to help create at UWM and in the broader community. For Milwaukee inquiries, contact emily_k@ignitenational.org.

---
Monali Bhakta, Minneapolis Fellow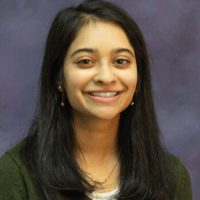 Monali is a second-year Minneapolis IGNITE Fellow. She holds a Bachelor of Arts in Political Science and English from Gustavus Adolphus College. Monali served as the Co-President of the Gustavus Student Senate, making diversity, equity, and inclusion an institutional priority and a fundamental aspect of her platform. Monali has also interned with high-ranking elected officials like U.S. Senator Amy Klobuchar, providing immigration casework assistance to 200+ constituents across Minnesota. In the 2020 general election, she served as a Field Organizer for the campaign of Dan Feehan for Congress, reaching out to the BIPOC electorate to discuss sociopolitical issues and providing accessible voting resources during a pandemic. This compelled her to work with IGNITE, serving as a voting ambassador and educating approximately 150 voters in her network. As a Fellow, she has worked with political candidates and elected officials to educate women to become civically engaged, making them comfortable with the political process. Monali is a first-year law student at the University of St. Thomas School of Law in Minneapolis, MN. She plans to use her legal education to advance immigrant rights, particularly for mixed-status and undocumented families - a human rights issue that is deeply personal to her. For Minnesota inquiries, please contact Monali at monali@ignitenational.org.
---
Miura Rempis, Nashville Fellow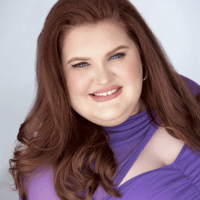 Miura Rempis currently serves as IGNITE's Nashville Fellow. Miura holds a bachelor's degree in Political Science and History from Middle Tennessee State University. She is a current Master of Public Policy student at American University. By day, Miura works as a Legal Secretary to a Tennessee state executive agency office, and by night (and weekends) is an advocate, civic children's book author, podcaster, and titleholder under the Miss Volunteer America Scholarship Organization. In the last several years, Miura has volunteered with organizations such as the League of Women Voters, the ACLU, HeadCount Voter efforts, and the Tennessee Equality Project. Her recent fellowship and cohort positions have included the Supermajority Education fund, Civic Influencers and Campus Election Engagement Project, and the Scholar's Strategy Network. Miura intends to run for office in the near future. For Nashville inquiries, please contact Miura at miura@ignitenational.org.

---
Amaya Flores, New York Fellow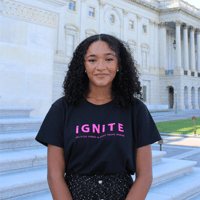 Amaya Flores is IGNITE's New York Fellow. She is currently a sophomore at Columbia University double majoring in Political Science and African American Studies. Amaya is also the president and founder of Columbia University's IGNITE College Chapter. As a coordinator for America Reads, Amaya seeks to nurture the value and joy of learning through mentorship while learning more about the socioeconomic disparities throughout the Morningside Heights and West Harlem communities. Previously, she was a District Office intern with Congresswoman Escobar. She then went on to intern for Congresswoman Esobar's DC office; here she briefly took up the role of staff assistant and assisted in legislative areas. She is passionate about increasing civic engagement in minority communities, diversifying the narrative and helping others find their voice. Contact Amaya at amaya@ignitenational.org.

---
Aamore Richards, Newark Fellow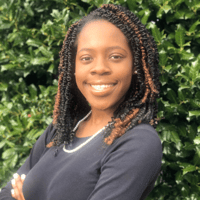 Aamore Richards is a second-year Newark Fellow. She is currently a Senior Political Science major on the Pre-Law Track at the College of New Jersey, where she has served as a member of Student Government for three years. Most recently, she serves as the Vice President of Student Services, collaborating with school administration to ensure the student body's needs, like housing, dining, health and wellness and support services, are met. She is also a Bonner Scholar having served three Americorp terms at the UrbanPromise Trenton site serving as both a tutor and mentor for high school students. Aamore's personal experiences with educational inequities have led her to develop a deep passion for policy and legislative advocacy, particularly related to quality education in urban communities. She aspires to become a legislator to use policy to advocate for equal and affordable access to education. For Newark inquiries, please contact Aamore at aamore@ignitenational.org.
---
Isabella Fuentes, North Texas Fellow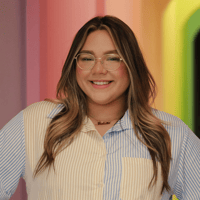 Isabella Fuentes is IGNITE's North Texas Fellow and is originally from Venezuela. She is an undergraduate student at Collin College pursuing an Associate of Arts degree and plans to transfer to University of Texas, Austin and pursue a Bachelor of Arts in Political Science. Isabella served as Historian of IGNITE's College Chapter at Collin College, before stepping up as President towards the end of Spring of 2022. As president, she has encouraged students to engage in different ways around their community, such as supporting local shelters. She has served as a student leader at several orientation events in her school to connect with incoming students and offer mentorship. As a first-generation student, Isabella is committed to being a mentor and support system to students that need it. Isabella currently works as an Event Coordinator and Field Organizer for a local state representative's campaign. As an IGNITE Fellow, Isabella will work on teaching and reminding students of the importance of voting and educating younger students in middle and high school on how to become civically responsible citizens. In the future, Isabella wants to work on immigration reform and pursue a law degree to help the immigrant community on their path to citizenship. For North Texas inquiries, please contact isabella@ignitenational.org.
---
Jasmine Thomas, Oklahoma City FELLOW
Jasmine Thomas is IGNITE's Oklahoma City Fellow. Jasmine is a proud graduate of North Carolina A&T State University where she earned a bachelor's degree in Economics. After being raised in a small town in central Texas, Jasmine had the opportunity to graduate high school in Seoul, South Korea through her family's military service. Jasmine's university decision was similarly fortuitous, as she earned a full academic scholarship that made her attendance at North Carolina A&T possible. Both of these experiences have ignited a passion in Jasmine to see lower income individuals' lives changed through access to greater opportunities. Her time spent serving on a North Carolina Representative's congressional campaign, advocating for reproductive justice as a Fight4HER organizer, and volunteering with the Prison Fellowship and the Oklahoma Department of Corrections has inspired Jasmine to fight for mass access to said opportunities and for improved quality of life for her community through legislative advocacy. And, Jasmine hopes that her time as an IGNITE Fellow will inspire young Oklahomans to do the same. For Oklahoma City inquiries, please contact jasmine@ignitenational.org.
---
Shania Bennett, Philadelphia
Fellow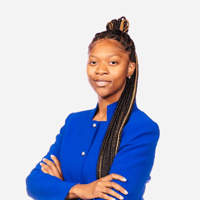 Shania Bennett is a second-year Philadelphia Fellow. She is a 22-year-old scholar and musician from Philadelphia, Pennsylvania. Shania started college at the age of 15 years old and is a proud alumna of Community College of Philadelphia. Shania graduated from Penn State Abington with her Bachelor of Science degree, majoring in Criminal Justice in December 2020. In May of 2018, Shania was elected in the city of Philadelphia to the position of Committee Person where she serves the 48th Ward 12th Division in South Philadelphia. She is one of the youngest ever to be elected in the city and state of Philadelphia, Pennsylvania. Shania is also the founder of "Reach 4 Peace", a non-violence peace initiative and is extremely passionate about creating safe, healthy, and hopeful communities for at risk youth- a mission she has adopted and embraced from CITIES UNITED. Shania currently serves her South Philadelphia community as the Neighborhood Advisory Coordinator at Greater Philadelphia Community Alliance where she works tirelessly to provide housing, utility and benefits access services in her service area. After 2 years of deciding a permanent career path, Shania has finally settled on becoming a law enforcement professional and plans to join the police department in 2022. For Philadelphia inquiries, please contact Shania at shania@ignitenational.org.
---
Alexis Walker, Pittsburgh Fellow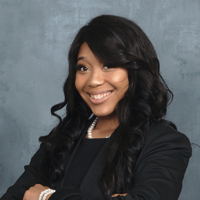 Alexis Walker is IGNITE's Pittsburgh Fellow. She graduated from Robert Morris University in 2019 where she studied Political Science, Women and Gender studies, and earned a certificate in Nonprofit Management. Alexis is an educator, a political enthusiast, and currently serves as the Director of GirlGov Programs within the Women and Girls Foundation. As a member of a marginalized community, she has seen firsthand how unequal access to education has acted as an immense barrier to opportunity and growth for our nation's youth. She has always had the aspiration and passion to work for the betterment of marginalized communities throughout her volunteer and professional work. These aspirations grew to encompass education reform following her study abroad experience in Morocco. After this experience, she realized that she wanted to permanently dedicate her personal and professional aspirations to the betterment of marginalized communities through the lens of education reform. At the time, she turned her attention to pursuing a career as an advocate within the legislative sphere of policy reform. For Pittsburgh inquiries, contact Alexis at alexis@ignitenational.org.

---
Maya Nair, Raleigh-Durham Fellow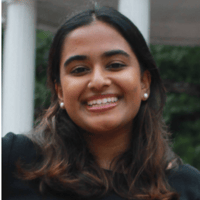 Maya serves as IGNITE's Raleigh-Durham Fellow. She is a senior at the University of North Carolina at Chapel Hill (UNC) and is double majoring in Political Science and Health Policy & Management. Currently, Maya serves in the judicial branch of UNC's student government as an Undergraduate Deputy Attorney General, where she investigates Honor Code violation cases that have been reported to the Office of Student Conduct. As a Pre-Law student, Maya's political interests lie within the intersections between health and law, and how to be an advocate for accessibility and quality of healthcare in local NC communities. Maya interned for NC Medicaid Ombudsman this summer, which is a statewide advocacy team working with NC DHHS on the Medicaid Managed Care Transformation. Prior to this experience, she worked for NC Child on a 3-year research project lobbying the Wake County School Board to update the Tobacco-Free School Policy to reduce e-cigarette usage amongst students. On campus, this past year, she also served as the Director of Development for the Campus Y, which is UNC's social justice hub housing 33 organizations. In this position, she organized campuswide Town Halls, Student Body President debates, organizational development workshops and forums for students to provide feedback to the university on issues such as mental health and COVID-19 measures. For Raleigh-Durham inquiries, please contact Maya at maya@ignitenational.org.

---
Hannah Olsen, Salt Lake City Fellow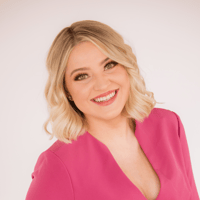 Hannah Olsen is IGNITE's Salt Lake City Fellow. Hannah is a hardworking, passionate, pre-law student at Weber State University. Hannah completed five undergraduate degrees at WSU, including graduating with High Honors with Bachelor of Science degrees in Criminal Justice and Finance, and minors in legal studies and psychology. She is now actively applying for Law Schools and will enter in 2023 while completing her Masters of Education with a Higher Education Leadership emphasis. She aspires to continue her education further with an LLM and/or Ph.D. She has been involved with countless groups/clubs/organizations including being three clubs' president, and a student-body-elected Vice President twice. Hannah competed in the Miss America Scholarship Organization and placed Top 12 at Miss Utah in 2021 with her Social Impact Initiative "Understand US to Activate: Civic Engagement through Service." Through this Hannah was able to propagate her mission of providing service opportunities to young people, sparking them to be empowered, impassioned and involved voters. She has been an intern/fellow at the Office of US Senator for Utah Mitt Romney, the United Nations Office of Human Rights Education Switzerland, the 2nd District Court Judges DiReda and Bean, WSU Admissions and WSU Legal Counsel. Additionally, Hannah served on the SLC Youth Outreach Committee that brought the United Nations Civil Society Conference to Utah for the first time in 2019, where she then served as a panelist. For Salt Lake City inquiries, please email hannah@ignitenational.org.

---
Tuulia Candido, San Diego
Fellow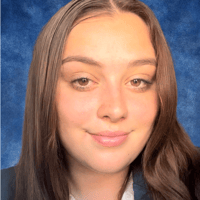 Tuulia Candido is IGNITE's San Diego Fellow. As an intersectional feminist, Tuulia promotes diversity, equity and inclusion by placing marginalized voices on the front lines. She graduated summa cum laude from San Diego State University and holds a Bachelor of Arts in political science with a minor in women's studies. At SDSU, Tuulia led her university's IGNITE chapter as president, vice president, and social media chair. Interning for IGNITE National's legislative advocacy team motivated her current legal endeavors. Currently, Tuulia is entering her second year at the University of San Diego School of Law, and is involved with legal women empowerment organizations like Lawyers Club and USD's Women's Law Caucus. She has worked at the San Diego County Public Defender Office, where she provided legal assistance for people who could not afford legal representation and advocated for the rights of underserved populations. In her academic and professional career, Tuulia remains committed to advocating for racial and gender equity. As a Fellow, Tuulia wants to empower young women, women-identifying persons and nonbinary individuals of all backgrounds to become political leaders. She believes that meaningful and tangible change can only be reached when the voices and needs of marginalized populations are amplified. For San Diego inquiries, contact tuulia@ignitenational.org.
---
Faith Rasmussen, Seattle Fellow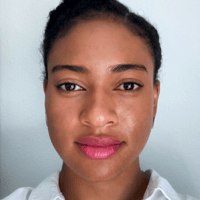 Faith Rasmussen is IGNITE's Seattle Fellow. She is a Nigerian American woman who moved to Washington State in 2019 from Boise, Idaho. Faith is a rising sophomore at the University of Washington, majoring in Law and Policy, and received the Dean's List 2021 – 2022 award. She has experience in community organization through co-facilitating meetings with legislators to promote policy for community and technical college wrap-around services. Faith also collaborated with fellow racial justice protestors to operate a mutual aid center. Her specific interest in politics provides her with various career paths but ultimately her life goal is to serve the community through advocacy in any position she can. For Seattle inquiries, please contact Faith at faith@ignitenational.org.

---
Rahel Bachmann, Silicon Valley Fellow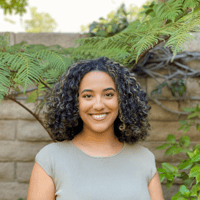 Rahel Bachmann is a second-year Silicon Valley Fellow. She currently attends Santa Clara University, where she is majoring in Business Management and helps to sustain the university's IGNITE College Chapter. Rahel is a tenacious student and vibrant community advocate with a keen interest in social justice initiatives, community improvement, and music. In the past, she has attended the Ronald Reagan Leadership Program and also served as a member of her high school's Junior State of America executive board. As a Fellow, she organizes young women within her community to build political ambition and leadership. For Silicon Valley inquiries, contact rahel@ignitenational.org.
---
Alexandra Leal Silva, Southern California Fellow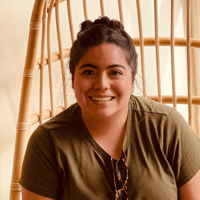 Alexandra Leal Silva is IGNITE's Southern California Fellow. She holds a bachelor's degree in History of Public Policy & Law from the University of California, Santa Barbara. During her time at UCSB, she served as the co-chair of Lobby Corp, mobilizing hundreds of students in advocacy & lobbying campaigns. Her team assisted in passing California Senate Bill 24, which ensured access to reproductive healthcare for all CA university students. She also worked as a Basic Needs organizer and managed to raise $20,000 for COVID relief during the start of the pandemic. Alexandra currently works at California Common Cause as an Operations & Development Associate. From organizing workshops and seminars for a variety of communities including the Spanish-speaking community to helping oversee a mini-grant program, Alexandra wanted to ensure that community voices were heard in every step of the vital Redistricting process. Within this role, she also created two new student programs to continuously engage students and assisted in organizing the Election Protection program that sent over 500 volunteers throughout Southern California. One of her proudest accomplishments is co-creating and hosting "Democracy Is", a podcast dedicated to exploring Democracy issues throughout California and how it affects communities. She hopes to attend law school and continue her advocacy for Education Equity and access to Basic Needs. Alexandra aspires to one day hold political office at a local or state level. For SoCal inquiries, please contact alexandra@ignitenational.org.