Q&A with Catherine Zhang, IGNITE's Boston Fellow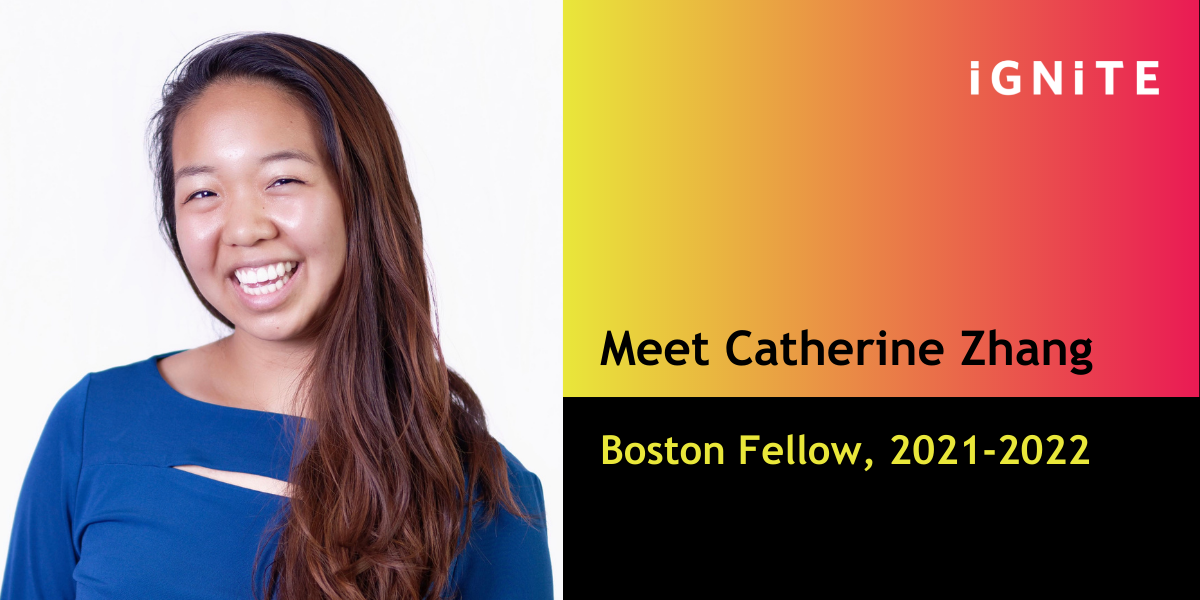 Today we are chatting with one of IGNITE's news Fellows, Catherine Zhang.Catherine will serve as the Boston Fellow this coming year. We sat down to talk about civic engagement, working on campaigns, and what it means to be the Boston IGNITE Fellow.
IGNITE: You are the IGNITE Boston Fellow for 2021-2022! How do you feel about that?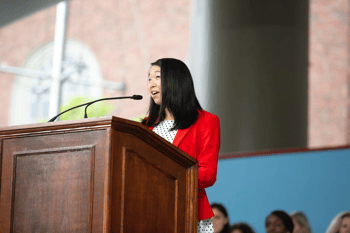 CZ: Wow - I'm feeling super excited and honestly inspired!! I can already tell that this will be quite an incredible community, and I'm really excited to be a part of the puzzle of empowering women, particularly in Boston!
IGNITE: What inspired you to apply to the fellowship? Why do you want to serve in this role?
CZ: I believe women are the change we need in politics, and I want to empower women to take the helm in leadership. As someone who had and still has great mentors who have encouraged me to be involved civically and serve my community, I deeply resonate with IGNITE's mission. I know I wouldn't be where I am without my village, and I want to be part of creating that space for other women. I love building community, developing programming, and walking with people on their journeys, so I thought serving in this role would be a perfect fit.
IGNITE: Politics and the political process are powerful change agents. We tell people all the time that "politics are personal." What's one way you want to flex your political power and bring change to your community?
CZ: Well, education is deeply important to me, and I want to help increase access to higher education and jobs to ensure our working and higher ed demographic represents the diverse Boston population. As someone who has worked within the Boston K-12 system and attended university in Boston, I see stark differences in who has access to and resources in these spaces. Since I've navigated the system to get there, I want to help walk with others through that journey. I would love to see more training programs giving high school students hands-on experience with shadowing companies that they may be interested in, as well as ensuring that they have the skills or the knowledge of how to get the skills to get there.
IGNITE: Any plans to run for School Board or City Council to make this beautiful vision a reality?
CZ: Oh my! To be honest, I haven't thought about it, but it could be something to consider later on. I know I want to continue being a part of the change-making process, so whatever capacity I can make the most impact in, I'll consider -- whether as mentor, advocate, activist, or candidate.
IGNITE: Tell us more about your political leadership experience.
CZ: I served as Student Body President and my Senior Class President during my time at Harvard College and learned a whole lot about the campaign process from start to finish, having never run a campaign beforehand! I developed my own leadership style during my tenure, learned how to deal with crises, and got more adept at navigating power dynamics. Through interacting with many senior leadership figures at the university, I had a model for what excellent leadership looked like -- and where leadership also fell short. The experience certainly taught me a lot: I know how to prioritize many requests quickly, strategically think through solutions, communicate at a high level to senior leadership, build community & create motivated teams, and develop strong relationships with colleagues.
IGNITE: Any other leadership wins or wisdom you want to share?
CZ: I've been honored to serve on the board of the United States Senate Youth Alumni Association, teach English in Taiwan through a Fulbright scholarship, and in general, continue building communities for different groups I'm part of. Through it all, I'm reminded that it's always about the people and the relationships.
IGNITE: Why do you believe civic engagement is important?
CZ: Civic engagement is the bedrock of getting people to do the work - to get involved, be motivated, and care about their communities. As I think back to my high school days, I wish that I had been pushed more to be civically engaged with my local community - especially since I realize now that structural change can often only come about through policy and advocacy. To understand how to push these levers for change, we need to be educated, inspired, and ready to take action.
IGNITE: You have a big year ahead of you as the IGNITE Fellow for Boston. How will you mobilize your community and get them excited about this movement of politically active, engaged young women?
CZ: I love getting people excited and rallied around mission-driven work, especially when I deeply care about it and believe in it! IGNITE is an organization that really seeks to empower young women and give them the tools. There's nothing more important to me - my communities know that this work is one that I love to do, and I would be really excited about connecting to folks all around the Boston community since it is both diverse and far-reaching. People have told me that my superpower is my genuine enthusiasm, so I plan to bring that in mobilizing my community!
IGNITE: Let's talk about leadership. How do you define leadership?
CZ: Leadership to me is all about empowerment and relationships - how you connect people to one another and to a mission, how you set high and clear expectations because you believe in people's infinite capacities to reach, how you constantly reflect on identity and ask for feedback, how you encourage others to develop their full selves so that the team can work without you being there.
IGNITE: What type of leader do you want to be?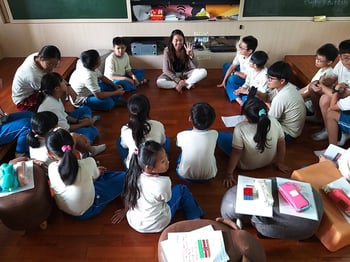 CZ: I seek to be an empathetic, compassionate, thoughtful, and strategic leader in all spaces and communities that I'm a part of. As an educator, I am showing my leadership every day in the classroom - whether it is giving grace to students based upon their home situation or bringing together a rowdy group of 20 9th graders to move towards the shared objective of the day, or empowering students to be the agents of their own learning.
IGNITE: Having worked with 9th graders and now college students, you're working with our future leaders. What future do you want for your students?
CZ: I want the world for them. I want them to be able to make their dreams into reality, and I want nothing more than for them to be in an equitable, generous, and loving world. And especially since we have a long way for us to get there, we will need them more than ever. I want them to know the realities of the systems that make things more inequitable and always have hope in change and progress.
IGNITE: At IGNITE, we're trying to broaden the definition of what it means to be a political leader. It's so much more than just being an elected leader. Political leaders can also be community organizers, policymakers, and campaign staffers. What leadership role do you identify with, and how do you want that to play out in your political career?
CZ: I've been thinking about this a lot, especially since I want my impact to have both depth and breadth. I know for myself I derive the greatest joy and fulfillment from direct service - building relationships with and connecting with people - so I know that regardless of how my future career plays out, I'll always be close to the ground in some capacity.
IGNITE: Catherine, any closing comments to add?
CZ: Nothing other than I am beyond honored and excited to serve my community. Here's to keeping our foot on the pedal and doing the work!
---
More about Catherine
Catherine Zhang the IGNITE Boston Fellow. She holds her M.Ed from the Harvard Graduate School of Education and a B.A. in Psychology and Educational Studies from Harvard College. She served as Student Body President at Harvard College, taught English through the Fulbright Program in Taiwan, and taught 9th grade World History in Boston. Catherine has trained over 70 facilitators to lead discussion groups on antiracism, created curriculum to encourage dialogue, and currently advises first-year Harvard College students. She serves as Head Teaching Fellow for the Harvard College Course: Conflict Resolution in a Divided World alongside Professor Dan Shapiro. Catherine is an educator, mentor, activist, lover of people and is looking forward to serving as Boston's IGNITE Fellow. For Boston inquiries, contact catherine@ignitenational.org.