The Dr. Anne Moses Fellowship Experience: Q&A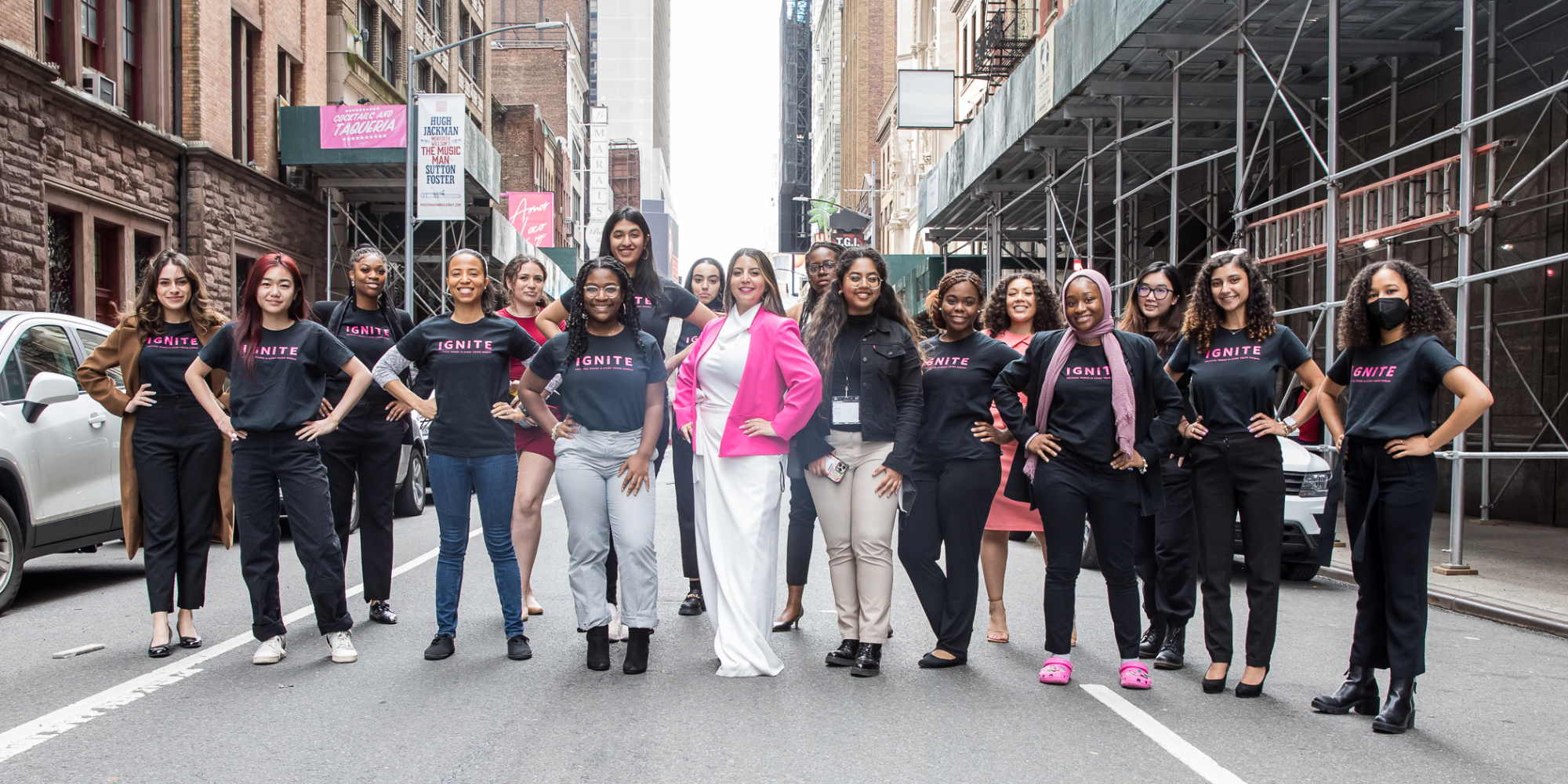 Dr. Anne Moses Fellows (aka IGNITE Fellows) are community leaders and organizers who mobilize and empower others in their cities and states to become civically and politically engaged. They are helping young cis women, non-binary and gender expansive youth explore new ways to flex their political power, and together, change the face of politics across the country. Keep reading to learn more about the Fellowship from former IGNITE Fellows.
Make sure to apply to the Dr. Anne Moses Fellowship here. Applications are due July 31!
Q: What does it mean to be an IGNITE Fellow?
A: As an IGNITE Fellow, you are called to build bridges and bring young women together across cultures, experiences and identities. You have to step outside of yourself and connect groups of women to a democracy-building movement that fiercely believes in gender parity in politics. IGNITE Fellows are both mobilizers and organizers. Doing the work of the Fellowship means that you have accepted the responsibility of a community leader. As a Fellow, you are a connector, you guide and connect people to resources and opportunities that fuel IGNITE's mission and empower the community. - Carlyn 'Kiki' Michelbacher, 21-22 Baltimore Fellow
Q: What was your experience like as a Fellow?
A: My experience as an IGNITE Fellow has been nothing short of everything I could have wanted at this point in my life. I have learned so much through the people I have worked with, and I also feel I have been given ample opportunity to contribute to my community as well. I have honed my work skills in an environment that has supported me and helped me to succeed. I have always felt heard and supported by my supervisor and the larger organization. I have really felt like I have a home at IGNITE where I can make mistakes, learn, grow, and flourish. It has also opened my eyes to opportunities I can take advantage of in the future which gives me renewed hope. - Teresa Ornelas, 21-22 Denver Fellow
Q: What's one of the success stories you have from your time as an IGNITE Fellow?
A: Something that I consider one of my biggest successes so far in my journey through the IGNITE Fellowship has been connecting with like-minded young women across the Atlanta metro area. I've really enjoyed attending various campus organization fairs, town halls, events, and forums (albeit virtually) and sharing my passion for IGNITE's mission with others. - Christina Williams, 21-22 Atlanta Fellow
Q: What are some of your favorite memories as a Fellow?
A: Engaging with the IGNITE team and Fellows has been so fulfilling and inspiring. Meeting the Fellows in New York was my favorite experience. It was exciting to see everyone in person and create lasting memories in NYC. - Munira Abdullahi, 21-22 Columbus Fellow
A: One of my favorite memories as a Fellow was at the IGNITE the Capitol event. It was my first in-person event for IGNITE National that I had attended and I was slightly nervous to network considering I traveled there alone. The ladies I met at my table were passionate and amazing, and by far my favorite moment was hearing dozens of women share what they are interested in changing in the government whether it's at a local, state, or national level. - Rahel Bachmann, 21-22 South Bay Fellow
Q: When you started the Fellowship, you may or may not have had the goal of running for elected office? Where are you now? If you are considering a run for office, for what office? Why and when?
A: I am currently a high school chemistry teacher, and eventually my goal is to serve on the school board or a college/university governing board. IGNITE has really taught me that there are other positions besides state representative, mayor, councilwoman, or even governor. - Aniya Bryant, 21-22 Nashville Fellow
Q: Would you recommend the IGNITE Fellowship to other young women? If so, why?
A: I would absolutely recommend the IGNITE Fellowship to other young women because this Fellowship has literally brought out the best in me. I have learned so much more about the world and women in politics through this network. I would also recommend this Fellowship to other young women because I think that any young woman should have the opportunity to be connected to the awesome network of IGNITE. It is a true sisterhood that no one could ever place a price on. - Shania Bennett, 21-22 Philadelphia Fellow
Ready to become an IGNITE Fellow? Apply now for the Dr. Anne Moses IGNITE Fellowship here. If you have more questions, email IGNITE's Fellowship Director at alicia@ignitenational.org.