Setting an example for young women and girls: Jocelyn's Story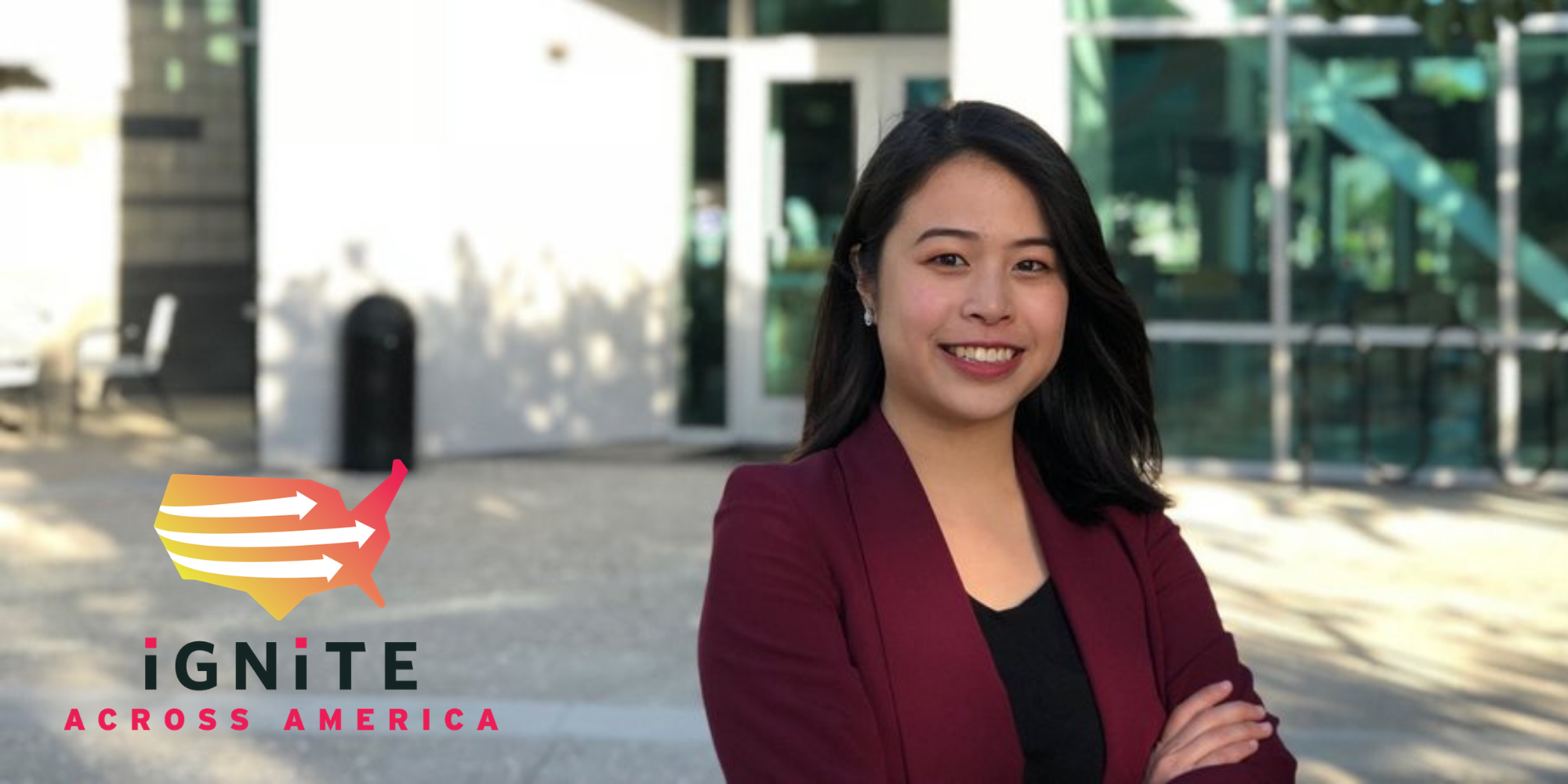 Jocelyn Yow was not always a political person. In fact, throughout much of her childhood in the Bay Area and Malaysia, politics didn't interest her at all. She has a theory: as a young child, Jocelyn didn't see women or people of color in office, so she assumed that political leadership wasn't for people like her.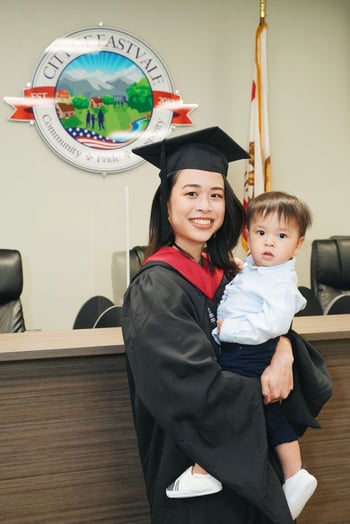 In 2008, that started to change. Her mom followed the U.S. presidential election with great interest as a black man and a woman vied to become the Democratic candidate for President. That's when Jocelyn started to get excited about politics.
As a community college student, Jocelyn was involved in on-campus groups and served as student body president. After transferring to UC Berkeley to finish her degree, she earned a coveted spot as Lead Intern for House Speaker Nancy Pelosi.
Still, she couldn't imagine herself running for office. That all changed with IGNITE.
"IGNITE gave us a mirror. We were able to see ourselves out there. IGNITE showed me the way and provided me with the opportunity to connect with other women of color in office."
But IGNITE did more than inspire—it gave Jocelyn the practical skills she needed to win.
"The most valuable part of my training with IGNITE was learning about fundraising, about how to create a platform and reach out to your constituents. I remember they made me write down the names of everyone I could ask for money and then do roleplaying for fundraising calls."
Those fundraising calls paid off. When Jocelyn ran for city council in her hometown of Eastvale, California, she was joined by a cadre of IGNITE supporters—women who gave their time, money, and energy to make sure she got elected. As Jocelyn canvassed neighborhoods and met with constituents, she found her IGNITE community behind her every step of the way.
"Running for office is brutal. You can be a tough person, but there are days when you feel defeated. Having that support network was so crucial for me and I'm very grateful for that."
In November 2018, Jocelyn won her election to Eastvale City Council, defeating an older male incumbent. As a young woman of color, the enormity and impact of her win is not lost on Jocelyn.
"On my City Council, I'm the only person of color. Whenever I see the photo of my colleagues and me, I am still in awe. I'm so proud to be setting an example for girls."
In 2020, around the same time Jocelyn gave birth to her first child, she made history by becoming the youngest woman of color to be mayor of a California city. "It is crucial that we include the perspectives of young women and mothers while making important decisions that impact the families we serve. I am hopeful that more young women and mothers will step up as well."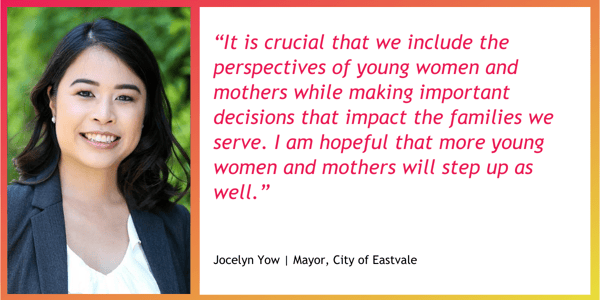 Jocelyn is more focused on the future of her community than on the future of her political career. She hopes to bring a library to Eastvale—a safe space for children to learn and grow. She is also looking forward to the continued growth of IGNITE.
"The fact that IGNITE is training young women gives me hope. I can't wait to see all of these IGNITE graduates running for office and serving our communities."
Connect with Jocelyn
Keep reading
Inspired? Support IGNITE's work
By supporting IGNITE you are investing in the future generation of women political leaders. Donate today.