Meet Tiera Moore, IGNITE's Cleveland Fellow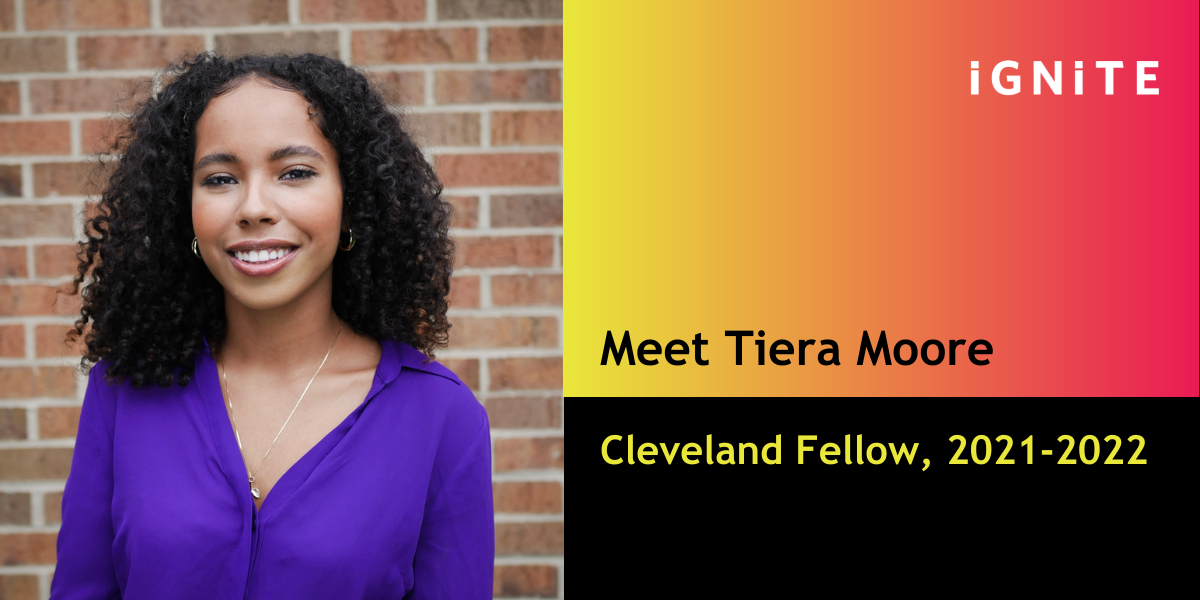 IGNITE is excited to announce Tiera Moore as our new Cleveland Fellow! Today we will be chatting with Tiera to see what she is looking forward to during this fellowship year and how she plans to impact her community.
IGNITE: Welcome Tiera, and congrats! What inspired you to serve your community as an IGNITE Fellow?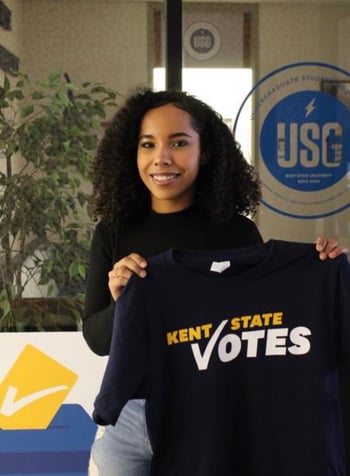 TM: I want to inspire other women to get involved in politics! Being a woman of color, I know what it feels like to be told that you cannot do something because of your race or your gender. I always had other people who told me that I could do whatever I put my mind to, and I want to be that person for other women so that they can find their voice like I found mine.
IGNITE: Civic engagement is a powerful way we can positively impact our communities. The people best equipped to know the needs of their communities are those in the community. So, as our Cleveland Fellow, what change do you want to bring to your city?
TM: One thing I would change about my community is the sense of unity. I hope one day to live in a totally unified community. I really think that people can learn to understand each other better, and I want to do everything I can to help that happen.
IGNITE: In what ways have you stepped into your political power? How do you hope to apply your political leadership experience to the IGNITE fellowship?
TM: I would say that my most prominent political leadership experience comes from my role as Student Body President. As only the third African American woman in almost 100 years to hold this position, I pushed Kent State University to implement an Anti-Racism Task Force. In this role, I have learned the importance of diverse representation. My advocacy for the student body at Kent State has given me the skills needed to serve as IGNITE Fellow.
IGNITE: How has your journey as a woman in leadership helped frame your view on the importance of civic engagement?
TM: I am interested in working to create a just and equal society. And, civic engagement is a critical part of that. Before we have a just, equal society, we need to have an equitable one. We need to make sure that every American truly has equal opportunity. And that starts with the policies that are created by our government. If these policies ignore the systemic issues in this country, then we will never move forward. We need to acknowledge these issues and work to address them. None of this happens without civic engagement. We need to hold our elected officials accountable and advocate for change if we want to see it happen.
IGNITE: Your experiences both on and off-campus have been centered around the importance of empowering your community. How do you hope to mobilize your community and get them involved with IGNITE?
TM: In my experience, one of the biggest barriers for young people being civically engaged is that they think it is "boring" and meaningless. I want to mobilize my community by showing them that their voices actually make a difference. People are more excited about civic engagement when they can see its impact. If we can get the younger generation to not only care about politics but be active in it, then much change can be created in our society.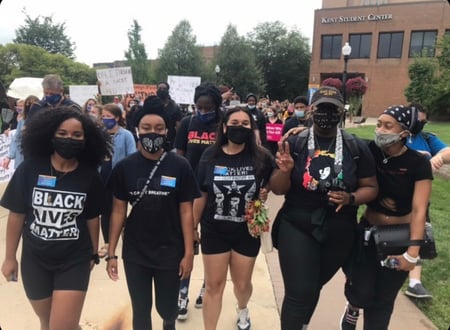 IGNITE: What is your leadership motto, and how do you hope to implement that to your work as an IGNITE Fellow?
TM: Leadership is not about telling people what to do, ordering them around. It is about empowering others to become leaders in their own right in a collaborative environment. If everyone on a team feels confident in their own work and in their own decisions, there will be success for the whole team. In order to achieve this, a leader must listen to those on their team and be able to take constructive criticism. I believe that leadership is always growing and changing within a person, and a leader knows how to react in certain situations.
IGNITE: At IGNITE, we're trying to broaden the definition of what it means to be a political leader. It's so much more than just being an elected leader. Political leaders can also be community organizers, policymakers, and campaign staffers. What leadership role do you identify with, and how do you want that to play out in your political career?
TM: I would say that my leadership role in politics would fall into community organizing. I think that there is a lot of power in local politics. Change in society can happen when we work on the grassroots level first, then bring attention to issues nationally. Community organizing is so important to grassroots movements, and it gives us the opportunity to make change in people's daily lives.
IGNITE: Tiera, any closing comments to add?
TM: I am so excited to be working as an IGNITE Fellow this year! I cannot wait to give back to my community and inspire other young women to participate in politics.
---
More about Tiera
Tiera Moore is IGNITE's Cleveland Fellow. She has a Bachelor of Arts in English and Political Science from Kent State University (KSU) and is currently a graduate student at the same university pursuing a Master of Science in Geography. Moore became the third African-American woman to serve as Student Body President at KSU during undergrad. While in office, she advocated for increased mental health resources and laid the groundwork for a campus-wide voter registration initiative called Kent State Votes. Tiera found her passion for national politics while interning on Capitol Hill with Senator Sherrod Brown. She is passionate about education policy, equality for underrepresented individuals, and immigration reform. She plans to research how local communities can enhance youth civic engagement. Moore hopes to encourage other young women to get involved with politics on the local and national levels. For Cleveland inquiries, contact tiera_m@ignitenational.org.