Meet the 2023-2024 Dr. Anne Moses IGNITE Fellows!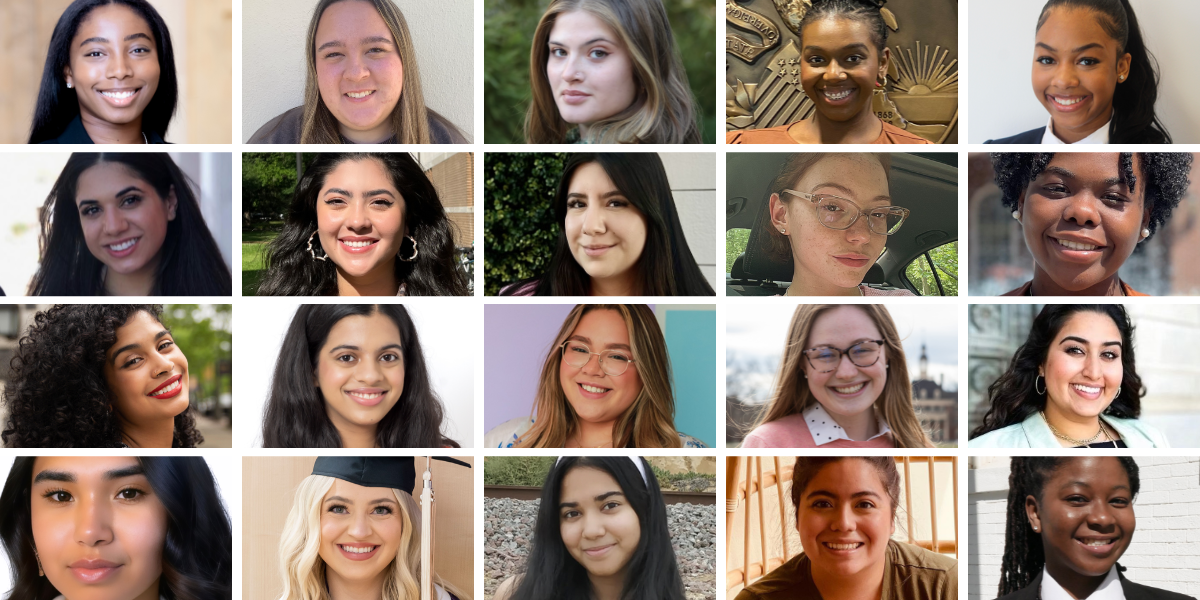 IGNITE is thrilled to introduce you to our eighth cohort of Fellows. Every year, IGNITE recruits diverse and passionate leaders in communities across America and provides them with the resources, training, and networks to flex their political power and mobilize women on college campuses to become civically and politically engaged. Fellows serve as ambassadors for IGNITE's mission and vision and play a valuable role in our efforts to spread a national message that it is time for young women to step into political power. Learn more about the Dr. Anne Moses IGNITE Fellows below.
Madysen Forney, Atlanta Fellow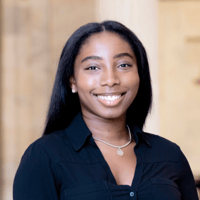 Madysen Forney is a second-year Dr. Anne Moses IGNITE Atlanta Fellow. Madysen is a rising Senior Political Science major from Roseville, Michigan residing in McDonough, Georgia and is currently attending Clark Atlanta University. Madysen humbly serves as an Apple, Incorporated PROPEL Scholar. In addition she is among the inaugural cohort of only 100 recipients to receive the Obama-Chesky Voyager Scholarship for Public Service, a program sponsored by former President Obama, the Obama Foundation and CEO of Airbnb, Brian Chesky. In her community, she sits on the board of an educational nonprofit, Project Y.E.S., Incorporated, where she serves as Youth Coordinator. She continues to serve her community as a member of Grace Baptist Church's Outreach Ministry where she serves the homeless and children of incarcerated parents. She has remained committed to public service through state/local government and research on agriculture, health equity and public policy in the state of Georgia. Madysen has successfully completed an internship on Capitol Hill in Washington D.C. for a United States Senator with the hopes of running for public office one day. Madysen has collaborated and volunteered in Kigali, Rwanda for maternal and child health organization, Kosmotive. She is an aspiring first-generation lawyer hoping to promote equitable change across the nation in the legal and public service sector. During her free time, Madysen enjoys reading, exercising, traveling and trying new foods. Her favorite foods are beignets and sushi. For Atlanta inquiries, please contact Madysen at madysen@ignitenational.org.


---
Kyla Menconi, Bay Area Fellow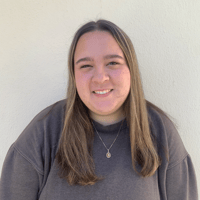 Kyla Menconi is the Dr. Anne Moses IGNITE Bay Area Fellow. She is a rising sophomore at University of San Francisco (USF) and majors in Politics with a minor in European Studies. Kyla is an award winning member of the USF Debate Team as well as being on the executive board. Additionally, she is the Events Director of the new and upcoming Women in Pre-Law Society and a Deputy Writer on the San Francisco Foghorn. After completing her undergraduate degree at USF and law school, Kyla hopes to spread her message politically through Europe and practice European law. Kyla has struggled with mental health issues throughout her life and wants a chance to show that girls like her and women in general can be in positions of power. Uplifting underrepresented voices is of the utmost importance to Kyla's political mission and through being an IGNITE Fellow, she hopes to uplift more women. For Bay Area inquiries, please contact Kyla at kyla_m@ignitenational.org.
---
Greta Magendantz, Boston Fellow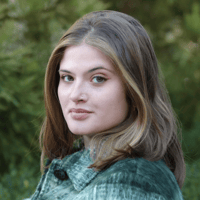 Greta Magendantz is the Dr. Anne Moses IGNITE Boston Fellow. Greta is a Dean's Scholar in the Honors College at Northeastern University, where she studies Journalism and Political Science with a focus on gender and sexuality. In the past, she has worked for the Connecticut Democratic Party, the Connecticut House Democrats, and Mayor Michelle Wu's Office. Greta is also a Senator Joe Lieberman Scholar. As the senior editor of Northeastern University's chapter of Her Campus, Greta works to craft and amplify the stories of young female and gender-expansive journalists. Greta is working alongside other student leaders to establish a Women's Center on Northeastern's campus. Intersectionality, inclusivity and possibility are at the center of Greta's approach to leadership. She hopes to pursue a career in political or nonprofit communications advancing progressive solutions that not only include women and LGBTQ+ individuals but allow them to flourish. For Boston inquiries, please contact Greta at greta_m@ignitenational.org.
---
Je'Mia Irving, Chicago Fellow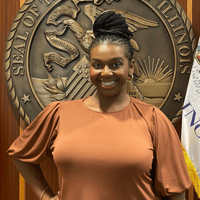 Je'Mia is the Dr. Anne Moses IGNITE Chicago Fellow. She attended Beloit College, where she received her Bachelor's degree in political science. There, she immersed herself in a myriad of organizations, including the Black Student Union, the Student Excellence and Leadership Program, and the Theta Pi Gamma Sorority. Her outstanding performance as the sorority's Vice President earned her the prestigious Florence Yates Scobie Prize, a testament to her exceptional leadership skills and unwavering commitment to excellence. After completing her college education, Je'Mia quickly made a name for herself as a James Dunn Fellow at the State of Illinois Office of Governor JB Pritzker. Her role as the Communications Dunn Fellow allowed her to showcase her creativity and expertise in crafting operative press materials. Je'Mia currently serves as an Assistant, Community Affairs and Communications Coordinator at the Office of Alderman Ronnie L. Mosley in the 21st Ward of Chicago. For Chicago inquiries, please contact Je'Mia at jemia_i@ignitenational.org.
---
Ryane Jones, DMV Fellow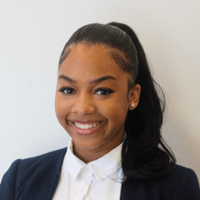 Ryane Jones is the Dr. Anne Moses IGNITE D.C/Maryland/Virginia (DMV) Fellow. She is currently a senior at Howard University majoring in English with a minor in Spanish. Ryane has a great passion for her community and aims to create change, equity, and opportunities for Black youth. She currently serves as Chapter President of Alpha Chapter, Delta Sigma Theta Sorority, Inc., and as an ambassador for the College of Arts and Sciences at Howard University. With a passion for reproductive health and justice, Ryane has worked in sex education with Planned Parenthood and currently serves as a fellow for the In Our Own Voice National Black Women's Reproductive Health Agenda and their Next Generation Leadership Institute. Ryane uses her voice to be an advocate and loves collaborating with others to accomplish collective goals that seek to better the community. For DMV inquiries, please contact Ryane at ryane_j@ignitenational.org.
---
Milad Abdulla, Denver Fellow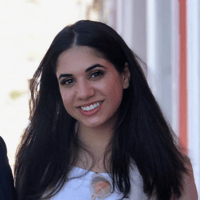 Milad Abdulla is the Dr. Anne Moses IGNITE Denver Fellow. She graduated with a bachelor's degree in Sociology and Political Science from the University of New Mexico in 2018 and went on to pursue a Masters in International Public Policy and Management from the University of Southern California in 2020. She has over 10 years of experience working with historically underrepresented communities including foster children, refugees, womens' rights campaigns, social justice and electoral organizing. Milad's electoral organizing experience includes working with Rashida Talib's MI-12 Re-Election Campaign as well as with United We Dream. As an immigrant from Iraq, Milad is dedicated to increasing diversity in politics as well as advocating for underrepresented voices. Her hope is to grow our community's political power, as well as to mobilize and support young women to become civically and politically engaged. For Denver inquiries, please contact Milad at milad_a@ignitenational.org.

---
Erika Alvarez, Houston Fellow
Erika Alvarez is a second-year Dr. Anne Moses IGNITE Houston Fellow. Originally from Venezuela, she moved to the U.S. in time to experience high school on the outskirts of Houston. She currently attends Rice University where she is a junior double majoring in Political Science and Business, minoring in Politics Law & Social Thought, and obtaining her certificate in Civic Leadership. Erika was heavily involved in youth organizing and grassroots activism as a high school student, and at Rice, she has been utilizing that experience to elevate her potential for change and do more for her community as she pursues advocacy outside of youth groups. As a Fellow, Erika hopes to create a stronger presence for IGNITE in Houston, activating Houstonian women to pursue their full political potential. For Houston inquiries, please contact erika@ignitenational.org.

---
Natalie Perez DeLeon, Las Vegas Fellow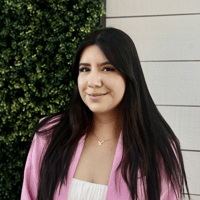 Natalie Perez DeLeon is the Dr. Anne Moses IGNITE Las Vegas Fellow. She is a senior majoring in Political Science at the University of Nevada, Las Vegas. Natalie previously served as the president of the IGNITE UNLV chapter and remained involved in her community by serving in various campus organizations, including Pre-Law Women of UNLV, First Generation Club, Student Organization of Latinxs (SOL), and UNLV People Power (ACLU). Natalie also started a podcast called Politicource to encourage and normalize women's voices in politics. A former dancer and choreographer, Natalie has helped curate and improve dance programs in the Las Vegas area and is passionate to advocate for more affordable and accessible dance programs for K-12 students. She has also done campaign and advocacy work in Nevada to stay engaged in her community. Natalie's dedication to politics and civic engagement arises from her experiences as the daughter of immigrant parents. For Las Vegas inquiries, please contact Natalie at natalie_pdl@ignitenational.org.

---
Ginger Hofmaster, Minnesota Fellow

Ginger Hofmaster is the Dr. Anne Moses IGNITE Minnesota Fellow. As a proud AmeriCorps member, working with kids has always been a passion for Ginger. Through AmeriCorps, she has been able to volunteer extensively with children and even volunteered at her former middle school. Working in the education sector has given Ginger insight on the challenges that come with working in education and with children in general. Her goal in politics is to improve the American education system and fill the missing gaps in our system so that every child can succeed. For Minnesota inquiries, please contact Ginger at ginger_h@ignitenational.org.
---
Emani Wilson, New Jersey Fellow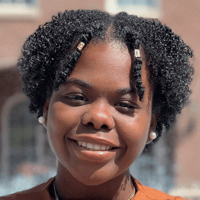 Emani Wilson is the Dr. Anne Moses IGNITE New Jersey Fellow.. She is a recent graduate of the College of New Jersey with a Bachelor of Arts degree in Political Science and a minor in Social Justice. Emani is passionate about increasing political awareness in her community and beyond. She was a founding member of the first IGNITE college chapter in New Jersey at the College of New Jersey in 2020. There, she served as Vice President and Events Coordinator for her chapter. Emani seeks to focus on the education sector within the State of New Jersey and provide children with access to opportunities and resources, regardless of their home districts. She also has aspirations of running for Congress so that she can fight for her community on a larger scale. For New Jersey inquiries, please contact Emani at emani_w@ignitenational.org.

---
Gabriela Lopez-Castillo, New York Fellow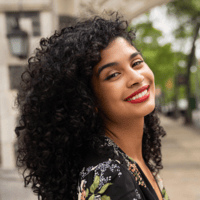 Gabriela Lopez-Castillo is the Dr. Anne Moses IGNITE New York Fellow. Gabriela is a native New Yorker who graduated Cum Laude from Baruch College with a Bachelor of Science in Public and International Affairs and a minor in Law and Policy in 2021. During her studies, Gabriela served as a peer mentor and participated in several other leadership positions. Gabriela has dedicated her academic and professional career to the pursuit of public service and being a part of creating positive changes in any community she enters. She is no stranger to service and the power of community, having experienced it firsthand. Prior to serving as an IGNITE Fellow, Gabriela worked for the New York City Office of the Mayor as an Urban Fellow, under the office of the Deputy Mayor for Strategic Initiatives. Gabriela is also an advocate for menstrual equity and reproductive justice in her community, where she served as a Youth Advisory Councilmember with the nonprofit organization PERIOD. from 2020 - 2022. For New York inquiries, please contact Gabriela at gabriela_lc@ignitenational.org.

---
Neha Shukla, North Carolina Fellow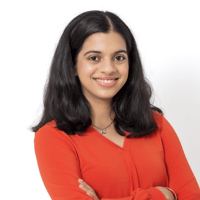 Neha Shukla is the Dr. Anne Moses IGNITE North Carolina Fellow. She is currently a freshman at Duke University, double-majoring in Computer Science and Public Policy with a certificate in Innovation & Entrepreneurship. Neha is a New York Times featured inventor, social entrepreneur, activist, bestselling author, and AI ethicist at the World Economic Forum. Neha works to create tech solutions for our communities and climate, tackling issues like the COVID-19 pandemic, climate change, and disability accessibility, working in collaboration with Microsoft, NASA, Apple, and NVIDIA. To inspire youth to take action within their communities, she runs global civic engagement and innovation workshops and has reached over 70,000 students across 35+ countries. She released her bestselling debut book, "Innovation for Everyone: Solving Real-World Problems with STEM" to amplify her outreach. She serves as the Chair and US Representative at the World Economic Forum's Generation AI Youth Council, advocating for ethical and child-safe AI in collaboration with corporations and policymakers. Neha is founder of Climate Interactive, an interactive climate data dashboard using the United Nations' data to bring climate awareness to frontline communities, and the Climate Ambassador for Greenpeace USA leading over 3 million young activists. She was selected by the White House National Space Council to advocate for girls in technology nationally, and serves as the Youth Advisor to the Harvard Graduate School of Education. Her innovations and activism are recognized in the New York Times, Forbes, Harper's Bazaar, and commended by President Biden and the Royal Family. Neha is excited to lead a generation of young women in policymaking to fight for a more innovative and inclusive future. For North Carolina inquiries, please contact Neha at neha_s@ignitenational.org.

---
Isabella Fuentes, North Texas Fellow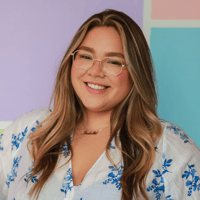 Isabella Fuentes is a second-year Dr. Anne Moses IGNITE North Texas Fellow. Hailing from Venezuela, Isabella is a junior at the University of North Texas pursuing a Bachelor's degree in Political Science. She received her Associate's degree in General Studies at Collin College, where she served as Chapter President of the college's IGNITE chapter. As a first-generation student, Isabella became a mentor and support system for incoming students. Currently, she owns her own business, helping migrants with their legal processes. As an IGNITE Fellow, she emphasizes the importance of voting and educates younger students on civic responsibility. Fueled by her personal journey, she envisions working on immigration reform, championing the cause of the immigrant community seeking a path to citizenship. To further her advocacy, she aspires to pursue a law degree, equipping herself with the tools to effect change at a higher level. Her journey stands as a shining example of empowerment through education, leadership, and advocacy, inspiring positive change for generations to come. For North Texas inquiries, please contact Isabella at isabella@ignitenational.org.


---
Cameron Tiefenthaler, Ohio Fellow
Cameron Tiefenthaler is the Dr. Anne Moses IGNITE Ohio Fellow. She is a senior at Miami University in Ohio double majoring in Political Science and Business Analytics on a Pre-Law track. She is an impassioned voting rights advocate and has engaged in politics in official and unofficial roles. Cameron spent a significant amount of her college time prioritizing civic engagement and ensuring all eligible voters on campus have the resources necessary to vote. Her strategy has included bringing all campus stakeholders to the table to address institutional issues such as low registration and turnout rates from specific majors, investigating making election day an academic holiday, expanding the definition of "civic engagement," and exciting students about democracy in general. Her dedication to voting rights led to her recognition as a Truman Scholar (OH-23). After graduation, Cameron hopes to pursue civil rights or constitutional law to fight discrimination and promote equity, especially pertaining to voting rights. For Ohio inquiries, please contact Cameron at cameron@ignitenational.org.

---
Phyllis Bell, Oklahoma City Fellow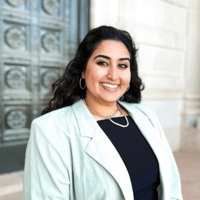 Phyllis Bell is the Dr. Anne Moses IGNITE Oklahoma City Fellow. She currently serves as the Director of Communications for the College Democrats of Oklahoma and the Director of Diversity and Inclusion for the Oklahoma Intercollegiate Legislature. She is also a winner of the Carl Alberts Fellowship, where she was able to intern for legislators at the Oklahoma State Capitol. Phyllis has aspirations of attending law school and eventually running for public office with the goal of uplifting other women. For Oklahoma City inquiries, please contact Phyllis at phyllis_b@ignitenational.org.


---
Kayla Kearney, Philadelphia Fellow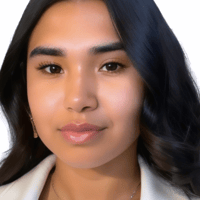 Kayla Kearney is a second-year Dr. Anne Moses IGNITE Philadelphia Fellow. She is currently a student at Temple University and is pursuing a bachelor's degree in Criminal Justice with a certificate in Political Economy on a Pre-Law track. Kayla is a Philadelphia native with a passion for community activism, including outreach and organizing. She is most proud of having organized donation drives to collect supplies for unhoused individuals throughout Philadelphia. Kayla is a passionate advocate for juvenile reform and rehabilitation. She aspires to found a nonprofit organization dedicated to providing restorative justice and other programs to aid in juvenile development. Outside of her academic endeavors, Kayla also volunteers with a local program working to mentor students who have directly been impacted by incarceration or who are at risk of incarceration themselves. She hopes to continue to give back to her community and work toward providing resources necessary for everyone to thrive. For Philadelphia inquiries, please contact Kayla at kayla_k@ignitenational.org.

---
Hannah Olsen, Salt Lake City Fellow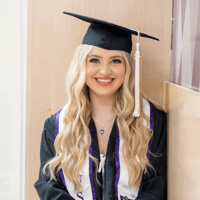 Hannah Olsen is a second-year Dr. Anne Moses IGNITE Salt Lake City Fellow. She is a hardworking, passionate, pre-law graduate from Weber State University in Ogden, Utah. Hannah completed five undergraduate degrees at WSU, including graduating with High Honors with Bachelor of Science degrees in Criminal Justice and Finance, and minors in legal studies and psychology. Most recently she has graduated with her Master of Education with an emphasis in Higher Education Leadership. She is now actively applying to law schools. Hannah has had transformational opportunities to get out into the community via internships and over 5,000 service hours, primarily dedicated to facilitating civic engagement in her area. She has been an intern/fellow at the SLC Office of US Senator for Utah Mitt Romney, the United Nations Office of Human Rights Education, the 2nd District Court Judges DiReda and Bean, WSU Admissions, WSU Legal Counsel, and Utah Governor Spencer Cox's Legal Counsel. Hannah is a fierce defender of the preservation of fundamental human rights and the efforts to create a safe space for all. For Salt Lake City inquiries, please contact Hannah at hannah@ignitenational.org.

---
Akshita Goswami, San Diego Fellow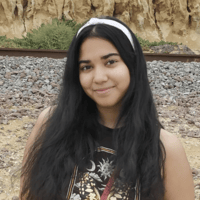 Akshita Goswami is the Dr. Anne Moses IGNITE San Diego Fellow. She is a passionate advocate for social justice, increased representation in politics and reproductive justice. Akshita is also a former speaker for TEDxUCSD. She has lobbied for several issues, including access to higher education for undocumented students and environmental justice, and has met with various senators, representatives, and California assemblymembers to advocate for these issues. Through her work, Akshita aims to increase voter turnout and promote gender and racial representation in political spaces. For San Diego inquiries, please contact Akshita at akshita_g@ignitenational.org.
---
Alexandra Leal Silva, Southern California Fellow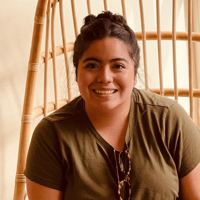 Alexandra Leal Silva is a second-year Dr. Anne Moses IGNITE Southern California Fellow. She holds a bachelor's degree in History of Public Policy & Law from the University of California, Santa Barbara (UCSB). During her time at UCSB, she served as the co-chair of Lobby Corp, mobilizing hundreds of students in advocacy & lobbying campaigns. Her team assisted in passing California Senate Bill 24, which ensured access to reproductive healthcare for all CA university students. Aside from proudly being the Southern California Fellow, Alexandra also works at California Common Cause as an Operations & Development Associate. Throughout her time there, she has also created two new student programs to continuously engage students and assisted in organizing the Election Protection program that sent over 500 volunteers throughout Southern California. From organizing workshops and seminars for a variety of communities including the Spanish-speaking community to helping oversee a mini-grant program, Alexandra wants to ensure that community voices are heard in every step of the vital Redistricting process. She has also worked as a Basic Needs organizer and managed to raise $20,000 for COVID relief during the start of the pandemic. One of her proudest accomplishments is co-creating and hosting Democracy Is, a podcast dedicated to exploring Democracy issues throughout California and how it affects communities. Alexandra hopes to attend law school and continue her advocacy for Education Equity and access to Basic Needs. Alexandra aspires to one day hold political office at a local or state level. For SoCal inquiries, please connect with Alexandra at alexandra@ignitenational.org.
---
Damara Monroe, Tallahassee Fellow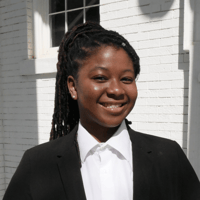 Damara Monroe is the Dr. Anne Moses IGNITE Tallahassee Fellow. She is a senior at Florida A&M University in Tallahassee majoring in Political Science with a minor in Pre-Law. Damara helped charter the Society of Black Female Future Attorneys at FAMU and currently serves as Secretary for FAMU's College Democrats. She aims to make FAMU, Tallahassee, and the State of Florida more civically engaged, society-serving, and positive, uplifting impacting communities than ever before by bringing awareness to the need for underrepresented communities in politics. Damara also had the opportunity to work as a canvasser with For Our Future Florida in the fall of 2022. For Tallahassee inquiries, please contact Damara at damara_m@Ignitenational.org.