Meet Rahel Bachmann, IGNITE's South Bay Fellow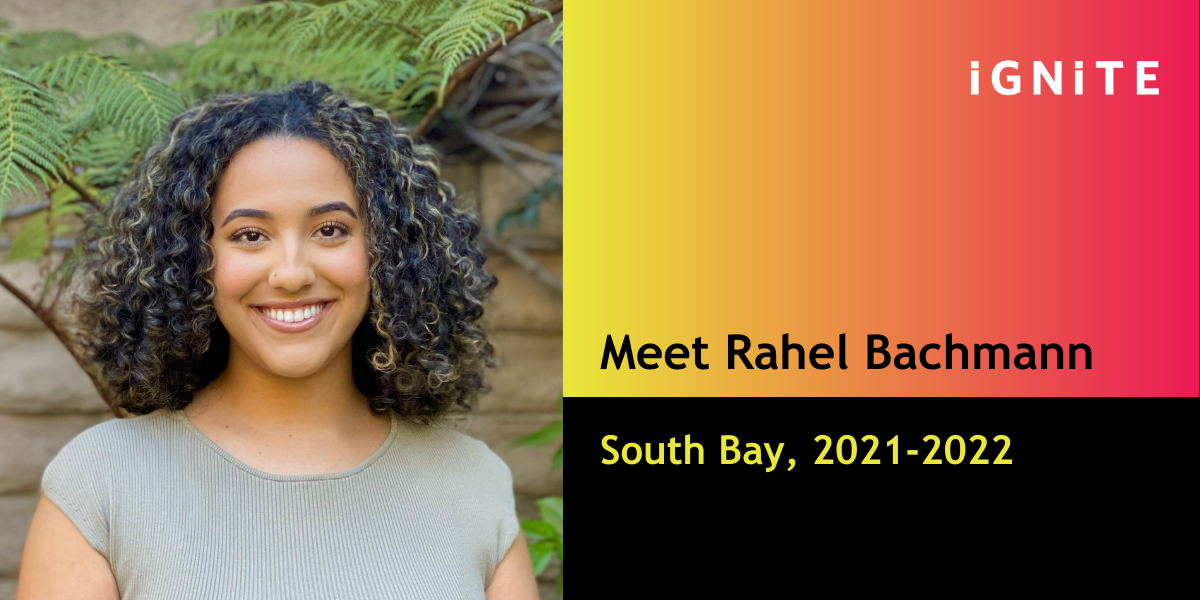 IGNITE is excited to announce that we have our first-ever South Bay Fellow, Rahel Bachmann! We spoke with Rahel to learn more about her political leadership journey and Fellowship goals.
IGNITE: Welcome Rahel! Why don't we start off by talking about what motivated you to become an IGNITE fellow?
RB: My sophomore year, my friend told me she would be running my university's chapter of IGNITE. After attending some meetings and seeing how passionate she was, I felt like I had found a place on campus that supported my existence and my beliefs. I heavily align with the principles of IGNITE, and I have shown that through my past experiences with social justice and gender equity.
IGNITE: That's so great to hear! Can you tell us a bit more about your political leadership experience?
RB: I served as a cabinet member for my high school's chapter of Junior State of America for three years. This experience means a great deal to me because it surrounded me with both like-minded individuals as well as individuals with views strongly differing from mine, and it taught me to communicate with them effectively. The conventions we attended proposed bills and recruited people to either advocate for them or reject them. The times that I chose to speak at a hearing during the convention to advocate for a proposed motion I was passionate about are times that I will never forget. On top of my JSA experiences, I also participated in the Ronald Reagan Leadership Program the summer after my sophomore year of high school. This program, like JSA, had me working with people who both agreed and disagreed with my political opinions and had us come together to create productive solutions to our problems.
IGNITE: IGNITE Fellows are community leaders. What is one thing you want to change in your community and why?
RB: I was raised in a predominantly white city and I now attend a predominantly white private university. I have experienced firsthand the ignorance and privilege that the people around me exude every day through their actions and careless words. Through highlighting organizations such as IGNITE on my campus, I hope to create events that would educate the students of Santa Clara University, specifically the white male population. I hope to bring education on women's struggles, especially women of color, to my campus and produce a more open-minded and understanding campus.
IGNITE: Thank you for sharing your experiences. Why do you believe that civic engagement is important?
RB: Civic engagement is so incredibly important to our communities. Both as a collective or as an individual, working towards a solution for your community is a very rewarding passion. You address issues that are of public concern and advocate for solutions that would greatly benefit a community that might not be able to fight for itself. Civic engagement is an incredibly fulfilling experience and I greatly look forward to the work I will do for various communities through being an IGNITE Fellow.
IGNITE: Here at IGNITE, we want to encourage more young women to own their political power. How will you mobilize your community and get them excited about IGNITE?
RB: I know many of my female friends align with the principles of IGNITE and are excited to support me and my goals for this fellowship. I look forward to employing many recruiting strategies I learned during my time at the Junior State of America and at the Ronald Reagan Leadership Program. I am confident that I can show the women I talk to that IGNITE is passionate about them and their struggles, and if we all come together we can further the fight towards gender equity.
IGNITE: Leadership can mean different things to people. How do you personally define leadership and how do you exemplify it in your work?
RB: I define leadership as the ability to stand up for yourself and others around you and guide them or yourself towards a goal. Being a leader takes courage and passion for the goal you're working towards. I think I exemplify being a leader in various aspects of my life, mainly through my school work at the moment. I am the leader of numerous group projects as I always request that for myself. I know I can trust myself to make sure my group members stay on top of their responsibilities, and I'm often confident I can remember and implement the copious tasks that we have.
IGNITE: Thank you for your time, Rahel! Is there anything else you want to share with readers?
RB: I would love to share with anyone reading this that it is such a wonderful feeling to work towards a goal that would not only benefit your own existence but also the existence of communities around you. It brings me such joy to know that every day through this Fellowship I am supporting and empowering women across the nation. I am excited to empower women on a large scale, but it is especially important to me to be able to implement these empowering and supportive agendas in the communities of women in my general South Bay region.
---
More about Rahel:
Rahel serves as IGNITE's South Bay Fellow. She took part in the Ronald Reagan Leadership Program at the Reagan Library and served alongside students with varying political backgrounds. She also created a service-based leadership action plan to implement in her community and was a board member in her high school's chapter of Junior State of America, where she took part in multi-day conventions during which high school students would run mock trials, introduce and vote on bills, and elect students to act as Congress members. In the past, Rahel helped establish and run a friend's successful campaign to become Governor of Junior State of America. Additionally, she has served children in her local community, creating lesson plans and communication goals for native Spanish speakers in California, and in Ethiopia, her family's homeland. In Ethiopia, she worked with teenagers at an orphanage in Addis Ababa. Rahel is passionate about improving communities of varying backgrounds. For South Bay inquiries, please contact rahel@ignitenational.org.