Meet Justice Grau, IGNITE's Milwaukee Fellow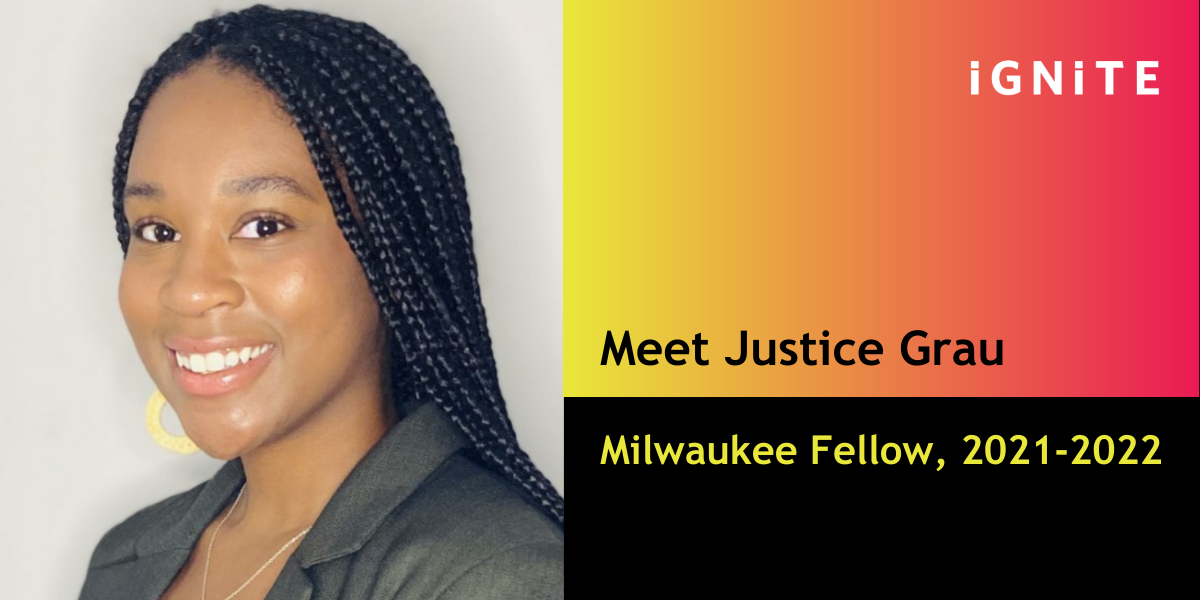 IGNITE is delighted to introduce Justice Grau as our new Milwaukee fellow. We spoke with Justice to discuss why she is excited to inspire women to step into their political power as a fellow.
IGNITE: Welcome to IGNITE Justice! We would love to know how you learned about IGNITE and what role you think IGNITE will play in your leadership journey?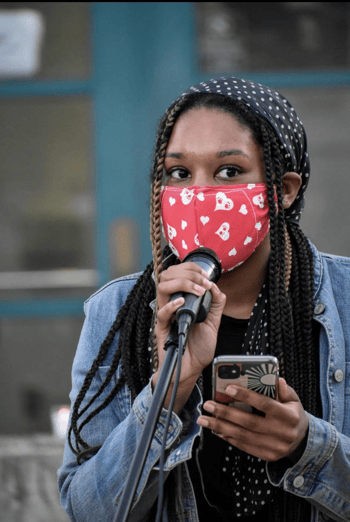 JG: IGNITE is something that I have come across multiple times. When I was an undergraduate at the University of Wisconsin-Milwaukee, obtaining my bachelor's degree in Community Engagement and Education, I remember someone from IGNITE stopping in the Women's Resource Center explaining what IGNITE was and how to get involved. I always thought how amazing it must be to uplift young women and to use their voices to impact their community for good. A year later, I received an email from my mentor telling me about the IGNITE Fellowship, and I thought that I would be foolish to let this opportunity pass by me again. IGNITE's fellowship program can help me strengthen my voice in advocating for my community. I truly believe in the power of community and how it is a major way we can make changes in the world.
IGNITE: Special shout out to your mentor for encouraging you to apply for the fellowship! It seems like serving the community is very important to you. What's one thing you would like to change in your community?
JG: There are so many things that I would like to change in my community for the better. One of the top five things that I want to change in the Milwaukee community is affordable housing. Milwaukee is a city that is forever increasing in multiple ways. However, many community members are priced out of their neighborhood due to a rise in rent and the cost of basic necessities in their area. There is a need for people to have jobs that pay a livable wage.
IGNITE: How do you see yourself mobilizing women in Milwaukee to make community change?
JG: One thing that I have learned is that to mobilize your community and organize them, you have to bring them into the conversation. Ask them what changes they want to see and then come up with an actionable plan together. I firmly believe that I can uplift them in the process of mobilizing and exciting them about IGNITE by meeting them where they are.
IGNITE: We would love to know more about your political leadership experience?
JG: During my time as an undergrad at the University of Wisconsin-Milwaukee, I continuously researched race and educational policies that affect communities made up of intersecting identities. Through my studies, I have obtained the knowledge and skills to continuously promote the education and empowerment of women-identified students on campus. I campaigned for and became the Women's Advocacy Senator, where I dedicated my position to violence prevention and community activism in UWM. Through this position as Senator, I managed a team of five UWM student members. I initiated legislation and conducted successful events with my team, such as Fill the Shelves February, a food drive for the UWM Food Pantry. All of this experience has prepared me to empower others to step into their political power.
IGNITE: Very impressive! It also seems like civic engagement is at the heart of a lot of your work. Why is civic engagement important?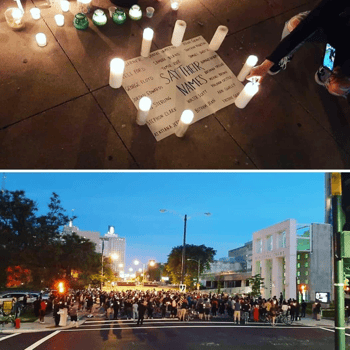 JG: Civic engagement is essential because solving community problems requires the members of that community. There could be a billion organizations in the world dedicated to uplifting voices and communities, but if we don't have members from that community at the table, then we'll fail. Civic engagement is crucial because one cannot assume that we know every community's concerns. Their voice is just as important in every political movement.
IGNITE: At IGNITE, we're trying to broaden the definition of what it means to be a political leader. It's so much more than just being an elected leader. Political leaders can also be community organizers, policymakers, and campaign staffers. What leadership role do you identify with, and how do you want that to play out in your political career?
JG: A leadership role that I identify with is being a political community organizer! I enjoy working in the community and bringing people together to work towards social change. I am challenging the narrative of solely needing to be elected leader to make change happen; I believe that change can happen through the power of people and community organizing.
IGNITE: Justice, thank you for speaking with us. We look forward to the work you will do as a fellow! Do you have any last words to share?
JG: I am honored to be the IGNITE Milwaukee fellow. I am ready to actively listen and participate even more within the Milwaukee community online and in person. Please don't hesitate to contact me if you need anything.
---
More about Justice
Justice Grau is the IGNITE Milwaukee Fellow. Justice is a proud first-generation student currently pursuing her Master's degree in Cultural Foundations of Community Engagement and Education at UW-Milwaukee. She holds an A.A. degree in Early Childhood Education from Madison College and a Bachelor's of Science in Community Engagement and Education from UW-Milwaukee. Justice continually advocates for vulnerable communities in Milwaukee and is committed to understanding race, class, gender, and other equitable issues as a core of her professional work with an intersectional approach. For Milwaukee inquires, email justice@ignitenational.org.