Meet Erin Hernández, IGNITE's Chicago Fellow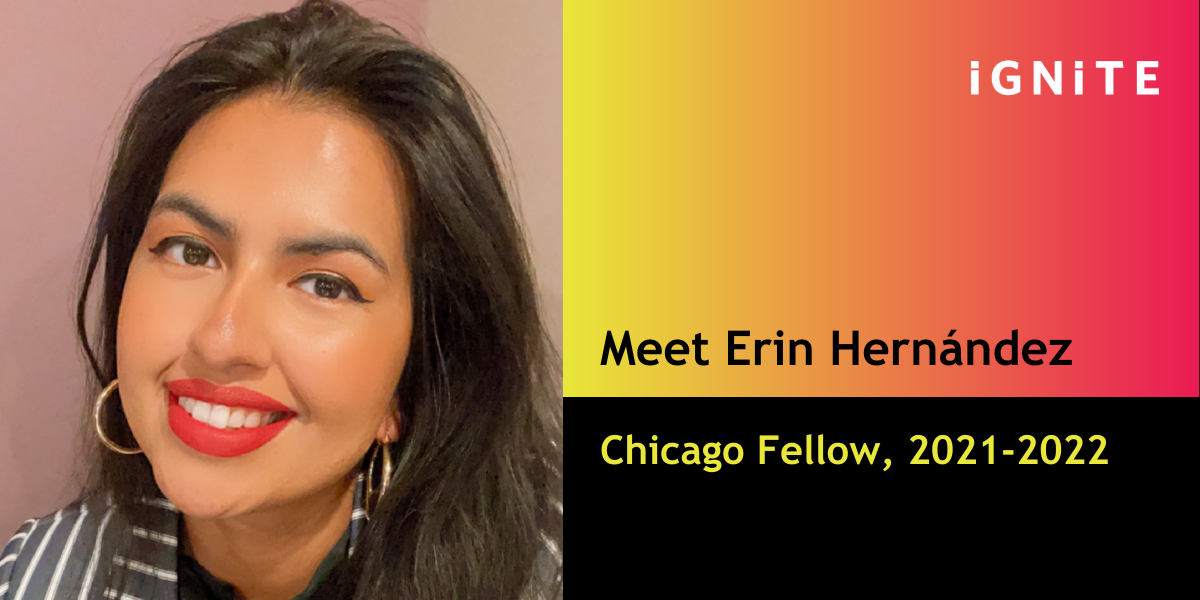 We are so excited to welcome Erin Hernández into the IGNITE family! She is our new fellow for the Chicago area. We caught up with Erin to discuss her plans for the fellowship site and her desire to help expand IGNITE's presence in her city.
IGNITE: Firstly, welcome to the IGNITE family! We are so excited that you are joining us for this fellowship program! Why are you interested in serving as our new IGNITE fellow?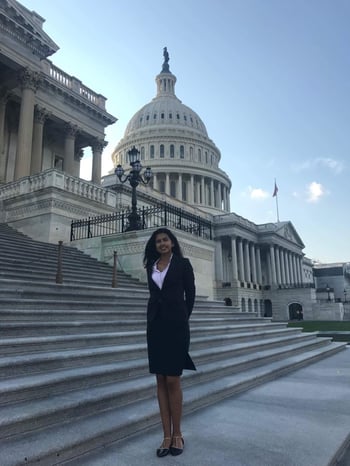 EH: My goal is to develop ways to help communities like the one I grew up in flourish and rebuild. Due to the effects of COVID-19, the already pressing issues in under-resourced communities have been exacerbated. I plan to use my experience in organizing to develop the infrastructure to mitigate the already dire circumstances my community is facing. What we need is to mobilize young women to lead, organize and advocate. There has always been a lack of resources across the nation and push in providing aid to Families. My dream goal is to ensure families are well-fed, have access to medical care, education, and have jobs. I think IGNITE can help me set the framework to make that happen. I plan to advance my impact in the community by helping create initiatives to improve educational opportunities and community relations.
IGNITE: I know you have previously worked with IGNITE in the past. Did your past experiences impact your desire to become an IGNITE fellow?
EH: Yes, absolutely! I learned how to manage social media platforms and create content as an IGNITE Get Out the Vote ambassador. We reached close to 2 million people and got them to vote in the past general election. In the future, I plan to work alongside other fellows to reach wider audiences and continue to educate folks on civic engagement.
IGNITE: How have your life experiences impacted your desire for social justice?
EH: As a first-generation Latina, I was taught to be proud of where I come from and to excel in a place where my mom dreamed of it being the land of opportunity. I grew up in a tough environment, the Brighton Park neighborhood on Chicago's South Side. It was tough because there were and still are inadequate resources in my community. Despite those inequities, I adapted and survived with the help of my community. I looked for mentorship, after-school activities, and other resources. As a product of Chicago Public Schools, I am proud to have had amazing mentors. I want to continue to advocate for my community and work with organizations to increase that access. We must show young women that everything is possible and that there are resources to help. I recognize that I would not be alive today if it were not for All Kids (free medical insurance program through IL) and the Link card (food assistance program in IL). Then, with the help of the Illinois Student Assistance Commission, I was able to apply to college and chose Northern Illinois University. These experiences made me resilient, compassionate, and resourceful.
IGNITE: What is one thing you want to change in your community and why?
EH: As the oldest of a mixed-status Latino household, I learned to adapt, listen and observe. I helped my mother, who was undocumented, and raised my two brothers after she left my father due to unsafe living conditions. If there were one thing I could change in my community, it would be access to mental health resources. If my parents had had access to mental health resources, conditions would have been a lot different back then. If there were more access to mental health resources in my community, many kids I grew up with would have the support they needed.
IGNITE: I know you have a lot of political organizing experience! Can you talk more about your past positions as a community organizer?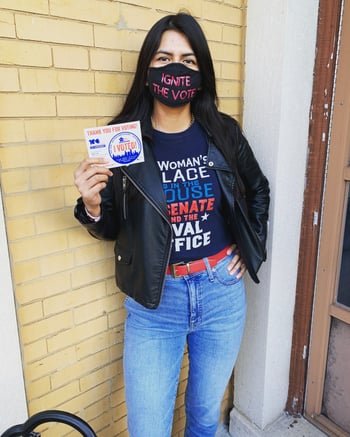 EH: Yes! Most recently, I was an organizer with Chicago Votes. I was attached to the position because of my interest in community building. Through Chicago Votes, I participated in projects like get-out-the-vote efforts and registering incarcerated folks to vote. I became civically engaged in high school through Mikva Challenge and began registering students at my school while signing up to be an election judge. Then continued to do that work in college as the Director of Governmental Affairs for Northern Illinois University's student government. I recently was a GOTV ambassador for IGNITE National, and we managed to get close to 2 million registered voters under 30 to vote across the country.
IGNITE: Wow! That's amazing! And thank you for being a GOTV ambassador! I would also love to hear about your background in immigration policy.
EH: My background in organizing matters relating to immigration policy and education has equipped me with the tools to develop strategies to conduct outreach efforts with different communities. I've helped build relationships and encourage dialogue between organizations and register people to vote in my previous roles. Through my involvement in community building and government, I've utilized my fluency in Spanish to break the barrier in communicating with Spanish-speaking residents to unlock access to resources and knowledge. These efforts strengthened my ability to build relationships and become an effective organizer.
IGNITE: Why is civic engagement important to you?
EH: Civic engagement is so critical because it allows for the public to have a say in the democratic process. I believe that as an IGNITE fellow I will help other future leaders grow and excel. My goal is to be in a position where I can ignite change and create opportunities for children who are living the same conditions I did. The fellowship offered through IGNITE opens the possibility to strengthen my skills and give me access to resources I would not have had otherwise.
IGNITE: Community building is a significant part of your political journey thus far. How do you plan to mobilize your community and get them excited about IGNITE?
EH: To mobilize my community and get them excited about IGNITE, I plan to reach out to old friends in the community and community organizations and spread the word. I want to organize voter registration efforts because our mayoral elections are coming up. I plan to partner with friends, create social media content, and hopefully visit high schools, universities, and community colleges once it is safe to do so. I have noticed a growing trend in civic engagement since the general elections. I want to continue that momentum and work on dispelling voter myths and emphasizing the importance of local elections. Another idea is to make content accessible for Spanish speakers. I would also make a lot of our infographics, videos, and posts available in Spanish to make them accessible for many of the members of my community. I also plan to collaborate with the IGNITE chapters in the area and other fellows across the nation on additional programming.
IGNITE: A significant component of this fellowship program is leadership development. How do you define leadership?
EH: Leadership is taking the initiative to create change or help guide a group of people in the direction of growth. I think an exemplary leader possesses the skill of helping others achieve their own goals and coalition building.
IGNITE: And, how do you exemplify coalition-building in your work?
EH: At my current position working for the Cook County Board of Review, as a bilingual analyst, I have taken the initiative to help my office reach more Spanish-speaking constituents. I have hosted plenty of workshops through zoom in English and Spanish and acted as a translator for those who needed it. I modified the workshops that we use to host in-person to online or drive-in workshops to ensure COVID safety requirements were in place. I decided to make voice-overs for presentations to publish on our website and help constituents over the phone instead of in person. It was around then when the Chief of Staff of our office asked me to do a segment in Spanish on Univision to inform people on what our office does and that we were having a drive-in workshop. The run-out was amazing because many people saw someone they could trust and who spoke the language. Property Tax Appeals are a nuanced idea for many in my community, and I have helped residents understand it better. Many individuals did not know that our office existed as a resource, and in response, I helped inform more people of how the appeals process worked. I acted as a leader for my community because I created additional resources for Spanish speakers and made information more accessible for everyone, in addition to helping train other lawyers and analysts in our office when they would get stuck on a case.
IGNITE: At IGNITE, we're trying to broaden the definition of what it means to be a political leader. It's so much more than just being an elected leader. Political leaders can also be community organizers, policymakers, and campaign staffers. What leadership role do you identify with, and how do you want that to play out in your political career?
EH: As an organizer, I have noticed that many political leaders began their careers in organizing. I identify with the role of a community organizer through my work with grassroots organizations. I have also played a role in the policymaking process through lobbying efforts at the state and federal level. After working as an intern at various offices at the local and federal level, I have seen firsthand how policymaking works. These roles have given me exposure to political leadership, which is representing the people and fighting for the rights of the many, not the few. I want to use my experiences to guide me in my future endeavors in the political world. I want to run for local office, and my main goal would be to increase access to under-resourced neighborhoods.
IGNITE: Erin, any closing comments to add?
EH: I am very excited to be a part of the IGNITE team and cannot wait to embark on bigger projects to increase access and train young women to become future leaders.
---
More about Erin
Erin Hernández is the IGNITE Chicago Fellow. She graduated from Northern Illinois University (NIU) with a bachelor's in Political Science and Spanish with a minor in Latino and Latin American Studies. At NIU, Erin served as the Director of Governmental Affairs, president of DREAM Action NIU, and a peer mentor for Huskie Service Scholars. She is currently a bilingual analyst for the Cook County Board of Review, where she reviews property tax appeals and conducts bilingual outreaches in Spanish. Erin also serves as Secretary for the Latino Alumni Council, leading projects to increase resources for students and provide networking opportunities for graduates. As an advisory council member for the College of Liberal Arts and Sciences, Erin is a marketing team voting member dedicated to reaching more students. In her spare time, she volunteers for United Working Families. Erin is a proud Chicagoan, first-generation daughter to a Mexican Immigrant mother, and organizer for justice. For Chicago inquires, contact erin@ignitenational.org.