Introducing Emelie Jimenez, IGNITE's Miami Fellow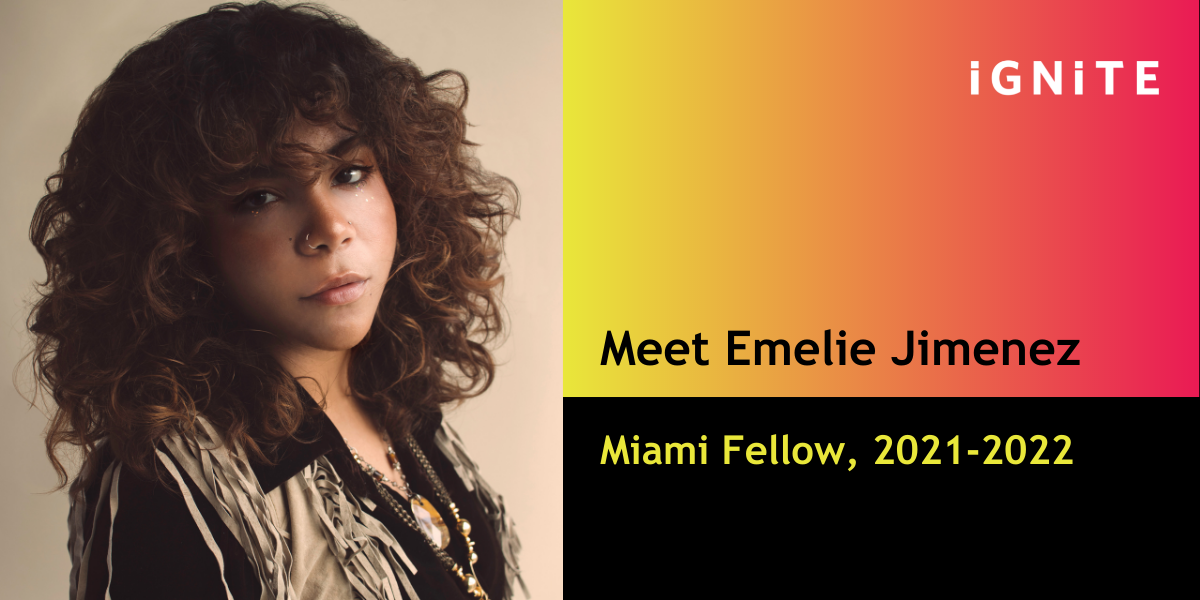 IGNITE is excited to announce Emelie Jimenez as the newest IGNITE Fellow for Miami! Emelie is excited to empower the women in her city and get more young women involved in politics! We'll be chatting with Emelie to hear more about her vision for this upcoming fellowship year.
IGNITE: Welcome, Emelie! Miami is lucky to have you as their new IGNITE fellow. What inspired you to pursue this opportunity?
EJ: As a daughter of immigrants who escaped a society that embraced patriarchal norms that restricted women in excelling in their careers, I understand the importance of driving young women to fight for their goals. I want to be able to bridge the gap between contacting elected officials and informing young women in my community on ways to help to make their voices heard. In doing so, I can play a key role in ensuring my community, predominantly first-generation minority students, to embrace their confidence when participating in politics and developing their leadership abilities. As an IGNITE fellow, I will not only continue to learn and grow with IGNITE, but I will be able to guide other young women in finding how to use their unique perspectives in voicing their concerns.
IGNITE: IGNITE women pride themselves in being change-makers in their community. How would you exercise your political power to create change in your city?
EJ: As an IGNITE fellow, I would like to dedicate my efforts to advocating against widespread gentrification and income inequality that is directly affecting single-parent families in my community. As a young woman who was raised in a household with only women providers, I understand that job security and the risk of losing one's home can be an extraordinary threat when raising a family. Throughout my time as an IGNITE fellow, I will make it a priority to host events to educate the public on our local politics in relation to gentrification and how the housing crisis is affecting women and children.
IGNITE: Your work as a leader at Florida International University and your activism throughout the COVID-19 pandemic show an incredible amount of resilience and innovation. What other political leadership experience are you bringing into this role, and how will it support your work as an IGNITE fellow?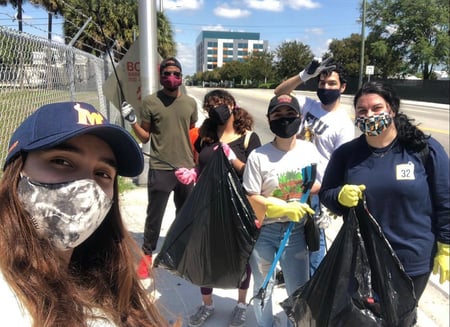 EJ: Throughout the COVID-19 pandemic, I created the BC Community Project, an organization dedicated to providing the homeless community housing and resources needed to ensure they have food, hygienic products, and information on other organizations in their area. In the span of one academic year, we have hosted 10 community cleanups to make sure homeless encampment areas are clean throughout the COVID-19 pandemic, hosted three hygiene distributions, and raised over $700 to donate to the community. In doing so, I solidified my presence in the community and joined several homeless coalitions dedicated to holding elected officials responsible for the encampment raids
IGNITE: Encouraging civic engagement amongst young women is a central theme throughout IGNITE's history and work. How do you define civic engagement and in what ways can others enhance their political participation?
EJ: Civic engagement involves working to make a difference in one's community through education, building effective skills, and addressing values that influence one's life. Participation in civic engagement allows the youth to have a voice in the future of their communities and local politics while providing them a platform to challenge their local government and influence positive change. The practice of civic engagement educates the youth on their rights and in turn allows them to develop skill sets that are valuable while they transition into adulthood.
IGNITE: What are you most excited to introduce to your community as an IGNITE fellow?
EJ: As my community transitions from a virtual setting to an in-person community again, providing a space for young voices to come together and share their concerns is critical. As an IGNITE fellow, I will make it a goal to connect existing chapters with newly developed ones in the area to open the pathway for communication and collaborative events.
IGNITE: IGNITE embraces diverse perspectives and leadership styles. How would you describe your unique leadership style, and how do you hope to lead the young women in your community?
EJ: Leadership is the ability to guide others towards success and inspire a group of people to reach their shared goals through excellent communication, compassion, and understanding. Successful leadership requires patience, especially during difficult times such as the ones we are currently facing, in order to provide others an opportunity to learn and grow from their mistakes.
IGNITE: At IGNITE, we're trying to broaden the definition of what it means to be a political leader. It's so much more than just being an elected leader. Political leaders can also be community organizers, policymakers, and campaign staffers. What leadership role do you identify with, and how do you want that to play out in your political career?
EJ: True change begins with grassroots advocacy and on the ground community organizing. Community leaders are the ones that understand their communities, their downfalls, and everything that needs to be improved. Community leaders offer a unique perspective when it comes to leadership that can only be developed by being a part of a community and working to improve it. I identify with this type of leadership because I have seen the revolutionary change that can be made when one's change comes from a place of love for a community and its people. I hope to utilize my experience as a community organizer for my future career in policymaking. In doing so, I will be tackling pressing issues from a first-person point of view.
IGNITE: Thank you so much, Emelie. Is there anything else you would like people to know?
EJ: I am very excited to learn from the wonderful people of IGNITE!
---
More about Emelie
Emelie Jimenez is the IGNITE Miami Fellow. Emelie holds an A.A. in International Relations from Miami Dade College and is currently pursuing a Bachelor's in Political Science at the Florida International University (FIU) Honors College. This includes two certifications in Human Rights and Political Transitions and Middle Eastern Studies. During the COVID-19 pandemic, Emelie created the BC Community Project, an organization dedicated to providing the homeless community housing and resources needed to ensure they have food, hygienic products, and information on other organizations in their area. She also served as the president of the IGNITE college chapter at FIU and interned for Centro Emergenica de Mujer and La Defensoria Municipal del Niño y del Adolescente in Cusco, Peru. In the latter role, Emelie aided young mothers and children in escaping domestic and sexual violence. She applied her learnings on gender-based violence in her research on human trafficking and human smuggling laws for the Department of State through her FUI's Diplomacy lab. These experiences sparked Emile's passion for fighting for good governance and ridding societies of gender-based violence. Born and raised in Miami, Florida, Emelie is a first-generation Cuban American. For Miami inquires, contact emelie@ignitenational.org.