Introducing Christina Williams, IGNITE's Atlanta Fellow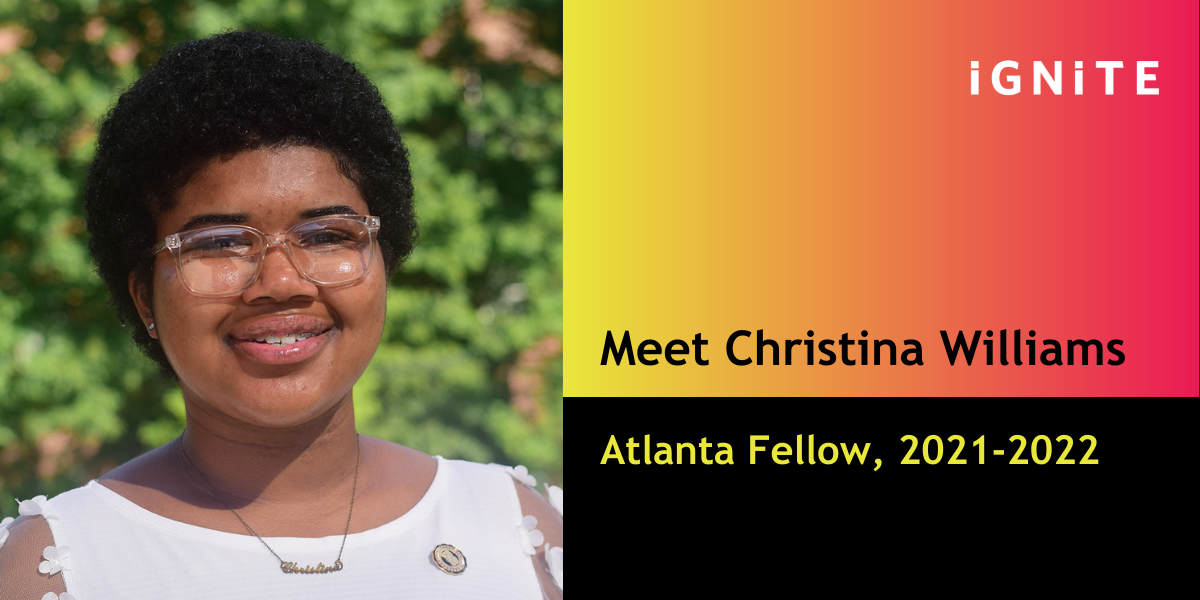 IGNITE is beyond excited to announce that Christina Williams will be serving Atlanta as the IGNITE fellow this year. An influential leader in the IGNITE community, you may recognize Christina as the president and founder of IGNITE's Clark Atlanta University chapter or as a powerful voting rights activist in Atlanta who just testified for redistricting and fair maps in Georgia. We caught up with Christina to discuss her vision for Georgia as a community leader, advocate, and IGNITE fellow.
IGNITE: Hi Christina! Congratulations are in order; you are now an IGNITE fellow! What inspired you to pursue the fellowship as the next step in your IGNITE journey?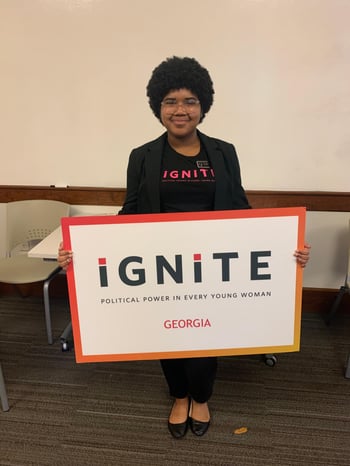 CW: I am passionate about IGNITE's mission to empower young women to pursue careers in politics, and I want to continue to build IGNITE's brand throughout my community so that it can continue to benefit even more young women. I want to challenge myself to become the best leader possible for my community. The resources, training, mentorship, and community provided through the fellowship will help me do so. My participation in IGNITE programming and my communication with other college chapter leaders, fellows, and IGNITE staff has been instrumental in developing my own confidence, success, and leadership in the political space.
IGNITE: Take us back to the beginning. How did you become involved in the IGNITE community?
CW: After attending my first IGNITE event (a regional college council hosted by the previous Atlanta Fellow Loren Walter) during the spring semester of my sophomore year of college, I was inspired to bring IGNITE's mission and resources to my own campus. The following semester, I was successful in chartering the Clark Atlanta University chapter of IGNITE, and I was able to recruit a full Executive Board and growing membership. Through our chapter, I have led numerous events highlighting the importance of politics and being civically engaged.
IGNITE: Amazing! We are so grateful for all you have contributed to IGNITE and what you will contribute to IGNITE as the Atlanta fellow! Now, tell us a little more about your experience as a political leader.
CW: I am the founder and current chair of CAU Votes, which is an initiative to encourage civic engagement and voter participation at my university. Through the initiative, I organized a coalition of 35+ student organizations on campus that work together to normalize, institutionalize, and promote civic engagement for all Clark Atlanta University students. I also wrote my university's civic engagement action plan, which outlines our collective goals and strategies for increasing campus-wide civic engagement and political participation.
IGNITE: Wow! Speaking of civic engagement, why is civic engagement important to you?
CW: When communities don't take advantage of the opportunity to participate in the political process, it can result in decisions that aren't in those same communities' best favor. The only way to ensure that elected officials and other decision-makers are held accountable is to participate in the political process at all levels, whether it's organizing, advocating, voting, protesting, or educating.
IGNITE: We feel your passion for serving communities and leading civic engagement! How will you mobilize Atlanta as the IGNITE fellow?
CW: I will mobilize my community and get them excited about IGNITE by meeting people where they are. I believe that it's important to first listen to others and understand their needs in order to identify how I can be the most useful to them. Because of this, I will be able to explain how politics are intertwined into our daily lives and how that is why we all have a voice in politics and thus a responsibility to use it.
IGNITE: You are so right, listening and relationship-building are vital to impactful leadership. What other values are important to you as a leader?
CW: My definition of leadership is that it is a commitment to guide and represent others with compassion, dedication, transparency, and collaboration. I exemplify leadership in my work by valuing the input of others and not just my own and by challenging myself and inspiring others to take action on the issues we care about in our communities. Through this fellowship, I hope to be able to pay it forward and inspire the next generation of young women political leaders in my community.
IGNITE: At IGNITE, we're trying to broaden the definition of what it means to be a political leader. It's so much more than just being an elected leader. Political leaders can also be community organizers, policymakers, and campaign staffers. What leadership role do you identify with, and how do you want that to play out in your political career?
CW: Currently, I identify mainly with the role of a community organizer. I see myself as a bridge that connects resources and information to communities in need. I want my role as a community organizer to shape how I operate in my political career by allowing me to frame everything I do through a community lens. I want to make sure that no matter how far I may move up the political ladder, I always continue to center the real issues and concerns of the community I represent in any decisions I may make.
IGNITE: Christina, any closing comments to add?
CW: This is a full-circle moment for me, and I am so excited to continue to work with IGNITE over the next year! I look forward to connecting with Atlanta's young women and expanding IGNITE's programming, resources, and mission throughout the region!
---
More about Christina
Christina B. Williams is IGNITE's Atlanta Fellow. She is a rising senior at Clark Atlanta University (CAU), pursuing a Bachelor of Arts in Political Science as a Provost Academic Excellence and Dean's List scholar. Christina is a leader in the student civic engagement space and has extensive experience serving in student government. She has founded and presided over several campus clubs and initiatives, including the CAU IGNITE College Chapter. Christina has completed fellowships and internships with several nationally recognized civic organizations, including The Andrew Goodman Foundation, Campus Vote Project, Public Citizen, the ACLU of Georgia, and Rock the Vote. The National Journal, The Washington Post, NPR, and other outlets have featured her. Christina aspires to attend law school to become an attorney and utilize the law as a tool to defend the civil rights and civil liberties of marginalized communities. She is a Philadelphia, PA native. For Atlanta inquiries, contact christina@ignitenational.org.