Introducing Aniya Bryant, IGNITE's Nashville Fellow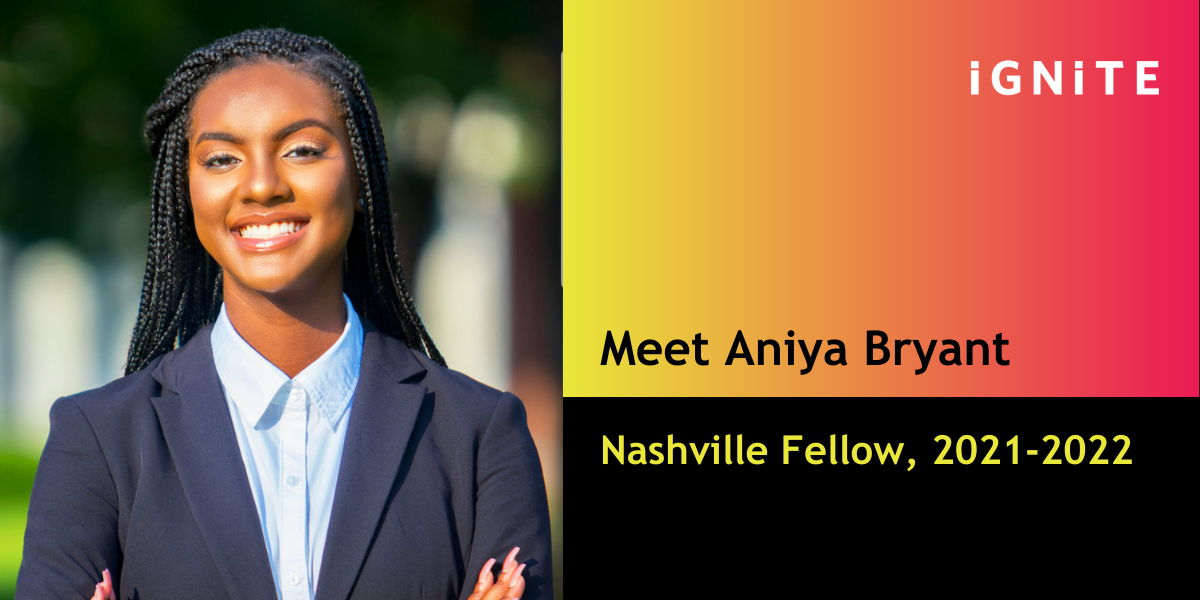 IGNITE is delighted to introduce Aniya Bryant as our Nashville, Tennessee fellow for IGNITE's 2021-2022 fellowship cohort. We spoke with Aniya to discuss why she is excited to inspire women to step into their political power as a fellow.
IGNITE: Welcome to IGNITE Aniya! We are so happy to have you. What inspired you to apply for the IGNITE fellowship?
AB: I was inspired to apply because I want the women in my community to own their political power. I would like to see more young people run for political positions, especially in predominantly black and Hispanic/Latino neighborhoods. I believe in order for change to happen, we need more progressive and younger minds who want to stand up and fight for our community. Young people are trailblazers. We are the pioneers for change!
IGNITE: More than ever, we need next-generation leaders to get civically engaged, so thank you for sharing. We would love to know how you got started on your path to civic engagement.
AB: I have been civically engaged since I was a student at Tennessee State University, obtaining my bachelor's degree in public policy. I started working with the Equity alliance as an intern, and I even ran for state representative of District 54!
IGNITE: Wow! Was there anything in particular that made you declare your ambition and run for state representative of District 54?
AB: President Obama said in his inaugural speech, we were at our best as a group when we unclenched our fists, reached out and grabbed other people, bringing them into our circle, whatever that circle might be, and tried to cross great divides in our community. This is what I believe and would love to do as an elected official. Some people may not be aware of this, but race and racial strife have shaped Tennessee's culture. It is time for that culture to change.
IGNITE: Why do you think civic engagement is so important? How can civic engagement change the current climate in Nashville?
AB: Civic participation is critical because it essentially brings people together for a greater cause. Most people just want to be better known and understood, and interacting with others often helps us to learn new information. We sometimes can live in these personalized societies, where we are surrounded by people who look, sound and act like us. In my opinion, that is not living a fulfilled or full existence. We need to connect with each other and understand their lived experience. This can help change the current climate in Nashville.
IGNITE: How will you mobilize your community and get them excited about IGNITE?
AB: It's critical to create a welcoming and warm environment in my community right from the start. This entails making it accessible and friendly to everyone. Your neighborhood should be a place where people feel comfortable sharing their ideas and opinions. The tone in which you interact with your audience is the first step. Be enthusiastic, friendly, and humid. I have seen communities grow closer by hosting regular in-person events. It's important to establish a real, in-person connections. I also want to maintain a healthy balance of content as well.
IGNITE: At IGNITE, we're trying to broaden the definition of what it means to be a political leader. It's so much more than just being an elected leader. Political leaders can also be community organizers, policymakers, and campaign staffers. What leadership role do you identify with, and how do you want that to play out in your political career?
AB: I love bringing the community together and educating the community on certain issues, like the importance of civic engagement. As I continue to step into my political power, I want to inform the community about the importance of education and teach them how to better advocate for a better education system. I am very passionate about education, and I hope that one day I will be able to serve on the board of education for Metropolitan Nashville Public Schools.
IGNITE: Thank you so much Aniya, is there anything else you would like people to know?
AB: As a leader and as a fellow, I will live by the motto "reflect, reassess, and realign." I always take a moment to identify my "glows" and "grows," and I strive to implement those changes moving forward. I am always seeking out feedback to perfect my leadership.
---
More about Aniya
Aniya Bryant is IGNITE's Nashville Fellow. She is a graduate student at The Relay Graduate School of Education, where she is pursuing a Master's in education. Aniya is already putting those skills into practice as a 10th-grade chemistry teacher in Nashville. Aniya was a former Andrew Goodman Ambassador where she helped register voters, bring down voting barriers, and tackle important social justice issues on her college campus. While volunteering with a local organization called The Equity Alliance, Aniya developed an interest in grassroots organizing and is excited to leverage that passion for empowering young women to be more civically engaged and help them step into their political power. She is very passionate about education and aspires to serve on the Metro Nashville Public School Board one day. For Nashville inquires, contact aniya@ignitenational.org.