IGNITE partners with Snapchat to activate Gen-Z and Millennials to run for office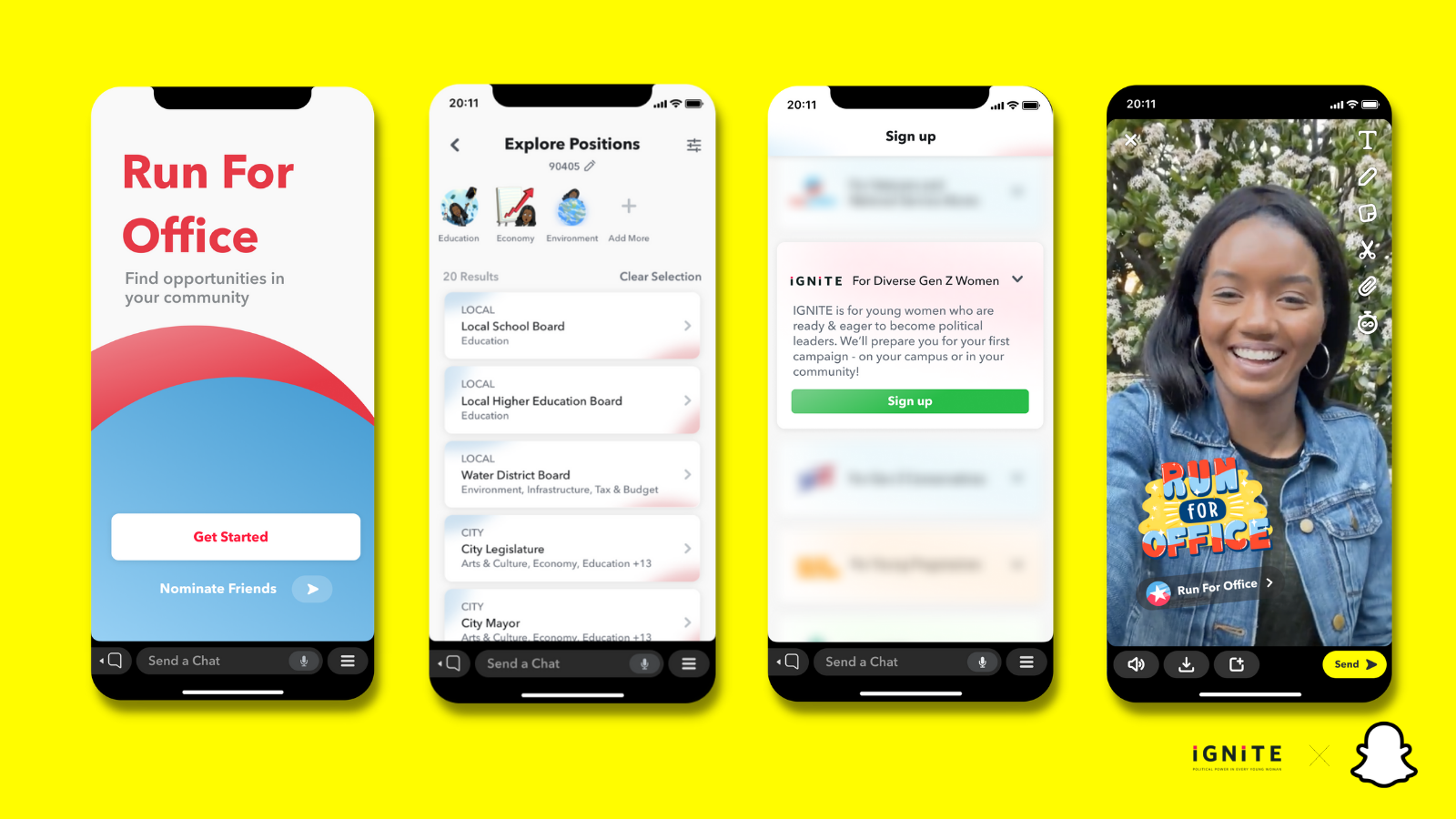 [Media Advisory] IGNITE partners with Snapchat for new in-app effort to activate Gen-Z and Millennials to run for office. Launch partners include Emerge America, New American Leaders, New Politics, Run for Something, Run GenZ, Running Start, Victory Institute, Vote Run Lead, and Women's Public Leadership Network. October 5, 2021 [OAKLAND, CA] - Today, IGNITE, the largest and most diverse young women's political leadership program in the country, and nine additional candidate training and recruitment organizations launched a partnership with Snapchat to provide a native-to-mobile tool to help young people run for office. Despite historic levels of youth civic engagement in recent elections, Gen-Zs and Millennials remain drastically underrepresented in local, state, and federal government.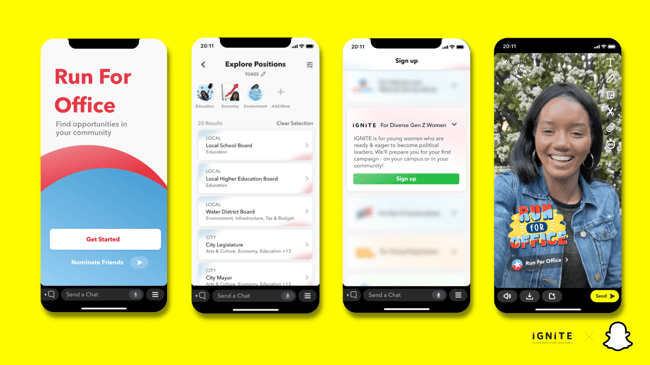 "IGNITE trains diverse Gen Z women to become the next generation of political leaders so we know it is most authentic and effective to engage with them online," said Sara Guillermo, CEO of IGNITE. "Given Snapchat's 90% reach among 13-24 year olds in the United States, we are honored to be an an inaugural partner for the in-app Run for Office program which is a powerful catalyst for IGNITE's ambitious and necessary vision: 1% of young women in America plan to run for office and 75% of young women believe they have political power."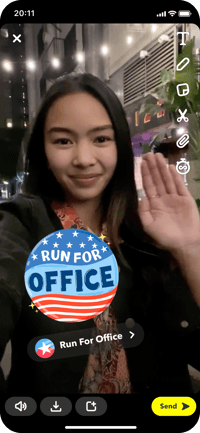 Through the new in-app program called Run For Office, Snapchat is providing a simple tool for young people and their closest friends to explore more than 75,000 opportunities to run for office on the state and local level - from Water Commissioner and School Board to City Council and State Representative. Once a Snapchatter identifies a certain elected position they want to run for, they are encouraged to connect with IGNITE to help them get started with the first steps needed to start a campaign. Candidate training and programming will support them throughout this experience.
"We hope launching the 'Run for Office' mini changes the idea of who can be in office -- that no matter who you are, where you come from, that you can make a difference in your local community by running for office based on the issues they care most about,' said Sofia Gross, Head of Policy Partnerships and Social Impact. "As a platform where young people come to chat with their closest friends, Snapchat has an important role to play in normalizing the conversation around pursuing elected office. We view this as a long term investment in the next generation of American leadership, starting at the local level. We want to help shape a more reflective and equitable democracy for all Americans, and that includes the Snapchat Generation — we can't wait to see all they will do."
Snapchatters who want to become more active participants in American democracy as candidates, advocates, campaign team members, voters and community organizers are invited to visit IGNITE to learn more about college and community training and mobilization efforts being held regularly online and (safety permitting) in person across the country.
For more information, visit www.IGNITEnational.org.
---
About IGNITE
IGNITE is a national movement of young women who are ready and eager to become the next generation of political leaders. As a nonpartisan 501c3, IGNITE builds political ambition in high school and college-aged young women in their own communities. IGNITE provides civic education, exposure to women in political leadership, hands-on training, career opportunities, and a peer network of women who support and nurture each other's aspirations for civic and political leadership. www.ignitenational.org
PR Contact: