How to start an IGNITE chapter at your school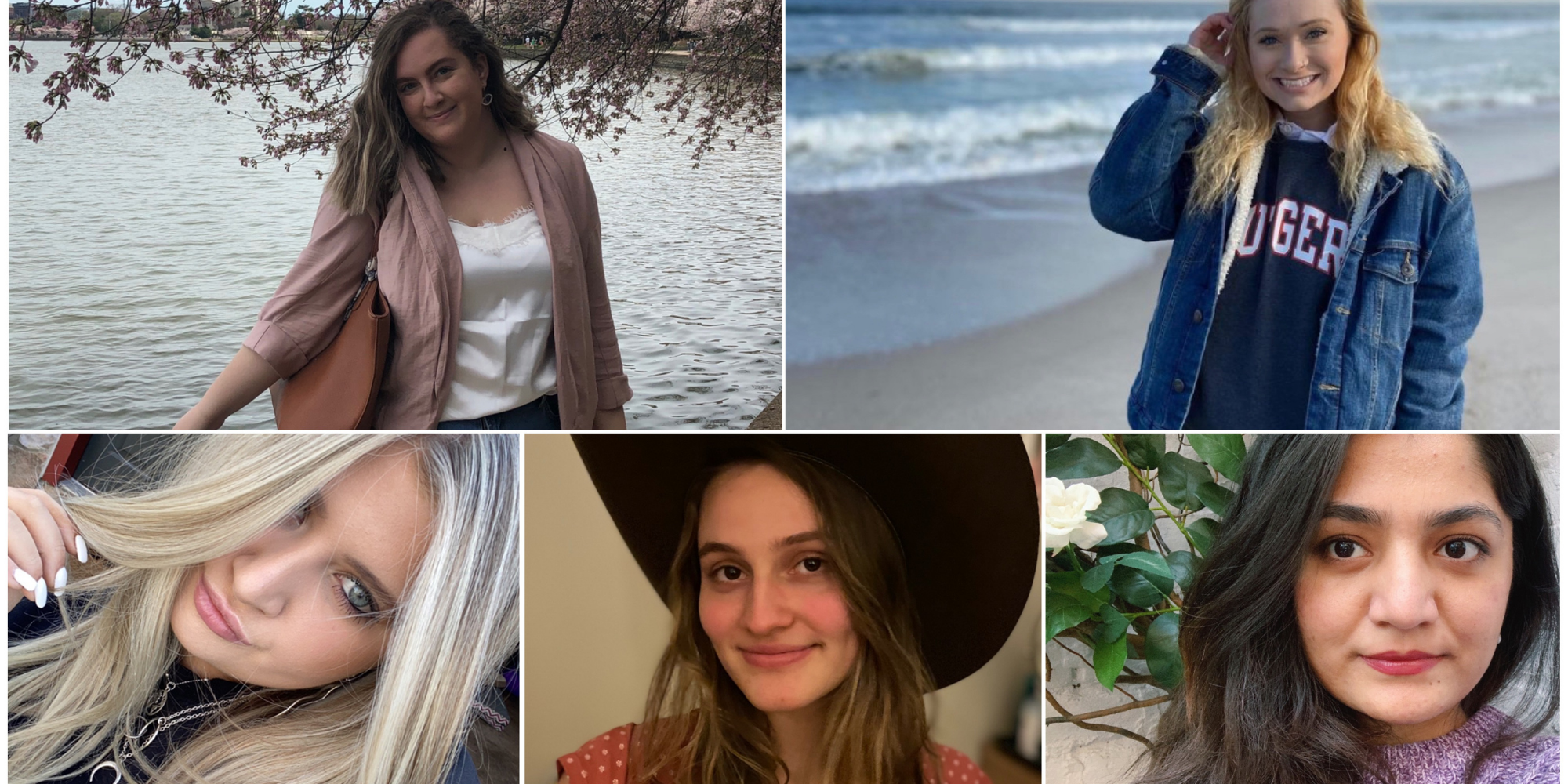 Starting a college chapter with your friends may sound intimidating but trust me, it's a lot easier than you think. In fact, it's an intriguing experience that helps you collaborate with others, manage time efficiently, and can lead to lifelong friendships. As important as it is to successfully organize the chapter, it is equally important to find the right members with similar interests and aspirations. And especially if you have a big campus like Rutgers, there's some extra work behind the scenes.
After several hours spent on reaching out to people on campus (virtually) throughout the fall 2020 semester and the application process that followed, five of us—Victoria Ludington ('21), Emma Brushaber ('21), Mia De Angelis ('23), Eliza Rosenthale ('23), and me, Garima KC ('23)—decided to start an IGNITE chapter for the 2021-22 academic year at our institution: Rutgers University-New Brunswick.
Left Top: Victoria Ludington ('21) and Emma Brushaber ('21)
Bottom left: Mia De Angelis ('23), Eliza Rosenthale ('23), and Garima KC ('23)
The idea of bringing an IGNITE chapter to our campus did not develop overnight. The interest had initially emerged when Victoria interned at IGNITE in the summer of 2020. Recalling her experience at IGNITE, Victoria says, "As a woman pursuing a career in politics and government, having the network and resources which IGNITE National provides is key." In my first Zoom meeting with Victoria, I asked her why she wanted to launch an IGNITE chapter in the midst of a remote semester. She paused for a moment, smiled, and said, "I hope to inspire young, undergraduate Rutgers women to become civically engaged in their respective communities with the transformative help and guidance which IGNITE provides; there is never a perfect time to do that."
Another co-founder and graduating senior Emma added to Victoria saying, "When Tory [Victoria] shared her internship experience, I knew in my heart that I wanted to be a part of IGNITE in any capacity." I was curious to know why Emma, who hadn't interned at IGNITE but also was in her last semester at Rutgers, wanted to start an IGNITE chapter on campus. I remember Emma telling me, "I wanted to leave something behind that I was proud of—a legacy of encouragement and empowerment for my fellow peers. IGNITE works toward a cause that I believe in and establishing this chapter means that other young women at Rutgers can get behind this cause as well."
As someone passionate about getting more women elected to public office, interning at IGNITE has continued to provide me invaluable political exposure. As an intern, I specifically value the opportunities I get to interact and collaborate with other women who are relentlessly working to support and elect women running for office. When I spoke with Victoria and listened to her talk about the chapter, which at the time was in the planning stage, I was certain I wanted to be a part of it. Starting in the fall semester of this year, I will serve as one of the two co-chairs for our Rutgers University-New Brunswick IGNITE chapter.
Our other co-chair is Mia De Angelis, a sophomore at Rutgers. She believes that the Rutgers community would immensely benefit from having an IGNITE chapter on campus. "To be able to expand a network with other like-minded students is profound during undergraduate years," said Mia. Through her position at the IGNITE chapter on campus, Mia is hopeful that she can contribute to building a network of inspiring undergraduate women on campus. "When we collectively work together for a cause we all believe in, no barrier can stop us from achieving our goal," Mia continued when I asked her about her aspiration for the chapter.
Eliza Rosenthale, an intern at IGNITE, will be serving as the programming coordinator for the chapter. She decided to apply for the e-board position with the IGNITE chapter after she voted for the first time in the 2020 presidential election. "I was so emboldened by the opportunity to have political influence," said Eliza, thinking of all the times she eagerly waited for the election results. Once the chapter formally starts this fall, Eliza is excited to work alongside other women who are just as interested in political leadership and civic engagement as she is. She said, "As meaningful as voting in the presidential election was, I don't want to stop there. I am interested in pursuing endeavors that decrease opportunity gaps in politics, especially the opportunity gap for women in politics."
Since we started our IGNITE chapter amid the pandemic, digital platforms like Zoom and GroupMe have been useful mediums for us to connect. We usually start our meetings with icebreaker questions so that the group can bond, and continue to discuss potential events, such as voter registration drives and panels with elected women officials, for the upcoming academic year. Although we five haven't been able to meet up as we would like to, we chat over texts and Zoom meetings as often as we can, sharing memes in our group chat every now and then. Getting involved on campus during a remote semester is challenging, but it's not impossible. We look forward to collaborating with other students on campus and to continue cultivating civic engagement in the Rutgers University-New Brunswick undergraduate community.
Ready to start an IGNITE chapter on your campus? Start here.
Special thanks to IGNITE, New York Fellow Alicia Smith, and Rutgers for supporting and helping our vision become reality.