Get to know Jessie Jennett, IGNITE's Denver Fellow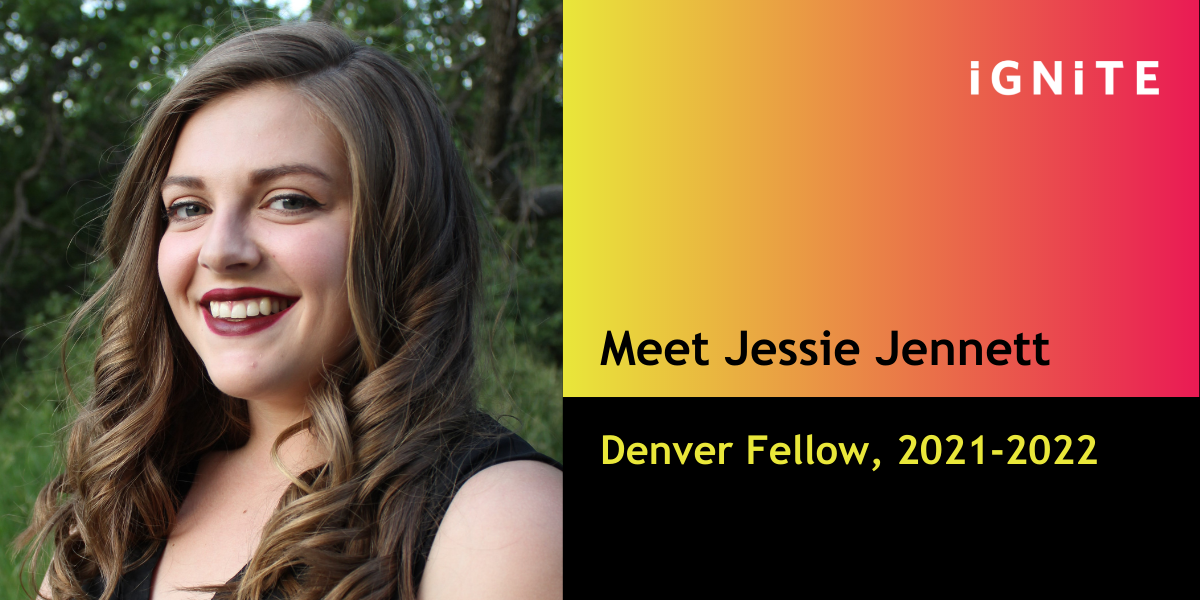 IGNITE is excited to welcome back Jessie Jennett for her second year in our fellowship! IGNITE caught up with Jessie to discuss her political aspirations and plans for the new year.
IGNITE: Welcome back to the fellowship, Jessie! We are so excited to have you as a year two fellow. What inspired you to return for another year with us?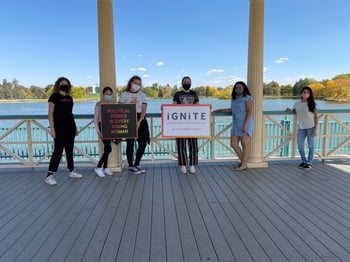 JJ: I have loved engaging with the various leaders of different campuses as IGNITE's Denver Fellow. Getting to watch leaders grow from the beginning of the school year, make connections with community members who are politically involved, and secure internships that expand their understanding of the political process has been so fulfilling. I have grown a great appreciation for each chapter, its campus climate, and the desires of the different members. I would love to have the opportunity to continue to foster that relationship between chapters and across Colorado campuses. My main goal is to help maintain those connections and recruit more young women to take action on their political ambition in Denver and the state.
IGNITE: Besides your goal of fostering community engagement, what is one thing you want to change in your community?
JJ: I would love to see more solidarity in action, particularly I want to advocate for the inclusion of youth voices in political voices. Particularly within the school system, I believe that student voices and experiences should be prioritized in order to create programs that improve the student experience. It is also important to be mindful of minority student experiences, especially since there are widening educational achievement gaps between minority and non-minority students.
IGNITE: I know you have a lot of experience working in political spaces. Can you talk about some of your best experiences?
JJ: I have served as a regional organizer for the Colorado State Senate and House campaign for two women in leadership in tight nationally recognized races. I have served as a Legislative Aide during a session where the General Assembly was half made up of women legislators. Seeing women close gaps that have existed for so long was extremely powerful. I have testified at countless city council, school board, and State House and Senate hearings. I have both in-person and virtually organized volunteers for voter registration drives, issues-based, and candidate campaigns. The best parts of all of those have been working with community members, hearing their stories, and progressing towards solutions that will serve them.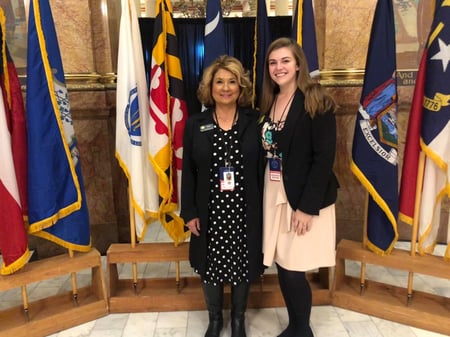 IGNITE: That sounds like such exciting work! And, do you have experience with political leadership on your own college campus?
JJ: Yes! I recently served as a Student Senator in my Student Government, where I helped to restructure our council into a more accessible and equitable format. Sustainable leadership is a tenet that I strive for in all that I do and I feel that serving with IGNITE as the Fellow in Denver has helped to be a great outlet for that work.
IGNITE: Amazing! It's great to hear that you are engaged on and off-campus. And, why is civic engagement important to you?
JJ: Civic engagement is crucial for a society to solve its problems at the root. When the people engage in governance and in holding those in our society accountable to what's right, then we have more access for all and true opportunity, which is what Democracy is supposed to be. When folks engage with governance and decision-making, their experiences in the systems at play are immensely valid, and where they have experienced the gaps and harm that can come out of them, they can serve to fix and prevent further harm.
IGNITE: And what are your plans to recruit new members into the Ignite family?
JJ: I have been working over this first year to tap into the multicultural greek community where all of the values of the organizations tend to align with that of IGNITE's, there has been momentum building, and it will continue to foster. I think that there are folks who desire a community that is ready to take action, especially as folks transition to the on-campus experience. I will organize more workshops that are relevant to the community's needs, whether they are professional, community, issue, service-focused, etc.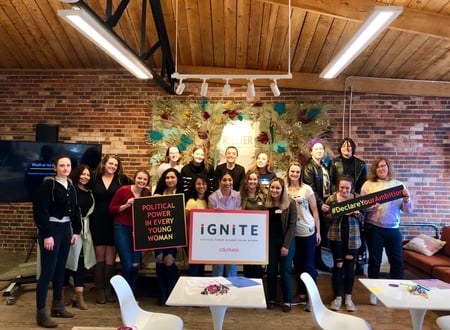 IGNITE: As a fellow, you clearly have a lot of leadership experience. How do you define leadership? And what does it mean to be a good leader?
JJ: Leadership is the action of listening to the needs of the community and combining it with the appreciation of one's personal experience and drive to serve. A good leader also ensures that as they lead, they are bringing others along with them. I have exemplified these values through my consistent presence in community spaces, even at a time where it was uncomfortable and challenging. I have listened and have been able to identify and appreciate where my privileges can be put on the line to make a difference in the community.
IGNITE: I love that definition, especially your focus on listening to the needs of the community. How do you think that you've utilized these values to help shape your college chapters?
JJ: An example would be with the chapter at the University of Denver where the form of leadership that took place was one centered on whiteness and utilized the patriarchal competitive structure of leadership, which not only caused harm to the members but to the community at large. After assessing and researching various angles, I decided to take action and ask for the chapter to go dormant, to refrain from continuing the way they did things to pause and reflect on their values and intentions and how they are aligning with IGNITE National's mission.
IGNITE: That was such a brave decision! And what were the results of this decision? How did it impact your chapter?
JJ: The chapter reorganization resulted in the resignation of some leadership team members after the effort was made to move forward in healing together. I would make the decision again because of the growth and innovation that those who have remained have shown from the process. I am eager for their continuous transformation and feel that they will now be equipped with the experience and tools to change a situation like that which they were in, which is a situation they will face as they pursue greater leadership.
IGNITE: At IGNITE, we're trying to broaden the definition of what it means to be a political leader. It's so much more than just being an elected leader. Political leaders can also be community organizers, policymakers, and campaign staffers. What leadership role do you identify with and how do you want that to play out in your political career?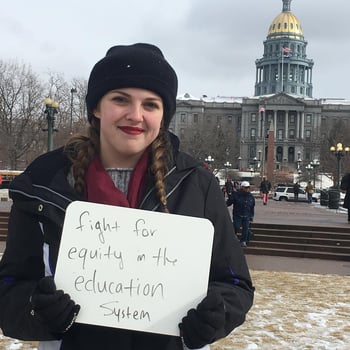 JJ: I identify with being a community organizer. I have a passion for focusing on issues such as equity in the education system, climate change, women's representation globally, and environmental justice. I focus on the issues and navigate the politics based on that, I like to connect the community with the political systems at play to be a part of creating that policy. Being a bridge for folks and supporting them in calling out the status quo and what is not serving them and bringing more into the issue to make change. I hope to work with organizations that align with my values and create environments where folks can connect and set next steps for building on the movement.
IGNITE: Jessie, any closing comments to add?
JJ: IGNITE has brought so many women together who are trying to make life better for themselves, their families, neighborhoods, and communities together. I dream that someday IGNITE is international and is able to act on the vision globally. I am so grateful for what IGNITE is and for the women who make it into the powerful community that it is. For those reading this blog, you were brought to this page for a reason, you have it in you and IGNITE is here to support you through it. RUN FOR OFFICE!
---
More about Jessie
Jessie Jennett is IGNITE's Denver Fellow. She holds a B.A. in Interdisciplinary Studies focusing on Global Development and Public Policy, concentrating on Women in Leadership, from The Metropolitan State University of Denver. She served as the Vice President and Delegate of the Alpha Xi Chapter of the Thera Nu Xi Multicultural Sorority and was an Enumerator with U.S. Census Bureau for Census 2020. Jessie was also a regional organizer for Senator Brittany Pettersen and Representative Kerry Tipper and served as a Legislative Aide for State Representative Monica Duran during the 2019 legislative session. Currently, Jessie is the Denver Development Director for Far Away Friends and a community organizer, advocating for youth representation, education equity, housing, and more. She elevates the voices of young people and others with minoritized backgrounds to decision-making bodies. Jessie dreams of empowering women to run for leadership at a local, state, regional, national, and even global capacity. She has hopes and ambitions to serve her community in office one day. For Denver inquiries, contact jessie@ignitenational.org.