From IGNITE Fellow to Political Consultant: Kaya's Story
"As Fellow, I had this whole community of civically-engaged people I could rely on and all these resources I could use. I lead for my little sister. As the generation after me, it's on me to set her and all young girls up for success."
After attending the National Young Women Run conference in D.C., Kaya Jones was inspired to become an IGNITE Fellow. "Being around all those great women really motivated me, I just wanted to be in an environment like that," she shares. When it was announced that the IGNITE Fellowship would come to Philadelphia, Kaya jumped at the opportunity to lead her community.
Kaya started out as a journalism major at Temple University, but after taking a politics course, realized she wanted to have a bigger role in creating change. "I wanted to be the person they were talking about versus talking about the person," says Kaya. Eventually, she became a double-major in journalism and political science.
As a born-leader, Kaya wasn't entirely new to the world of politics. She ran for student government in her first year of college and was elected as the Deputy Director of Local and Community Affairs. Later, Kaya became part of an all women-campaign on campus. Spoiler alert: they won.
Kaya's most memorable experience as a Fellow was her first college council: "Just being able to create a connected community of women who share a similar passion has always been one of the best parts of being a Fellow." The College Council not only had a great turnout, but it also inspired the young women who attended to continue reaching for their dreams.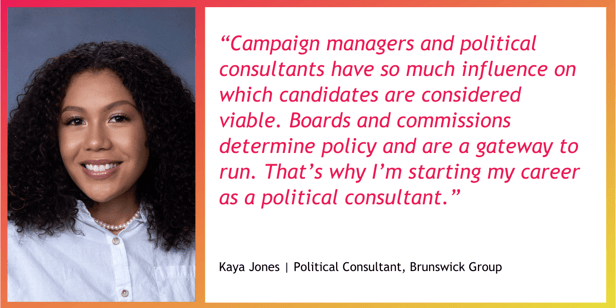 Kaya says she didn't grow up around people who were interested in politics, except for her grandmother who served as a councilwoman when Kaya was a child. "I always say that's where I get my political ambition from."
Kaya shares that the Fellowship has helped her grow both personally and professionally. "I've been able to hone in on where my strengths and weaknesses lie as a leader. It's been a huge learning experience for me." She also says that her network has expanded exponentially, and knows so many of the political leaders in her area now. "It's helped me learn what steps to take next."
Today, Kaya works as an Executive Consultant for the Brunswick Group, specializing in governance and public affairs. She's building a toolkit to pursue her own big dreams: "My goal is to start a political consulting firm that helps create and carry out successful campaigns for minority candidates, so we can have more electeds that represent the diversity of America".
In terms of those next steps, Kaya aims to attend law school in the near future, and one day hopes to have her own political consulting firm.
Connect with Kaya
Keep reading
Inspired? Support IGNITE's work
By supporting IGNITE you are investing in the future generation of women political leaders. Donate today.