IGNITE is a movement of young women who are ready and eager to become the next generation of political leaders.
Featured Training: Run Now
Register for the Spring 2022 cohort
IGNITE's 5-week cohort-based virtual training for young women will expedite your path to political leadership. You will learn every aspect of running a campaign - articulating your personal call to service, fundraising, endorsements, field, and opportunities to meet with elected women and campaign consultants who will guide you with your bids.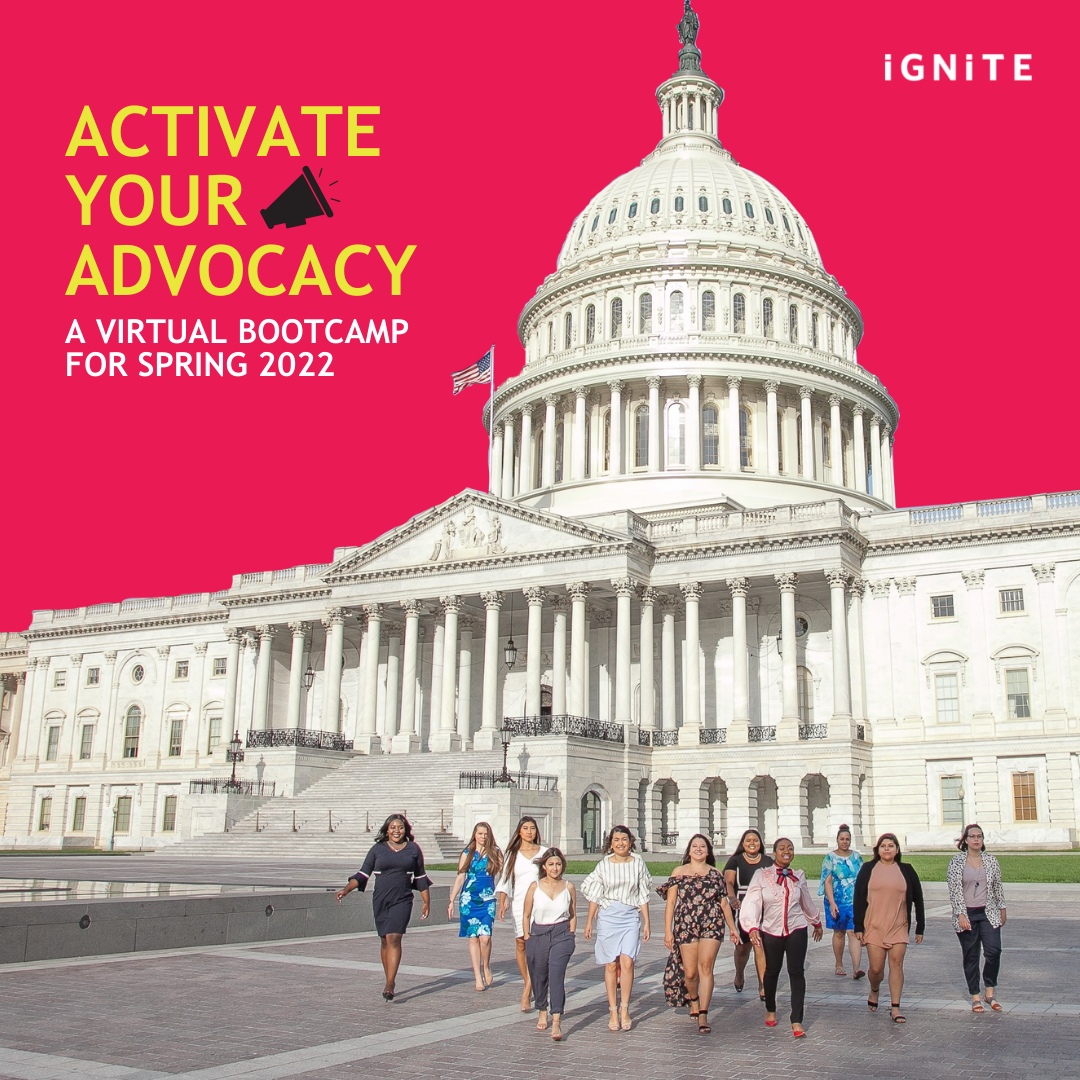 Featured Training: Activate your Advocacy
Register for the Spring 2022 bootcamp
Activate Your Advocacy Bootcamp provides legislative training for young women nationally at no cost. Upon completion of the bootcamp, IGNITE will assist in matching you with an internship with a legislator in Summer/Fall 2022. We will provide the training, mentorship, and support that you will need to succeed before and during your internship.
What IGNITE Women Are Saying
"My generation has different life experiences than those in power. I ran for Georgia General Assembly to bring new approaches and ideas to the process." Audrey Maloof, IGNITE Alumna
"I advocated for House Bill 1053 because of the inequality caused by the current tax. I was surprised that so few legislators and staffers were aware of it. Going to Olympia, WA made me realize I could influence lawmakers to put women's rights on the agenda." Janani Iyer, IGNITE College Chapter Leader at the University of Washington
"Why not me? Why not now? I bring a young and unique perspective and have lived through the experiences of the students in my district. I'm capable, ready, and willing to serve my community. It's personal and it's urgent." Karla Garcia, IGNITE Alumna, Dallas ISD District 4 Trustee
"It's amazing to see so many women running for office or helping other women run. This is the impact that IGNITE has on women: your sister, your mother, your daughter, your granddaughter—it teaches them to stand up, represent, and make a difference for themselves and others." Logan Nevonen, IGNITE Alumna, Communications Director, Dallas County Republican Party
Get program news and opportunities from IGNITE. After subscribing, we'll email you a brief survey so you can customize the communications you receive.