Q&A with Carolyn Kedslie, IGNITE's North Texas Fellow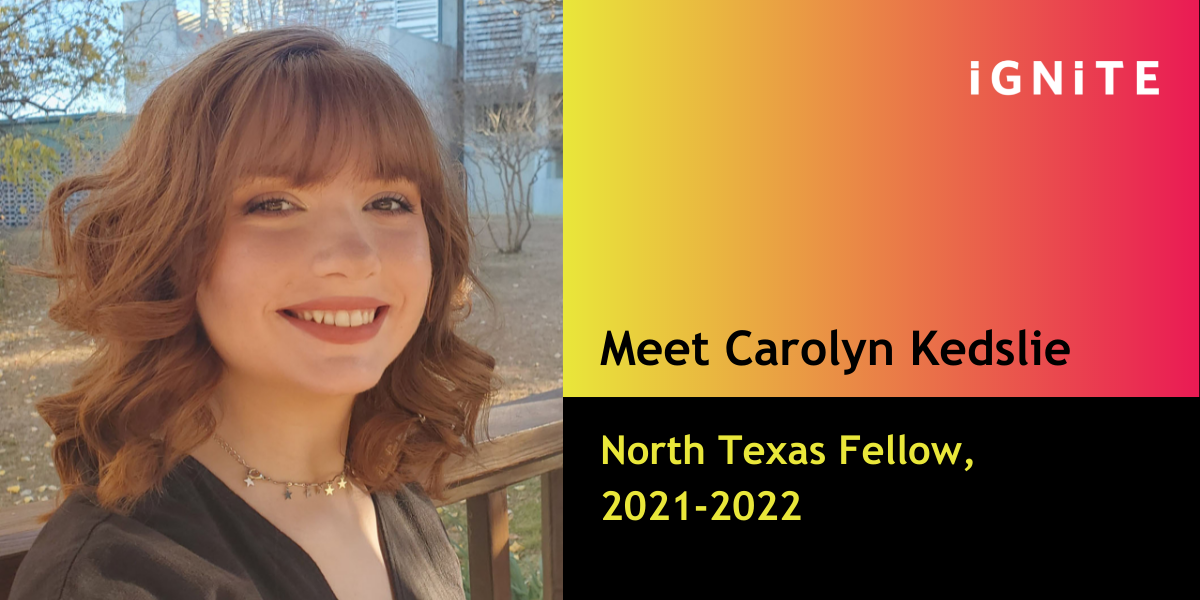 IGNITE is thrilled to welcome Carolyn Kedslie back to serve as the North Texas Fellow for a second year. We caught up with Carolyn to talk about what she's looking forward to in the coming year and how she'll exercise her political power to empower other young women.
IGNITE: Carolyn, you're a second-year fellow. Congrats! What inspired you to apply for another year?
CK: I believe that I can help women in my area realize their political potential. I know I was not raised in an environment where women in politics were encouraged or even allowed. Throughout high school and even now in college, I still often feel unwelcome to discuss or participate in politics, and I want to change that.
IGNITE: And how did that play out in your time with IGNITE last year?
CK: Thanks to my previous college, Collin College, having an IGNITE chapter and my current work as IGNITE's North Texas Fellow, I have been able to envision myself in American politics. I absolutely have been empowered, inspired, and uplifted. Because of the heated Presidential Election and the COVID pandemic, I'm more fired up than ever to empower young women across North Texas to understand their power in the political field.
IGNITE: What's a win from your first year as a fellow? No shame in bragging here!
CK: I'm proud to share that I support five active college chapters and have successfully guided six elected officials to join IGNITE's Elected Network! It's been such a fantastic experience to see other young women and femmes come out of their shells and become political leaders just in the short time I've been with IGNITE so far.
IGNITE: Besides your hopes to empower young women, what is something else you want to change in your community through public leadership and civic engagement?
CK: I am especially concerned with ADA violations in public businesses and offices. According to the Center for Disease Control and Prevention, one out of five American adults live with a disability. If an American citizen is not allowed the experiences of another citizen based upon nothing other than their physical disability, can we truly say that our government is upholding the Americans with Disabilities Act?
IGNITE: What outcome do you want to see?
CK: I want the ADA to be enforced more because it will bring more patrons to my community, which helps the economy, and build a more inclusive future where everyone can fully participate. I want to work with IGNITE to make sure more is done to accommodate our community members with disabilities, like students, voters, and women.
IGNITE: We love to see it! Now, tell us a little more about your political leadership. How have you exercised your political power?
CK: During Spring 2020, I served as Secretary of the Collin College IGNITE chapter. A highlight as Secretary was contacting local council women Jennifer Berthiaume, Lauren Doherty, and Jene' Butler and organizing and moderating a Q&A roundtable where we discussed the challenges and benefits of serving the community.
IGNITE: Any advice from that conversation you want to share with us?
CK: Something that stuck with me was that being a woman in political leadership still is a new ballgame. When these women who we see elected now were children, they had almost no role models to look up to. They said it takes a lot of creativity and perseverance to be in their roles and withstand the sexism that comes along with it. They made sure to tell us it was possible and rewarding to be a woman in leadership, but also that there's still a lot of changes we need to make for us to reach gender parity in office. I remembered that conversation when I applied for the Fellowship. I thought that no matter what, I would help carve the space for women in politics and leadership.
IGNITE: We know you have an impressive track record with voter engagement. Care to share?
CK: Leading up to the November 2020 election, I was an #IGNITEtheVote Ambassador. I organized community members to create their voting plans and get registered. This developed my passion for helping other young women understand their role in politics and how they can get involved with the issues they care about through voting and elections. It led to so many great conversations around the issues on the ballot.
IGNITE: Voter mobilization is one of our favorite areas of civic engagement. Why is civic engagement important to you?
CK: It is our duty to make our communities the best they can be to the best of our abilities. There are hundreds of problems we face daily, from potholes in the road to climate change. People care about the issues that affect their communities, but without civic engagement, they have no say as to how those issues might be resolved. Whether through voting, volunteering, protesting, or other means, civic engagement allows us to take part in improving our communities.
IGNITE: There is no one definition of what it means to be an effective leader. For example, we see all different styles of leadership among fellows. Each and every style inspires us. How do you define leadership? And how do you exemplify leadership in your work?
CK: Leadership is about being a trustworthy, reliable source for people to look to for direction. I believe a leader assesses the strengths of each member of a team in relation to its goal and makes a plan for the best way to achieve that goal. For example, in my work as Secretary for the Collin College IGNITE chapter, I found what members were best at graphics, advertising, public speaking, etc., and made sure to hold them accountable for their role. In the end, we were able to deliver an excellent final product as a team!
IGNITE: At IGNITE, we're trying to broaden the definition of what it means to be a political leader. It's so much more than just being an elected leader. Political leaders can also be community organizers, policymakers, and campaign staffers. What leadership role do you identify with, and how do you want that to play out in your political career?
CK: I definitely see myself as an advocate or as an informational resource for other people. A lot of being a leader isn't just telling others what to do, but also being there when they need clarification on what they want to do. Especially when it comes to politics, voter information, and policy issues, it's important to be informed on what's going on. This plays out in my political career by allowing me to be a more transparent, knowledgeable, nonpartisan leader. I want what's best for my community and equipping everyone with the knowledge they need to achieve that best helps us achieve that.
IGNITE: Carolyn, any closing comments to add?
CK: I am so incredibly excited to be a Y2 Fellow this year, and I am so proud of the presence IGNITE already has in and around DFW. If anyone reading this is near North Texas, feel free to reach out to me at any time! IGNITE truly is a community of uplifting, like-minded women in political spaces, and I am so grateful that we have this network across North Texas.
---
More about Carolyn
Carolyn Kedslie is IGNITE's North Texas Fellow. She is a current student at the University of Texas at Dallas and serves as IGNITE's UTD College Chapter president. She also served as an #IGNITEtheVote Ambassador throughout the 2020 general election. During this time, she relationally organized communities to create their voting plans. As an IGNITE Fellow, Carolyn hopes to ignite the political fire in other young women to become civically engaged and get involved with the issues they care about. In the future, she wants to run for office one day to make her community a better, more efficient, and inclusive place. For North Texas inquiries, contact Carolyn at carolyn@ignitenational.org.