Meet the 4th cohort of IGNITE Fellows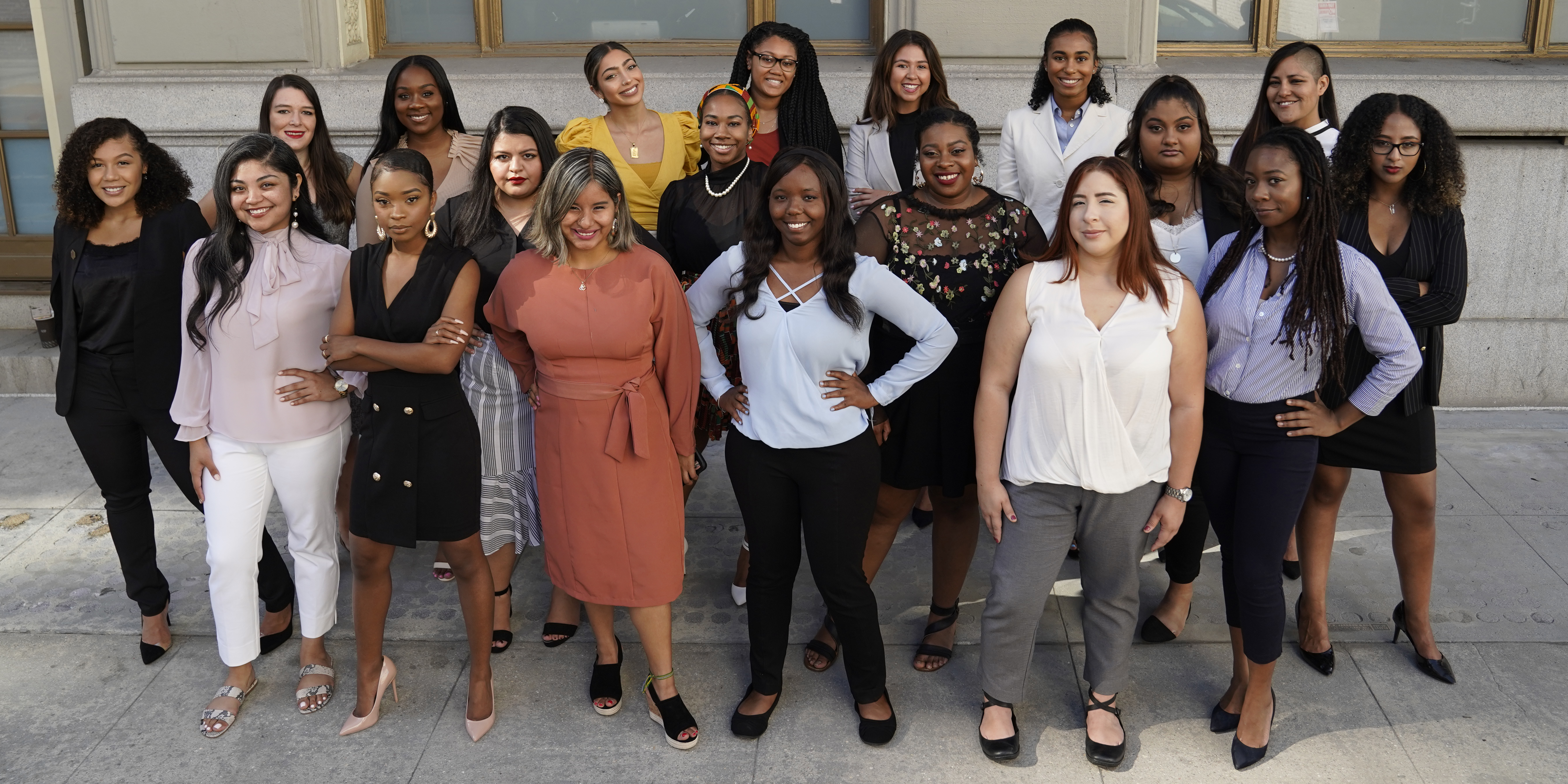 Meet the 4th cohort of IGNITE Fellows. Every year IGNITE recruits a cohort of diverse and passionate women in communities across America and provides them with resources, training, and networks to flex their political power and mobilize women on their campuses and in their communities to become civically engaged. Fellows serve as ambassadors for IGNITE's mission and vision and play a valuable role in our efforts to spread a national message that it is time for young women to step into political power.
Mary Black served as our Raleigh Fellow. Mary is a master's candidate at the Vermont Law School, where she is studying Environmental Law and Policy. She is building upon her studies in Environmental Studies at North Carolina Agricultural and Technical State University. Her goal is to create an equitable, positive, sustainable future and a more responsible relationship with the environment. She is the youngest member of the Partners for Environmental Justice (PEJ) Board of Directors. Mary also founded the Triangle Urban Initiative, a political plan to activate more youth on issues related to the environment and climate change. With extensive campaign experience - from fundraising to speech writing to field management and more - her objective is to give a voice to the voiceless. Mary aspires to launch a non-profit organization that brings focus to the intersectionality of race, environment, and gender.
---
Anna Del Castillo served as our Boston Fellow. In 2018, she graduated Magna Cum Laude from Tufts University with a B.A. in International Relations and Colonialism Studies. At Tufts, Anna served as the student body Vice President and the Senior Baccalaureate Speaker. She is currently pursuing a Master of Divinity as a Dean's Fellow at Harvard Divinity School. On-campus, Anna is a Proctor for First-year students and serves as the Divinity School Representative on the Harvard Graduate Council. She also leads DivEx Now, a community space of healing and resilience for students from underrepresented backgrounds, and serves on the leadership team for the Feminist Studies in Religion, INC. Anna is a member of Harvard's Prison Education Program, working with incarcerated students through the Partaker's College Behind Bars program. As a Harvard Presidential Public Service fellow, Anna worked for the Faith Matters Network. She is a proud Mississippian, second-generation Peruvian-Bolivian immigrant, womanist scholar, and faith-rooted activist for justice.
---
Gillian Elizabeth Daley served as our Miami Fellow. She is an International Relations and Political Science Major at Florida International University, holding two certificates in National Security and Public Policy. Gillian now serves an Intelligence Community Center for Academic Excellence (IC-CAE) Intelligence Fellow. Her civic engagement and activism started in high school when she founded an after-school program focused on discussing race, tolerance, and political action. Since then, she has spoken at Princeton, worked closely with the United Nations Foundation, and serve as a Delegate to the 63rd Commission on the Status of Women. Gillian interned for Florida Senator Manny Diaz Jr. and currently interns for Florida Representative Shevrin Jones and Congresswoman Debbie Wasserman Schultz. As an IGNITE Fellow, Gillian wants to bring her background in advocacy and grassroots activism together with her passion for women's rights. She hopes to be able to strengthen IGNITE's presence, not only in her hometown but also nationwide.
---
Anais Franco served as our Southern California Fellow.Anais holds a Bachelor of Arts in Political Science with a minor in Economics from California State University San Bernardino. Her background is in higher education and regional organizing. Anais' recently served as the Regional Organizer for Rancho Cucamonga with James Ramos 2018 campaign for State Assembly. The focal point of her local organizing and time on the campaign trail was making higher education more accessible to all as well as increasing trade school opportunities in the region. Anais' passion for higher education advocacy was the impetus for getting civically engaged. She currently works as an English Tutor for the Language Success Center at Chaffey Community College.
---
Raie Muluken Gessesse served as our Minnesota Fellow. As a senior studying Public Health and Political Science at Hamline University, Raie's academic interests stem from a commitment to issues of gender and racial equity, health, and justice. Raie has engaged in numerous leadership, internship, and public service opportunities, including serving as a Sexual Health Community Educator with Planned Parenthood, Legislative Intern with the Minnesota Department of Health and Human Services, and student representative on the Minnesota Public Health Association's Health Equity Committee. In recognition of her efforts, Raie was appointed by former Governor Mark Dayton to sit on the first-ever Young Women's Initiative of Minnesota in collaboration with the Women's Foundation of Minnesota. As a Minnesota IGNITE Fellow, Raie hopes to aspire and activate a coalition of young women interested in becoming politically and civically engaged in issues on the local, state, and federal levels.
---
Jeneisha Harris served as our Tennessee Fellow. She is a Biology and Psychology double major with a double minor in Spanish and Political Science at Tennessee State University in Nashville, Tennessee. Jeneisha wants to merge policy and mental healthcare advocacy as a Pediatric Psychologist with an emphasis on mental health care policy. Jeneisha is the National Chairwoman and Co-Founder of The National Black Action Committee, Executive Vice President for the Tennessee Young Democrats, Ex Officio for the Tennessee Democratic Party, Emerge Tennessee Alum, Equity Alliance Organizer, Generation Progress Reproductive Justice Ambassador, and served as an HBCU White House Ambassador under the administration of President Barack Obama. Jeneisha's experience and interests include civil and social justice, foreign and domestic policy, voting rights, reproductive rights, community engagement, and mental health. Born and raised in Memphis, Tennessee, in the historic neighborhood of Orange Mound, Jeneisha is proud to be a product of the place that helped create who she is today.
---
Chiquita Jackson served as our Detroit Fellow. She is a Political Science, Social Justice, African-American Studies, and Pre-Law student at the University of Kansas. As a student, Chiquita held numerous leadership roles, including Black Prelaw Society President, a Student Senator, the Student Legislative Awareness Board Outreach Director, and the Multicultural Student Government President. As a Student Senator, she wrote and passed legislation in the Student Senate to address the resource needs of students with marginalized identities. Additionally, Chiquita is involved in many programs that align with her mission of advocating for marginalized and underrepresented communities. These groups include Young People For (YP4), B.A. Women Alliance, PLEN, the Henry Clay Institute, among other involvements. She aspirations to become a civil and human rights attorney and, one day, a U.S. Supreme Court Justice.
---
Kaya Jones served as our Philadelphia Fellow. Kaya is a Political Science and Journalism double major at Temple University in Philadelphia, PA. After being introduced to the IGNITE Temple Chapter during her freshman year, she was equipped with the tools and confidence to run. This year, Kaya will serve as the Vice President of Temple University's Student Government, running with the help of an all-women led campaign. Kaya is a Diversity Peer and a Public Policy Intern for attorney Angela Rye at Impact Strategies, a political advocacy firm. After graduating, Kaya plans to attend law school. As the inaugural fellow for Philadelphia, Kaya is excited to foster a spirit of sisterhood and inspire young women to be politically engaged. Kaya's passions and hobbies include women's empowerment, politics, traveling, boxing, and practicing her faith.
---
Abriana Kirt served as our Birmingham Fellow. Abriana is a senior at the University of Alabama studying Biological Sciences on a pre-med track. As a member of the National Council of Negro Women (NCNW) on campus, she is acutely aware of the need for gender parity in elected office. A pivotal moment for volunteerism and political leadership for Abriana was her participation in an international exchange with Girl Scouts of America. She traveled to England to discuss environmental issues affecting the U.K. and America with her English peers. She walked away from that experience fired up to get more civically engaged.
---
Sydney Lee served as our Wisconsin Fellow. She is majoring in Psychology with a minor in Women and Gender Studies at the University of Wisconsin-Milwaukee. During her senior year, she will be serving as the Student Association President. Sydney has been passionate about community work from a young age. She founded an organization called Organizing for Change that focuses on philanthropy, politics, social justice, and environmental issues. Her path in life is greatly influenced by being raised by a single mother, who instilled in her the importance of women's empowerment. Sydney believes women belonged in all branches of government and looks forward to running for office.
---
Mayleen Mermea served as our Chicago Fellow. Mayleen is pursuing a Master's in Youth Development with a specialization in Educational Policy at the University of Illinois at Chicago. She holds a Bachelor's of Science in Applied Learning and Development - Youth and Community Studies with a concentration in social services and a minor in Educational Psychology from the University of Texas at Austin. While at UT, Mayleen participated in the Congressional Hispanic Caucus Institute's Congressional Internship program in Washington, D.C. Today, Mayleen is a Literacy Coordinator for the University of Illinois at Chicago's America Reads program and supervises tutors working in neighborhood schools around the city of Chicago. Mayleen's political aspirations were sparked at a legislative advocacy conference in 2015 when a woman told her "you need to run for office." Taking this message to heart, Mayleen wants to empower other young women to be powerful forces in the political arena. Mayleen grew up in the border town of El Paso, Texas.
---
Fiona Murray served as our Seattle Fellow. She is pursuing a Masters of Public Administration at the University of Washington's Evans School of Public Policy and Governance. She holds two board positions at the University of Washington, sitting on the Graduate Student Senate's Legislative Advisory Board and the Evans Network of Womxn. In the later, Fiona advocates for the needs of women and non-binary students. In the community, Fiona is active in the League of Women Voters and serves as the Events and Fundraising Coordinator and Precinct Committee Officer with her Legislative District Democrats. Fiona is an intern for Seattle City Councilmember Debora Juarez, the first Native American to hold a seat on the council. Her policy interests range from voting rights to women's rights to equitable representation in governance and beyond. Through IGNITE, Fiona is eager to encourage other young women to recognize and use their political power.
---
Stephanie Nava served as our San Antonio Fellow. She will be the first in her family to obtain a college degree when she graduates in December with a B.A. in Political Science from St. Mary's University. Stephanie was the co-founder of the first IGNITE chapter in San Antonio and proudly served as president while also mentoring first-year students in the Political Science Living Learning Community. She worked for the National Diversity Council, conducting research on diversity programs and planning the National Latino Leadership Conference. Additionally, Stephanie worked for Teach For America, where she planned recruitment events. In the San Antonio community, she has volunteered with San Antonio Youth Literacy, Girls Inc., and RAICES. After she graduates, she hopes to attend law school and ultimately run for a judicial position in her hometown of El Paso, Texas.
---
Shradha Parkeh served as our Columbus Fellow. Shradha is a junior at Ohio State University in Columbus, majoring in Public Management, Leadership, & Policy, and Women's, Gender, & Sexuality Studies. On-campus, Shradha is involved with Undergraduate Student Government and the Multicultural Center. She is a native Ohioan who is very passionate about social justice issues, especially women's rights and equality, as well as other minority groups' advocacy. She hopes to enact change through a position as a public servant for her community at a local and national level. She wants to empower young women everywhere to succeed in politics and one day run for office!
---
Cecilia Ruesta served as our Central Valley Fellow. In undergrad at California State Fresno, Cecilia was a member of Students for Quality Education (SQE), where she mobilized students, faculty, and staff to address socioeconomic disparities in higher education. In addition to lobbying at the state level with SQE, she has also lobbied at the national level with United We Dream and other organizations to pass legislation that would grant deportation relief to thousands of immigrant youth. In the Women's Studies Program, she helped organize campus-wide campaigns to end gender discrimination, racism, and violence against women and children. Cecilia is originally from Lima, Peru and immigrated to the United States at the age of 17. Cecilia holds a B.A. in Women's Studies and a B.S. in Criminology and is currently in the MFT counseling program at California State University, Fresno.
---
Saha Salahi served as our Las Vegas Fellow. Saha is a freshman pursuing a B.A. in Communications with a Brookings Public Policy Minor at the University of Nevada-Las Vegas. In 2019 she graduated from West Career and Technical Academy with a College Ready Diploma, inspired to make a difference in the world as she took her first steps towards college. Saha recently served as an intern for Nevada Congressman Steven Horsford. In the community, she has served over 150 hours of volunteering, which span from being a teacher's assistant for elementary level students to organizing and fundraising food and book drives for the local K-12 schools. As a product of Afghan-American parents, Saha plans to advocate for minority groups and use her voice to bring about equal representation at a local and national level. She is excited to begin her journey with IGNITE and believes that she can play a crucial role in bringing light to pressing issues in the current political atmosphere.
---
Yudidt Nonthe Sanchez served as our Phoenix Fellow. She is a student at Mesa Community College. Yudidt has been civically engaged with many local and national political campaigns since high school. She has volunteered over 200 hundred hours in her community to support efforts and organizations she believes in, including voter registration to service at the local hospital. Yudidt plans to run for office in Arizona to represents Latinas in political office. Through IGNITE, she dreams of bringing more women in local politics to close the gender gap and reach parity in elected office.
---
Alicia Smith served as our New York Fellow. She is currently pursuing a master's degree at New York University's Silver School of Social Work and holds a Bachelor of Science in Social Work from CUNY York College. As a social work major, Alicia is committed to empowering the next generation to become civically engaged. During undergrad, she served as President of the Helping Hands Club, Vice President of the Women's Society, and Secretary of the Social Work Club. Alicia also organized the first CUNY York College Women's Leadership Conference. Off-campus, she is involved in her community as a Constituent Liaison for NYS Assemblymember Jaime Williams. As she worked with constituents, state agencies, advocacy organizations, and community groups through Williams' office, Alicia saw an urgent need for more macro-level social workers. As an IGNITE fellow, Alicia hopes to help individuals tap into their hidden potential and become effective change agents.
---
Loren Walter served as our Atlanta Fellow. Loren is currently pursuing a Bachelor's degree in Political Science at Agnes Scott College. She first became involved with IGNITE as a member of the Agnes Scott college chapter in the spring of 2018. Due to increased engagement with the chapter, Loren was appointed Event Coordinator in the fall of 2019. In that same semester, she was appointed to Vice-President and only months later appointed as President in Spring of 2019. A few of Loren's proudest moments within the chapter include registering voters, arranging transportation for students to and from voting polls, and organizing a midterm election watch party. Her campus and community involvement also include working as an Agnes Scott Spanish tutor and as a legal assistant at Sharifi Immigration Law, as well as volunteering for the Stacey Abrams for Governor Campaign. Loren is an aspiring attorney and plans to reform public education by one day running for a position on the Board of Education in her hometown of Chicago.
---
Ayah Ziyadeh served as our Denver Fellow. As a human rights activist, writer, and aspiring international law attorney, Ayah is passionate about making the world a better place to live in for everyone. Ayah served as a Colorado State Capitol Fellow and lobbied for bills on civil rights, education, and healthcare. She has also organized rallies in Colorado to raise awareness about crucial human rights issues around the world. Ayah is proud to be working with IGNITE, as she believes every female has the right to be politically active. She recently graduated from the Metropolitan State University of Denver with a B.A. in international relations with a minor in philosophy.
---
Interested in serving as an IGNITE Fellow? Learn more today.