Meet the 3rd cohort of IGNITE Fellows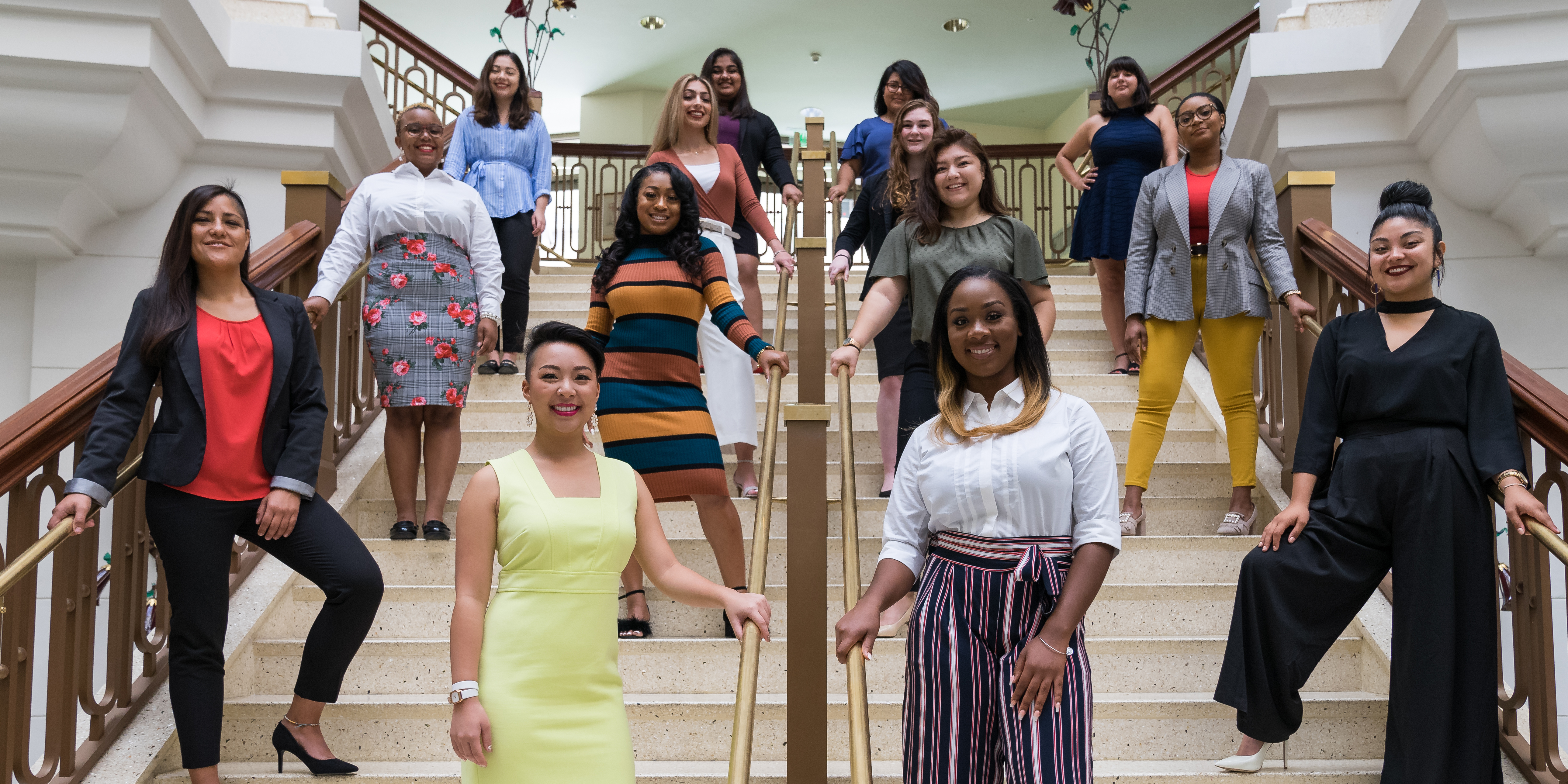 Meet the 3rd cohort of IGNITE Fellows. Every year IGNITE recruits a cohort of diverse and passionate women in communities across America and provides them with resources, training, and networks to flex their political power and mobilize women on their campuses and in their communities to become civically engaged. Fellows serve as ambassadors for IGNITE's mission and vision and play a valuable role in our efforts to spread a national message that it is time for young women to step into political power.
Jalessa Bryant served as our Madison Fellow
Jalessa holds a Bachelor of Arts in American studies and a minor in education from the University of California, Berkeley. Jalessa is currently a student at the University of Wisconsin-Madison where she is pursuing a doctoral degree in Curriculum and Instruction in Multicultural education. Her scholarly work includes several research projects: the Spencer Foundation Virtual Laboratory, the Arts + Literature Laboratory, as well as serving as a graduate student research assistant to her advisor. All of her research efforts centered on supporting students from marginalized backgrounds and generating paradigmatic shifts to the way we think about the science of learning to provide more comprehensive support to students. Jalessa believes that encouraging women, particularly queer identifying and women of color, to be aware and engaged in politics will lead to more just, holistic legislation and improved experiences in schools for children with marginal identities.
Quadira Coles served as our New York Fellow
She is currently at John Jay College pursuing a Masters of Public Administration in Public Policy. Quadira obtained a bachelor's degree in Criminal Justice and Sociology from Penn State in 2015. During undergrad, she worked in domestic violence advocacy at Blair County Courthouse, which fueled her passion for policy, politics, and a desire to be a catalyst for change. As a child, she always challenged the status quo whenever it seemed unjust. This attribute stayed with Quadira and is the driving force in her career path. With a pragmatic mindset and commitment to accountability and civic engagement, Quadira wants to run for an elected office. Quadira was born in Passaic, New Jersey but raised in many different corners of Essex County.
Andrea Duarte served as our Twin Cities Fellow
Andrea's political ambition first sparked her freshman year when she joined student government. She built on this experience by lobbying Catholic Social Justice in Washington, D.C. with Sister Simone Campbell and NETWORK. She is a Greater Minnesota advocate in the Young Women's Initiative of Minnesota where she champions equity in opportunity for young women. Andrea's work earned her prestigious honors, like the Jay and Rose Phillips Scholar and Harry S. Truman Scholar. She is a senior at St Catherine University, majoring in Political Science and minoring in English and Women's Studies.
Anais Franco served as our Southern California Fellow
Anais holds a Bachelor of Arts in Political Science with a minor in Economics from California State University San Bernardino. Her background is in higher education and regional organizing. Anais' recently served as the Regional Organizer for Rancho Cucamonga with James Ramos 2018 campaign for State Assembly. The focal point of her regional organizing and time on the campaign trail was making higher education more accessible to all as well as increasing trade school opportunities in the region. Anais' passion for higher education advocacy was the impetus for getting civically engaged. She currently works as an English Tutor for the Language Success Center at Chaffey Community College.
Kirsten Jackson served as our Atlanta Fellow
Kirsten is a senior at the all-women college, Agnes Scott College, where she is studying Political Science with a minor in Business Management. On campus, she had holds several leadership roles including President of Honor Court, Resident Assistant, and Tower Council. She is a second year fellow with IGNITE. During her first year, she participated in chartering four college chapters and created a substantial foundation for IGNITE in Atlanta. Her path to political leadership and advocacy started in high school when she launched the Forgotten Ones, an organization devoted to supporting individuals with their basic needs from sanitary products to backpacks.
Abriana Kirt served as our Birmingham Fellow
Abriana is a senior at the University of Alabama studying Biological Sciences on a pre-med track. As a member of the National Council of Negro Women (NCNW) on campus, she is acutely aware of the need for gender parity in elected office. A pivotal moment for volunteerism and political leadership for Abriana was her participation in an international exchange with Girl Scouts of America. She traveled to England to discuss environmental issues affecting the U.K. and America with her English peers. She walked away from that experience fired up to get more civically engaged.
Alyssa Mayleen Mermea served as our Chicago Fellow
Alyssa is pursuing a Master's in Youth Development with a specialization in Educational Policy at the University of Illinois at Chicago. She holds a Bachelor's of Science in Applied Learning and Development - Youth and Community Studies with a concentration in social services and a minor in Educational Psychology from the University of Texas at Austin. While at UT, Alyssa participated in the Congressional Hispanic Caucus Institute's Congressional Internship program in Washington, D.C. Today, Alyssa is a Literacy Coordinator for the University of Illinois at Chicago's America Reads program and supervises tutors working in neighborhood schools around the city of Chicago. Alyssa's political aspirations were sparked at a legislative advocacy conference in 2015 when a woman told her "you need to run for office." Taking this message to heart, Alyssa wants to empower other young women to be powerful forces in the political arena. Alyssa grew up in the border town of El Paso, Texas.
Ximena Mondragon served as our San Antonio Fellow
Ximena is currently a Political Science major at St. Mary's University in San Antonio Texas. When she graduates in the Spring of 2019, Ximena will be the first in her family to obtain a college degree. She has been an IGNITE member since high school and founded the IGNITE chapter at St. Mary's University, where she now serves as President. Ximena is a McNair Scholar and part of the Marianist Leadership Program. She plans to obtain her PhD in Political Science. She is dedicated to empowering girls and serves as a mentor for Girls Incorporated of San Antonio.
Shradha Parkeh served as our Columbus Fellow
Shradha is a junior at Ohio State University in Columbus majoring in Public Management, Leadership, & Policy, and Women's, Gender, & Sexuality Studies. On campus, Shradha is involved with Undergraduate Student Government and the Multicultural Center. She is a native Ohioan who is very passionate about social justice issues, especially women's rights and equality, as well as other minority groups' advocacy. She hopes to enact change through a position as a public servant for her community, at a local and national level. She wants to empower young women everywhere to succeed in politics and one day run for office!
Cecilia Ruesta served as our Central Valley Fellow
In undergrad at California State Fresno, Cecilia was a member of Students for Quality Education (SQE) where she mobilized students, faculty, and staff to address socioeconomic disparities in higher education. In addition to lobbying at the state level with SQE, she has also lobbied at the national level with United We Dream and other organizations in order to pass legislation that would grant deportation relief to thousands of immigrant youth. In the Women's Studies Program, she helped organize campus-wide campaigns to end gender discrimination, racism, and violence against women and children. Cecilia is originally from Lima, Peru and immigrated to the United States at the age of 17. Cecilia holds a B.A. in Women's Studies and a B.S. in Criminology and is currently in the MFT counseling program at California State University, Fresno.
Monica Sibri served as our Washington D.C. Fellow
Monica was a part of IGNITE's inaugural fellowship cohort (2016-2017), organizing hundreds of college women across New York and planning the first NYC Young Women's Political Leadership Conference. She currently serves as an adviser to CUNY DREAMers, an undocumented student-led organization she founded in 2013 to help advance equal access to higher education and a support network for thousands of undocumented students at the City University of New York. Monica's been featured in the New York Times, the Wall Street Journal, the Guardian, Huffington Post, the Voice of America, New York Daily News, and other local and international mediaMonica earned her BA degree in American Politics, Policy, and Advocacy from the Baccalaureate For Unique and Interdisciplinary Studies at the City University of New York. Monica's current and future goals include pursuing a Master's in Political Management at George Washington University and to get more women elected into office – particularly, to get more women into the New York City Council by 2021.
Rae'Niqua K. Victorine served as our Boston Fellow
Rae'Niqua is a senior at Simmons University studying Political Science and Public Policy. She was the founding Vice-President and later President of the Simmons African Caribbean Student Union and served on her Student Government Association (SGA) as the Academic Affairs Officer. As an intern at Emerge Massachusetts and through local campaign work, Rae'Niqua realized her passion to educate women on how to run for office. Rae'Niqua plans to run for office in Massachusetts and later move up the political ladder in order to better the lives of everyone and to continue to advocate for those living in U.S. territories. Rae-Niqua was born and raised on the island of St. Thomas, U.S.V.I., and began her political career at the age of 15 serving as a youth senator under the Legislative Youth Advisory Council for the 31st Legislature of the Virgin Islands. In her three-year term, she served as the Chairwoman for the Committee on Education, Health, and Youth Relations, where she reviewed and passed legislation that would eventually make its way into the V.I. Senate Chamber.
Louie Tan Vital served as our Seattle Fellow
Louie is a Masters candidate at the Evans School of Public Policy and Governance at the University of Washington. Louie recently worked as a nonpartisan Committee Legislative Assistant during the Washington State House of Representatives' 2017 Legislative Session and in the 115th Congress in the United States House of Representatives for Congressman Adam Smith. After a post on social media about her experience as a young woman of color working in Congress went viral, Louie gave numerous national and international newspaper and radio interviews where she publicly declared her intent to run for office. Louie also gives workshops, lectures, and speeches on race in public policy, culturally-competent civic engagement, diasporic narratives, and combating anti-blackness racism in the Asian Pacific Islander community.
Ayah Ziyadeh served as our Denver Fellow
As a human rights activist, writer, and aspiring international law attorney, Ayah is passionate about making the world a better place to live in for everyone. Ayah served as a Colorado State Capitol Fellow and lobbied for bills on civil rights, education and healthcare. She has also organized rallies in Colorado to raise awareness about crucial human rights issues around the world. Ayah is proud to be working with IGNITE as she believes every female has the right to be politically active. She recently graduated from Metropolitan State University of Denver with a B.A in international relations with a minor in philosophy.
---
Interested in serving as an IGNITE Fellow? Learn more today.